Mumbai Dabbawala is associated with food industry via delivery services. It was started in the year 1890 because of a Parsi banker who wanted to eat hot and homemade food even at his workplace. In the same year, a delivery service of Tiffin was started by Mahadeo Bhavaji Bachche with a workforce of one hundred men. Currently, it offers its services to nearly 130,000 people in metro city Mumbai. Mumbai Dabbawala offers 100% customer satisfaction to its clients.
About Mumbai Dabbawala
Type: Lunchbox delivery service
Industry: Foodservice
Founded: 1890, Mumbai, India
Founders: Mahadeo Havaji Bachche
Headquarters: Mumbai, India
Area served: Mumbai, India
Current CEO: Self-organized group of workers
Number of employees: Over 5,000
Major products: Home-cooked lunches
Product in the Marketing Mix Of Mumbai Dabbawala :
Mumbai Dabbawala is an integral part of Mumbai as life without them is inconceivable. It is actually a delivery system where a dabbawala collects lunch box from a particular place and delivers it to his customer's workplace and again returns it back on the same day. 
They work on a coding system that helps them to avoid any mistakes. It is a unique organisation where a dabba changes hands nearly six times and till there is no error. This service is carried within a specific timeframe of nearly six hours every day, six days every week and for fifty-one weeks every year on a regular basis completing nearly 260,000 transactions including up and down services. Main criteria of becoming a dabbawala are that he must be a native that is a Marathi and must not be highly educated as most of them are illiterate. Ancillary products of this organisation are Gandhi Cap, Dabbawala T-shirt, Dabbawala Mug ad CD or Video on Dabbawala.
Place in the Marketing Mix Of Mumbai Dabbawala : 
Mumbai Dabbawala as the name suggests are of Indian origin and are basically based in Mumbai. It has also opened its online services and takes orders through it and also via SMS. Mumbai Dabbawala has a very extensive and powerful distribution channel that includes services of nearly five thousand dabbawalas and each one a shareholder of this system. 635 of them are senior employees and each and every one of them including their president works alongside each other.
Mumbai Dabbawala either walks or use cycles to reach a place of collection and later assemble at their collection point by 9.30 am. These boxes are then transported from one local railway station to another station and from here to actual destination by lunchtime. Then the reverse process starts off taking back the boxes to the original starting point so that they can be reused again the next day.
Price in the Marketing Mix Of Mumbai Dabbawala :
Mumbai is India's financial hub and helps in generating a large part of income. Supposedly organisational turnover of Mumbai Dabbawala is nearly 36 crore rupees on an annual basis. Its service cost varies from rupees 300 to nearly rupees 1,000. Each dabbawala earns nearly 8,000 rupees per month and as Diwali bonus receives one moth's extra pay from its clients. Its official website takes orders as well as payments via online modes. Mumbai Dabbawala has adopted a very reasonable and affordable pricing system that helps its clients to get best and impeccable services at very inexpensive and pocket-friendly rates.
Promotions in the Marketing Mix Of Mumbai Dabbawala :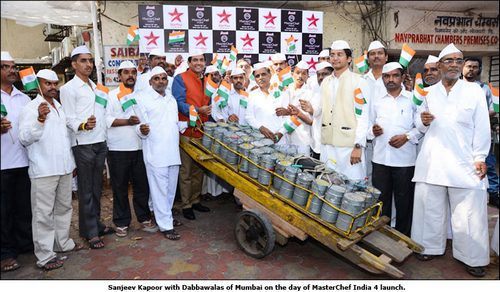 Mumbai Dabbawala is a well-known organisation of Mumbai as they have been in this industry for nearly 125 years. They are a popular force and have adopted mouth publicity for their business. A satisfied customer is a major advertiser as he/she automatically promotes the brand by talking to a second person. They advertise through their website to maintain brand awareness. Mumbai Dabbawala participated in a TV program Deal Ya No Deal Contest held by popular TV channel Sony Entertainment.
Several acclaimed brands use it to promote its products. Reliance Power is a recognised company and it sent its IPO application with every Dabba. They have been roped in by Maharashtra Government to spread awareness about Aids. Even people from film industry use them to promote their movies. Mumbai Dabbawala has been able to register their name in Guinness Book of World Records and have received World Record in Best Time Management and from Forbes Magazine have received Six Sigma Rating because of its high accuracy level.
Liked this post? Check out the complete series on Marketing Mix