Ola Cabs is a private company of Indian origins. Ola is a trade name and operates under its parent company ANI Technologies Private Limited. It is associated with logistics and technology industry as it deals with transport facilities. Ola Cabs has founded in the year 2010, 3rd December by its co-founders Ankit Bhati and Bhavish Aggarwal. The company has taken help of latest technology to bring forth a fast and efficient service for hiring cabs. Some of its competitors in market are as follows-
Uber Cabs
Easycabs
Meru Cabs
Carpooling Services
Unorganized players
About Ola Cabs
Type: Transportation company
Industry: Transportation
Founded: 3 December 2010
Founder: Bhavish Aggarwal and Ankit Bhati
Headquarters: Bangalore, India
Area served: India, Australia, New Zealand, and the United States
Key people: Bhavish Aggarwal (Chairman) and Bhavish Aggarwal (CEO)
Number of employees: 100,000
Product in the Marketing Mix Of Ola Cabs :
Ola Cabs is a mobile app used as a service provider for personal transportation. It has revolutionised the concept of travelling, Earlier hiring taxis from roads was a harassment but now it has become hassle free as one can easily make a booking at his/her convenience without stepping out. Its fleet includes Honda Civic, Skoda Rapid, Altis and Toyota Innova and offers different types of cab service that have a diversified range from luxury to economic like
Ola Mini
Ola Sedan
Ola Prime
Ola Rental
Ola Outstation
Ola Cabs expanded its operations in year November 2014 to include autos but this venture was strictly on trial basis. Its success urged it to include operations in several other cities also. In the year 2015, March it acquired TaxiForSure, a taxi service based in Bengaluru. Since 25th June of the same year, users could easily access TFS cabs from the mobile application of Ola. In order to strengthen its bus-shuttle service, Ola acquired a trip-planning-applications company titled Geotag. At its onset, it offered rides in cities but recently has started offering outstation rides to nearby cities also.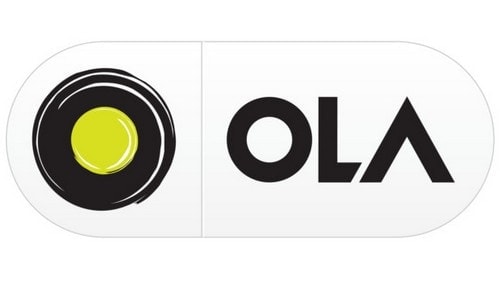 Place in the Marketing Mix Of Ola Cabs :
Ola Cabs is a company dealing via an online network. Cabs can be easily reserved through its own website and via Ola mobile app that can be downloaded from The App Store and Google Play Store. The company started its operations from metro city Mumbai in Maharashtra but later shifted its base to Bengaluru in Karnataka. By the year 2014, it had extended its network to include nearly 200,000 cars that were running in nearly one hundred two tier, three tier and metro cities like Kolkata, New Delhi, Chennai, Pune, Bhubaneswar, Bengaluru, Hyderabad, Ahmedabad and Mumbai. Ola Cabs has extended its operations to include auto services and it started from Bangalore and expanded to include places like Kolkata, Hyderabad, Chennai, Pune, Delhi, Visakhapatnam, Guwahati, Jaipur, Indore and Chandigarh.
Price in the Marketing Mix Of Ola Cabs :
Ola Cabs by the year 2015, September, was valued at 5 billion dollars with its estimated revenues at the end of the fiscal year 2014-15 at 62 million dollars. At its onset, Ola cabs supported payment via Paytm only but later it included options for both cash and cashless via Paytm. Passengers are nowadays concerned about convenience rather than prices. Ola Cabs offer rides in a comfortable setting with furnished and air-conditioned cabs. It offers to price flexibility with its range of vehicles that includes economic-range, mid-range and high-range. Ola Cabs has adopted a penetration policy and has kept its price range reasonable so as to gain a competitive advantage over rival companies. It has also adopted a promotional policy and offers incentives to increase its customer base.
Promotion in the Marketing Mix Of Ola Cabs :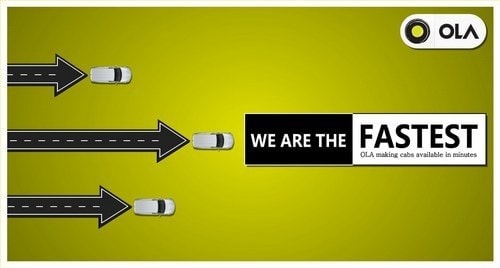 Ola Cabs is a fastest growing company in India related to rental cars because it has a first-mover advantage over other companies. It has adopted an extensive marketing policy to create high and positive brand awareness amongst consumers. The company has taken help of every available medium like digital and print via SMS on mobiles, magazines, newspapers and billboards. It has also used social media platforms to garner maximum coverage via Twitter, Facebook, Blogs and Instagram. Actress Gul Panag has been associated with this brand and at a promotional event handed over keys of Ola cab to its driver. The company offers incentives like free rides, 50% discounted rides, rupees 5o off, first ride free for new members and promo codes to increase its customer base.
Liked this post? Check out the complete series on Marketing Mix