Idea is a subsidiary brand of its parent company Aditya Birla Group. It is a public company of Indian origins. The idea is a mobile service provider and is associated with Telecommunication industry. In terms of subscriber base this operator is ranked at third position with 182 million subscribers till year ending 2015. The idea has targeted upper-middle and a middle class section of society like workers, students and labourers as its potential customers. It faces competition from following rival companies
About Idea
Type: Mobile network operator
Industry: Telecommunications
Founded: 22 August 1995
Founders: Aditya Birla Group
Headquarters: Mumbai, India
Area served: India
Current CEO: Himanshu Kapania
Number of employees: 16,000
Major products: Mobile services, broadband, fixed-line services
Product in the Marketing Mix Of Idea :
The idea is a pan-India brand offering services of 4G, 3G and 2G natures for mobile applications. It was the first provider of customised offerings to segmented and selected customers.
Recently it has launched 4G LTE services in several cities. It also has a partnership with Microsoft and on Windows store has started operator billing system. The idea has strengthened its brand position after the launch of one of the most important schemes MNP.
It has turned out o be a boon as it is now the leading company for maximum port-ins in the country. Product kit of Idea includes sim card with post-paid and pre-paid options, convenient call rates, value-added services, SMS services, free incoming, GRPS services and roaming facilities. The idea is the only mobile operator to offer special packages for females.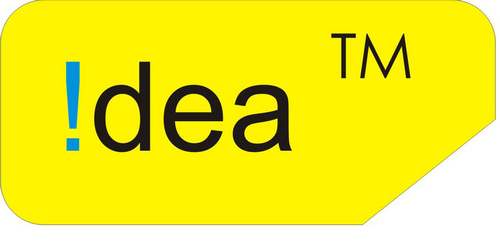 Place in the Marketing Mix Of Idea :
Idea owns ISP license and has the controlling power over ILD and NLD operations held in India. It has its headquarters base at Mumbai in Maharashtra. The idea has operations in places like Delhi, Rajasthan, Himachal Pradesh, Haryana, Punjab, Uttar Pradesh, Uttaranchal, Gujarat, Andhra Pradesh, Madhya Pradesh, Kerala, Chattisgarh, Goa, Kerala and Maharashtra. Currently, Idea provides 3G services in 13 telecom areas via its own spectrum.
Latest areas to join these services are Kolkata and Delhi-NCR region. 4G LTE services are available in 10 telecom areas and are spread over three hundred and fifty towns. For its 4G services Idea has covered mini metros like Bangalore in Karnataka and large metro city like Chennai in Tamil Nadu under its service area. The idea uses selective distribution network to distribute its products to consumers easily.
Price in the Marketing Mix Of Idea :
Idea occupies 33% of revenue market share in India and its estimated revenues for the fiscal year 2015-16 is rupees 354 billion. In the year 2010, during the auction for 3G Spectrum, brand paid nearly 57.68 billion rupees for spectrum services in 11 circles.
The idea has adopted a competitive pricing plan as it faces competition with rival companies. Its product prices and service options are nearly same as rival companies so that they can retain the loyalty of its customers. The company has kept its prices affordable and pocket-friendly so that its products and services are easily accessible to a common man. Prices are very reasonable because of lower call rates and launch of new schemes at periodic intervals.
Promotions in the Marketing Mix Of Idea :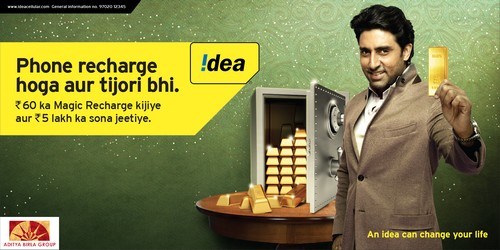 Idea realises the impact of a good and strong marketing plan and hence has decided to follow an aggressive marketing strategy. During its early days, it highlighted its value-added services and tariff plans via ad campaigns because at the end of a day everyone appreciates a plan that will prove beneficial for him.  Later it decided to shift its marketing strategy and decided to rope in famous personalities to become a part of its promotional activities. Abhishek Bachchan is its brand ambassador and endorses Idea via several innovative ad campaigns.
These are shown in television channels, aired on radio and displayed via newspapers, billboards and magazines.  Brand Idea has a tie-up with major IPL team Mumbai Indians to create brand awareness and popular cricket players of Mumbai Indians like Zaheer Khan and Sachin Tendulkar have also promoted this brand. The idea has been the recipient of several awards and appreciation. In the year 2012, it received World Communications Award and went on to win it for second consecutive year. One of its most popular taglines is An idea can change your life.
Liked this post? Check out the complete series on Marketing Mix