General Electric is popularly called GE and is a public limited company. This American company is a multinational conglomerate and has its headquarters base in Fairfield, Connecticut. In January, 2016, a decision was reached to shift its corporate headquarters to Boston, but it will still take some time to complete this move.
 Company was founded in year 1892 by four of its founders namely Edwin Houston, Elihu Thomson, Charles Coffin and Thomas Edison. Currently it deals in various sectors like health, finance, pharmaceutical, software, automotive, etc. In year 2012 GE was fourth-largest in global market and it has the honour of receiving Nobel Prize twice for its employees Irving Langmuir and Ivar Giaever in years 1932 and 1973 respectively. Some of its competitors in world are as follows-
About General Electric
Type: Multinational conglomerate
Industry: Aerospace, energy, healthcare, transportation, and lighting
Founded: April 15, 1892, in Schenectady, New York
Founders: Thomas Edison, J.P. Morgan, Charles A. Coffin, Elihu Thomson, and Edwin J. Houston
Headquarters: Boston, Massachusetts, United States
Area served: Worldwide
Key people: H. Lawrence Culp Jr. (Chairman) and H. Lawrence Culp Jr. (CEO)
Number of employees: 174,000+
Product in the Marketing mix of General Electric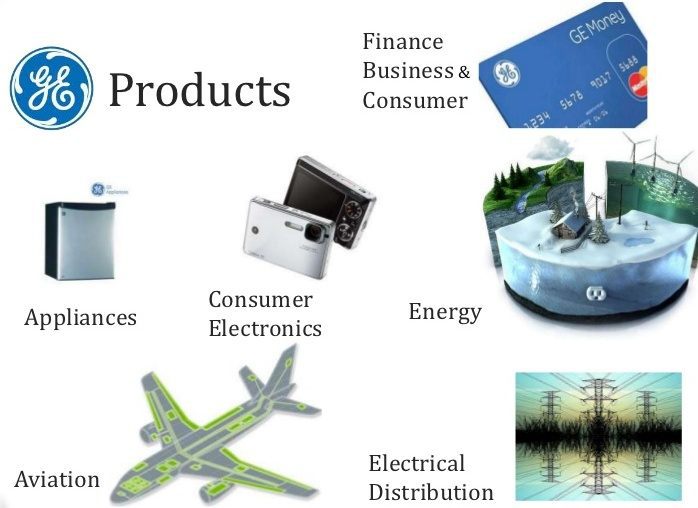 General Electric prides themselves for operational excellence and driving rigor and hence their products are a testimony to this fact. For providing best customer value they produce qualitative products and enhanced services. Company also supports various important industries in global market and its operations can be divided in business segments that include the following
Capital finance of GE includes personal loans, credit cards, home loans, operating leases and commercial loans
Technology division of GE includes monitoring equipment for patients, medical imaging, medical diagnostics, jet engines, replacement parts of aircraft, card-accessing system, fire detection and intrusion products
Products in relation to energy infrastructure include engine derivates of aircraft, systems related to water purification, gas turbines and wind turbines
Company's Universal Division enables operations of cable network and also has a hand in producing motion pictures
Industrial and consumer division of General Electric includes gas and electric rangers, air conditioners for residence, microwave ovens, washers and refrigerators, dryers, small appliances, water heaters, cooktops and numerous accessories
Oil and gas division of company includes its processing, distribution drilling, logging, gas liquefaction of LNG, surface well and flow control and sub-sea services
GE's mining division includes mining in relation to water treatment, productivity solutions, power distribution, power conversion, infrastructure, equipment and analytic software
In short, General electric has a presence everywhere. Where Reliance is in India with a presence in a lot of sectors, similarly General electric has a massive presence in numerous sectors as well. And it is performing well in all those sectors.
Place in the Marketing mix of General Electric
General Electric has adopted a lateral strategy for some of their products like energy and health care. It has manufacturing plants, business offices and distributors in nearly every part of the world for successful operations. It has its network in nearly one hundred and sixty countries and its subsidiaries in countries like Ontario, China, Mexico and Singapore. Its business projects are distributed in numerous places like Africa, North Asia, Australia and Europe.
In Russia General Electric has made major investments and it includes an equipment fleet that has 1,500 units. In Middle-east it has enabled growth of infrastructure resources like aviation, gas and oil. It also has played an important part in building Indonesia's infrastructure.  All its operations follow a systematic distribution policy with efficient channelization that easily defines how a global organisation should work with best results.
Price in the Marketing mix of General Electric
General Electric has always believed in quality products and their prices are significantly at a reduced form and that is because they are endeavouring to reach as many consumers as possible. They have decided to pursue different pricing policies for different products as they have a portfolio of diversified services and products. Company has introduced a program titled Power by the Hour for its aircraft engines in recognition of its customer's endeavours. It acknowledges that with purchase, ability to lessen downtime through service initiatives and maintenance was also a priority for a customer. In year 2004 General Electric had to raise its pricing policy for infrastructure technology related to water and processing because of global economy.
It has surely adopted a premium policy for emerging technologies as it projects itself as a leader who has to undertake various research and development projects. Health imagination initiatives undertaken by General Electric include reducing prices at a considerable rate because of its product-line pricing policy in medical diagnostics and imaging department to benefit consumers for all time. GE has tried to follow a competitive pricing policy for consumer and household products that will yield revenues but will also attract its customers with reasonable prices. Company has tried its best with its numerous pricing policies based on various sub divisions so that it does not lose loyalty of existing customers and can adapt to the market environment of each sub division. Hence it has premium price in some cases and penetrative or competitive pricing in others.
Promotion in the Marketing mix of General Electric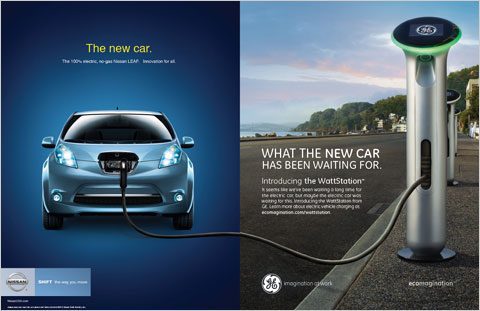 General Electric is a gigantic corporation that has its fingers in number of industries. It is a global brand and has reached very high standards in terms of services, products, profits and especially brand recognition. Its marketing division has taken special efforts with its promotional policies as it has diversified interests and one has to take care of every segment so that the company can evolve and grow as a whole. Innovative ideas and beautiful and timely presentation of them has established the company at its present position at top. General Electric has a training package that includes various business specific contents like education, leadership and experience about latest technologies available in market. In year 2001, it appointed Responsys Inc for implementing company's email-marketing programs.
It also has a catchy slogan that is easily recognised we bring good things to life and defines it at its best. GE has undertaken co-branding marketing policy for some products and Lateral-diversification policy for products that do not have commercial synergies with present products but may find a base with new consumers. Various commercials are broadcasted on television and online highlighting its products and providing relevant information to the interested parties.
Liked this post? Check out the complete series on Marketing Mix