Credit Suisse is an international holding company of Swiss origins. This multinational corporation deals with financial services sector and Banking. It was founded by Alfred Escher in the year 1856 and has it's headquartered base in Zurich. Credit Suisse is a major player in several markets and is recognised for its brilliance and excellence. Some of the main competitors of this global firm are as follows-
Wells Fargo
HSBC Holdings
BNP Paribas
ABN AMRO Bank
RBS
Barclays Bank
J.P. Morgan Chase
Goldman Sachs Group
About Credit Suisse
Type: Global investment bank and financial services firm
Industry: Financial services
Founded: 1856
Founder: Alfred Escher
Headquarters: Zurich, Switzerland
Area served: Worldwide
Key people: Axel Lehmann (Chairman) and Thomas Gottstein (CEO)
Number of employees: 45,000
Product in the Marketing Mix of Credit Suisse :
Credit Suisse is a stock corporation and also the largest provider of financial and banking services. It offers total expertise in certain areas like asset management, investment banking and private banking. The company also has a Shared-Services group that offers support like IT, legal, risk management and marketing to other divisions. The company was actually formed to provide monetary funding to rail system of Switzerland. Loans issued by the firm were responsible for country's electrical grid and rail system in Europe.  Credit Suisse helped in the development of currency system in the country and funded entrepreneurship. During 1900s company started shifting towards retail banking sector as savings account were becoming popular day by day.
Currently, Private Banking includes wealth management, institutional and corporate business.  Investment Banking deals with trading, investment research, securities, capital procurement and prime brokerage. Asset management deals in selling alternative investments, investment classes, fixed-income products, equities, real estate and several financial products.

Place in the Marketing Mix of Credit Suisse :
Credit Suisse is a prominent corporation that has operations in nearly fifty countries of the world. Its employee force is about forty-seven thousand from one hundred and fifty nations.  Its operations come under four regions that include the Middle East and Africa, Europe, Switzerland, America and Asian Pacific. Clients are served through five divisional sectors like Global Markets, Investment Banking and Capital Markets, Swiss Universal Bank, Asia Pacific and International Wealth Management. Divisions work intricately with each other for providing integrated solutions of financial nature to clients. They are supported by corporate functions that offer business support and corporate services and implement procedures for operations on daily basis.
First international branch of Credit Suisse was at New York City in the year 1942. The company is governed by independent auditors, the board of directors and shareholders. Annual General Meeting is organised by the board of directors and investors in company determine the agenda to be followed. It is the shareholders who elect auditors and approve financial statements and annual report.
Price in the Marketing Mix of Credit Suisse :
Credit Suisse is a forward-thinking firm that has earned respect globally because of its excellent services. During its starting year's company adopted a conservative lending policy that was focussed on medium or short term loans. 25% of its revenues were earned mostly from its funding of rail system. In its early year's company followed a reasonable pricing policy as it was catering to middle-class people and funding lots of projects that were of national interest. During its later years, it set up insurance and banking companies and went on to become the largest bank in its country. During this time its pricing policy changed to premium as it provided a safe haven to all its clients. Its rates of interest are marginally higher than its rival companies but its impeccable services have helped it maintain its position as one of the best.  
Promotion in the Marketing Mix of Credit Suisse :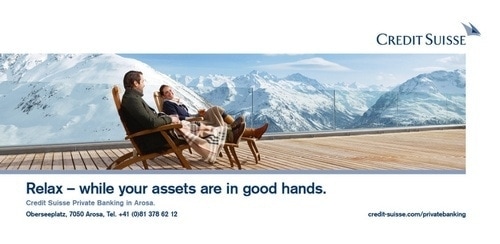 Credit Suisse has been the recipient of several countries and regional awards. In the year 2010, it was titled with Best Global Bank and it has been called Best Investment Bank and Best Private Bank by Euromoney magazine. In order to provide best possible services, it has developed a hiring program at entry-level. The company makes sure that world-class support and training is provided to employees to help them become better. All its campaigns are based on its approach towards its clients. The company has put emphasis on its qualitative services to maintain the loyalty of its customers. Credit Suisse sponsors several events and sports. Roger Federer has been its brand ambassador since the year 2009.
Liked this post? Check out the complete series on Marketing Mix