Forbes is of American origins and a subsidiary of Forbes Inc. It is associated with the media industry and is actually a business magazine that is published twice every week. The first issue of this magazine came out for public viewing in the year 1917 on 15th of September. Forbes was founded by a financial columnist B. C. Forbes together with Walter Drey, who served as his partner.  Its current editor-in-chief is Steve Forbes and Randall Lane serves as editor along with Mike Perlis as CEO.  It faces competition in its field from rival magazines like-
Business week
Fortune
Time
About Forbes
Type: Business magazine
Industry: Media and publishing
Founded: September 15, 1917
Founder: B. C. Forbes
Headquarters: Jersey City, New Jersey, United States
Area served: Worldwide
Key people: Mike Federle, CEO, and Steve Forbes, Chairman
Number of employees: Over 1,500
Product in the Marketing Mix Of Forbes :
Forbes is a bi-weekly periodical that has several editions to its name in the global market. It caters to each region by addressing specific needs at that time and place. It is a capitalist magazine related to business and targets entrepreneurs and corporate houses as its potential customers.
By the end of the year 2013, its circulation was estimated at 931,558 copies. Forbes Life and Forbes Asia are some of its magazines and besides English, it is also published in local editions of fifteen languages. It has several products in its kitty and some of them are as follows-
Original articles are published in Forbes and these include topics like marketing, investing, industry and finance
Magazine reports on several related subjects including law, science, communications and technology
Contributor model is used by Forbes.com where articles are written and published by contributors directly on its portal
Advertisers are allowed by Forbes to publish their posts on its website through a programme AdVoive

Place in the Marketing Mix Of Forbes :
Forbes is one of the most recognised and popular magazines that has a global presence in most countries of the world. Its headquarters base is in Jersey City in the United States. In India, it was established as Forbes India in the year 2008 and since then has achieved a huge circulation of nearly 50,000 copies. It also has a wide market in places like United Kingdom, Japan, Israel, Mexico, Middle-East, Romania, Russia, Vietnam, Thailand, Spain and Poland. Forbes.com is its official website and it is accessed by twenty-seven million visitors on monthly basis.
It is the most visited portal related to business in global market.  In the year 2009, according to Times, this financial site was ranked as one of the top five in terms of traffic. Forbes has adopted a wide distribution network that allows its magazines to reach consumers easily through subscription method by newspaper vendors.
Price in the Marketing Mix Of Forbes :
Forbes operates in a very competitive market and faces stiff competition from some high-profile brands. In order to come out as a winner magazine has decided to adopt a competitive pricing policy. This will serve a two-fold purpose. It will help in eliminating competition to some levels and also help in penetrating towards further markets by creating new inroads. It is a premium product but has adopted mid-level premium pricing to make its product affordable to its customers. This value-based policy provides the unique product at affordable prices.
Promotions in the Marketing Mix Of Forbes :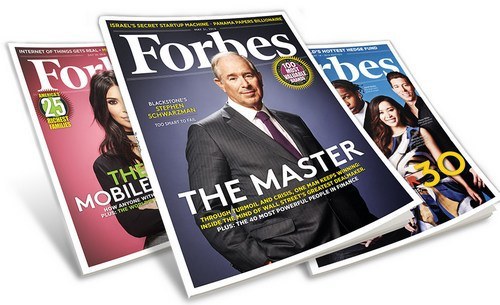 Forbes has adopted a diversified branding and marketing strategy to create a positive influence on consumer mindset. It is an international brand with a good and solid reputation amongst its customer base. One of its important taglines is "The Capitalist Tool". Forbes on Radio and Forbes on Fox are two most important shows associated with this prolific magazine that is aired on radio and television respectively.
Steve Forbes and several of the writers associated with Forbes magazine take part in both shows and offer advice on several investments. In the year 2014, the month of January Forbes announced a deal with app-creator Maz and launched Stream, a social-networking app. It allows sharing and saving visual contents from Forbes.com and magazine with other readers.
Liked this post? Check out the complete series on Marketing Mix