IGATE is associated with IT industry and deals in providing services related to that sector. It is an American-based public company. IGATE has founded in the year 1996 and in the year 2011 it acquired another computer systems concern Patni for estimated 1.22 billion dollars.
The company changed its name to IGATE Patni but reversed back to IGATE in the year 2012, the month of May. In the year 2015, Capgemini, a French IT firm, unveiled a deal of acquiring IGATE via 4 billion dollar deal.  The company targets insurance industries, financial services, banking sector and large and midsized corporations as its target customers. It faces competition from several companies and some of them are as follows-
Tata Consultancy Services Limited
Cognizant Technology Solutions Corporation
Infosys Limited
About IGATE
Type: Information technology services company
Industry: Information technology
Founded: 1994
Founder: Narendra Patni
Headquarters: Noida, Uttar Pradesh, India
Area served: Worldwide
Key people: Ashok Vemuri (Chairman) and Vishal Sikka (CEO)
Number of employees: 18,000
Product in the Marketing Mix Of IGATE :
IGATE is a global corporation offering services like consultation, operations-based solutions and integrated technology.
Company fulfils the demands of industries like insurance, manufacturing, communications, healthcare, engineering services, financial products and services, banking, media, entertainment, logistics and retail and government solutions. IGATE offers solutions by adopting emerging and latest expertise and leveraging them in attaining excellence.  It has a very large product portfolio and includes products and services like
Application Maintenance
Application Development
Validation and Verification
Product Validation and Verification
Embedded systems related o P&ES
Infrastructure-Management Services
Enterprise Mobility
Business-Process Outsourcing
Business Intelligence and Analytics
Cloud Services

Place in the Marketing Mix Of IGATE :
IGATE is an international corporation that has spread its network to several continents of the world like Australia, Asia, Europe and North America. It had its headquarters base at Bridgewater in New Jersey. The firm has a strong distribution channel for efficient handlings. It has a specially trained work base that includes services of nearly 31,453 employees at the end of the financial year 2014-15. Its network includes nearly seventy customer delivery centres and offices spread over the world.
Some of these are located in Gandhinagar, Noida, Hyderabad, Chennai, Pune, Bangalore and Mumbai in India, Suzhou in China, Ballarat in Australia, London in the United Kingdom, Stockholm in Sweden and Sterling in Virginia. IGATE Corporate University is a highly efficient facility for training and development in Pune, India and is located on 50 acres. The campus is used as a facility for employee recreation, customer care, training and software development. IGATE Knowledge Centre was set up to hold 17,000 professionals.
Price in the Marketing Mix Of IGATE :
IGATE has been able to make a positive impression as it is a constantly evolving business entity. It has grown tremendously in leaps and bounds to become a force to be reckoned with. This has helped the company in determining a suitable pricing strategy that will be beneficial for both itself and its clients. IGATE has helped its clients to optimise their activities through strategies at reasonable and affordable rates.
Revenues were estimated at nearly 1.2 billion US dollars by end of the financial year 2013-14. The company has adopted a variable pricing policy that is dependent on the nature of business activity and the type of business involved. It also maintains competitive prices to deal with rival companies.
Promotions in the Marketing Mix Of IGATE :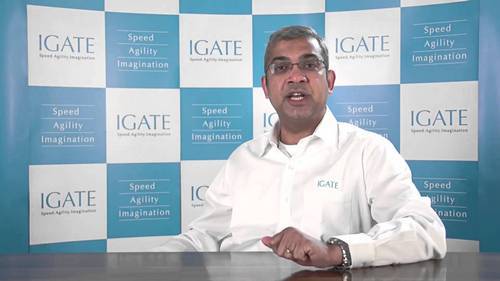 IGATE has carved a place for itself and its personality is reflected via its slogan Speed, Agility and Imagination. It is a symbolic gesture defining the reason for being one of the best. To maintain its position the brand has undertaken several promotional plans. This has helped in creating positive visibility and brand awareness.  IGATE has taken a conscious decision towards its policy of going green via IBEES because it wants its policies to be of eco-friendly nature. IGATE has been the recipient of several recognitions and awards because of its contribution to IT industry.
It won one of the highest awards in the year 2012 titled World Class Award. In the year 2014, according to Fortune's 100 Fastest Growing Companies list, it was ranked at 51st position. It also received VCCircle Award in the year 2014 for the year 2013's Best PE/VC backed IT Company.
Liked this post? Check out the complete series on Marketing Mix