As the name suggests Starwood Hotels and Resorts deals in resorts and hotels as it is associated with the Hospitality industry. It is of American origins and is currently a subsidiary of its parent company Marriott International. This global company was founded in the year 1969 by its founder Barry Sternlicht and was established as a corporation in the year 1980. Marriott International in the year 2016, 23rd September finalized its merger with Starwood, creating the largest chain of hotels in the global market. It faces stiff competition from several rival companies which include
InterContinental Hotels
Wyndham Worldwide
Hilton Hotels and Resorts
Holiday Inn
Best Western International Inc
Crowne Plaza
About Starwood
Type: Hotel and leisure company
Industry: Hospitality
Founded: 1981
Founder: Barry Sternlicht
Headquarters: White Plains, New York, United States
Area served: Worldwide
Key people: Arne Sorenson Chairman and CEO
Number of employees: 160,000
Product in the Marketing mix of Starwood Hotels and Resorts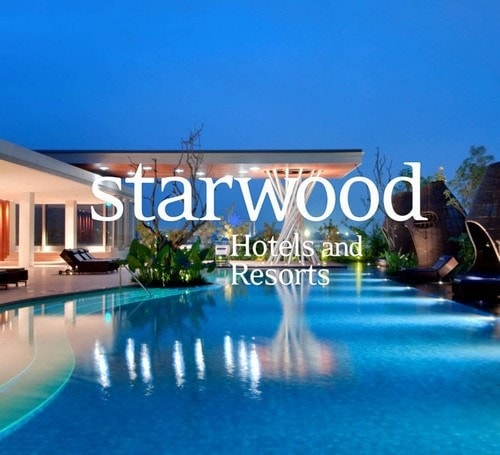 Starwood Hotels and Resorts is one of largest leisure company in the world that franchisees operate, owns and manages vacation properties, residences, spas, resorts, and hotels. By the end of the year 2014, it had twelve hundred properties to its name which it managed under eleven brand names. Starwood hotels are built in accordance with international standards. As they cater to an upscale audience, it is necessary to give special attention to its locality and ambiance.
Westin is one of its oldest brands with upscale resorts and hotels, while Sheraton and St. Regis offers luxury accommodations. Le Meridien has more than one hundred and thirty-seven properties under its belt and has positioned itself as the upper-upscale brand that offers customized properties.
The element is one of the first brands to receive LEED certification because of its operational practices. It is an eco-friendly hotel brand that has integrated energy-efficient plumbing and lighting features along with recycled materials. Vacation rentals were offered to the interested clients under Tribute portfolio by Marriott International since April 2018.
Starwood Hotels and Resorts is one of the most important brands in the hotel industry and offers upscale accommodation and best services. Its rooms are stylish, contemporary, and spacious with modern and comfortable settings.
A living area or a private lounge is available with most rooms. Other important amenities include wooden flooring, walk-in-closet, television, telephone, attached bathroom, private bar and Wi-Fi connectivity. Services also include travel desk, swimming pool, health club, beauty parlor, parking, safe deposit, transport options, gym and 24-hour room service.
The brand offers exclusive banquet hall and conference room for weddings, functions, parties and business conferences. It serves different types of cuisine in its restaurant to meet the demands of foodies from different sections of society.
Place in the Marketing mix of Starwood Hotels and Resorts
Starwood Hotels and Resorts is one of the largest hotel companies in the world with it's headquartered base at Stamford in Connecticut of United States. By the end of the year 2014, it had nearly twelve hundred properties to its name, which were franchised, managed or owned by the corporation.
Sheraton hotels are located in several parts of the world including places like United States, Kuwait, Canada, Detroit, Vienna, Thailand, Germany, Japan, Nepal, Ethiopia, and India. The first hotel in this chain was built in Minneapolis in the year 1909 and with time it spread its locations to other parts of the world.
Starwood Hotels and Resorts have a competent research team that determines the location of its next project after due deliberation. For a premium, hotel t is important to choose the right location and Starwood has been successful in its endeavors as all its properties are at the prime location with maximum visibility.
Employees are an integral part of any hospitality sector as it is upon them to provide impeccable services. Starwood has been blessed in this department as they have highly trained and efficient staff.  Its employee count at the end of the year 2014 was 180,400 members of which more than one fourth was recruited in the United States alone. Staffs ensure that every guest is made welcome with warmth and is offered a comfortable stay.
Price in the Marketing mix of Starwood Hotels and Resorts
The hospitality sector plays an important role in the economy of a country. Starwood Hotels and Resorts main USP is that it is a luxury brand with several affiliated brands and together with them offers high-end services. As Starwood is all about services it has been able to carve a niche name for itself.  It targets honeymooners, business travelers, families and leisure travelers as its target group, who prefer upscale and luxury settings.
As the brand has positioned itself as one of the largest leisure and hotel companies in the world arena, it has adopted a premium pricing policy. It is sure of its customer loyalty because besides offering excellent settings it also offers most excellent services. Guests are more interested in products and services than in prices. They belong to that section of society where money does not matter if assured of best services. Starwood offers extra facilities to its important guests and special discounts and privileges for its regular patrons. It also promotes holiday packages with attractive pricing.
Promotions in the Marketing mix of Starwood Hotels and Resorts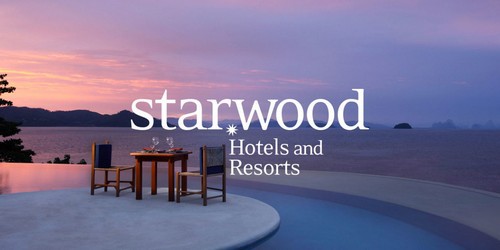 Starwood Hotels and Resorts have adopted a top-class marketing strategy to maintain its brand value in the global market. It offers several incentives as part of its marketing deals. In the year 2010, the company entered into a credit-card partnership deal with American Express.
It is affiliated with thirty-two airlines and its preferred guests can redeem flight points via its program SPG Flights. This program has more than 21 million members. Starwood has developed a program titled Yes We Can amongst its employees so as to encourage its employees to do better. It has also implemented schemes like Gold Point Plussm, Express Yourself and Sleep Number Bed Program to retain brand loyalty. Its tagline is who's taking care of you.
Starwood relies on word-of-mouth publicity from its satisfied customers. It has also taken help of travel operators so that they recommend its hotels and resorts to customers. Ad campaigns are displayed via newspapers, travel magazines and billboards.
In recent years Social media has become an important advertising tool and Sherwood has taken steps to utilize it to its maximum advantage. The company's official website offers important and relevant information to its customers with regular updates. It is also active via YouTube, Instagram, Twitter and Facebook to create a better brand visibility.
Liked this post? Check out the complete series on Marketing Mix