Deloitte is a private company that provides professional services in several parts of the world. It is a multinational corporation and was founded in the year 1845 by its founder William Welch Deloitte. The company serves a global area and has headquarters base in New York in the United States. Deloitte is considered to be the best place for launching a career and occupies the first position in terms of market share. Its target customers include corporate organisations and urban business houses. Deloitte is part of prominent service network in the world and provides immaculate services to twenty sectors of industry. It faces stiff competition and some of its rival companies are as follows-
Price Waterhouse Coopers

or

PWC
Ernst & Young
About Deloitte
Type: Professional services network
Industry: Financial advisory and legal services
Founded: 1845
Founder: William Welch Deloitte
Headquarters: London, United Kingdom
Area served: Worldwide
Key people: Richard Houston (Chairman) and Punit Renjen (CEO)
Number of employees: 345,000
Product in the Marketing Mix of Deloitte :
Deloitte holds number one position in management and global consulting and has a wide range of diversified products and service portfolio. Clients depend on member firms of Deloitte to provide impeccable services that will help in transferring uncertainty to the actual possibility. The company is in a position to anticipate, innovate, collaborate and create several opportunities for its customers. Deloitte refers to a popular brand name which has several independent firms collaborating to provide products and services that include-
Audit- Offers traditional audit and accounting services, IT control assurance and internal auditing
Risk Advisory- Grants offering in business-continuity management, project risk, integrity and data quality, privacy and information security and enterprise risk-management
Financial advisory- Offers its clients services related to corporate finance including commercial and personal bankruptcy, dispute, forensics, document review, e-discovery, advisory, capital projects valuation and consulting services
Legal & Tax- Provides help to clients by undertaking global tax activities and transfer pricing of multinational companies, maximising net-asset-value, minimising tax liabilities, providing advisory related to tax implications and implementing tax-computer-systems

Place in the Marketing Mix of Deloitte :
Deloitte has nearly 244,000 well-trained employees working under its various companies who provide professional help to its clients. Its network is spread over one hundred and fifty countries. At its onset, the organisation and its member firms were held together as an unincorporated association, but in the year 2010, they all came under the umbrella of Deloitte Touché Tohmatsu or DTTL, a private company from the United Kingdom. Each member of Deloitte retains its independent and separate legal entity and is subject to regulations and laws of the country where it operates. Professional services are provided by particular member firm and not its parent company DTTL.
Price in the Marketing Mix of Deloitte :
In terms of revenues, Deloitte is considered to be the largest network provider of professional services and is considered one amongst the "Big Four".  In the year 2016, it was ranked at sixth position in the United States as the largest organisation that was privately owned. It set a record for its revenue earnings at 36.8 billion dollars. Deloitte has an integrated platform for providing best possible services in the world and hence has adopted a premium pricing policy for its services. It is the belief of company that its top quality services deserve premium prices. Deloitte helps its clients in minimising their risk options because it has a deep understanding of the industry and hence its value-added pricing policy is readily accepted by customers.
Promotion in the Marketing Mix of Deloitte :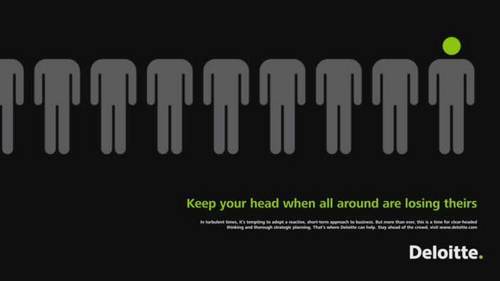 Deloitte is a global company with brand awareness and visibility in every part of the world. It is actively involved in several sports and event categories. Since the year 2009, it has provided professional services and served as an official sponsor for United States Olympic Committee. Royal Opera House and 2012 London Olympics were sponsored by UK Deloitte.  In the year 2010, Winter Paralympic Games and Winter Olympic Games at Vancouver were offered professional services by Canadian firm of Deloitte. In the year 2010, Singapore firm of Deloitte became sponsors of Summer Youth Olympics. Several member firms of Deloitte are sponsors of society events and sports teams of universities for instance Edinburg University Hockey Club and the Cambridge Union Society.
Liked this post? Check out the complete series on Marketing Mix