Aquaguard is pioneer in water purifier systems and is the product of Eureka Forbes Limited. The parent company Eureka Forbes was founded in 1982 as a joint venture Tata Sons' Forbes Gokak and Sweden's Electrolux. Now it is a part of a Shaporji Pallonji group and has employee strength of about 7000. In 1980's the brand Aquaguard was first introduced and then it became synonymous with pure water for homes in India.
In fact, it has almost become a generic brand name in India, with people saying that they want Aquaguard instead of asking for a Water purifier.Eureka Forbes Limited introduced the maiden universal water purifier Aquaguard total sense, which auto senses the type of water and selects optimum purification technology.
About Aquaguard
Type: Water purifier
Industry: Water purification
Founded: 1982
Founder: Murli Dhar Gupta
Headquarters: New Delhi, India
Area served: India
Key people: Murli Dhar Gupta (Chairman) and Sameer Narang (CEO)
Number of employees: 10,000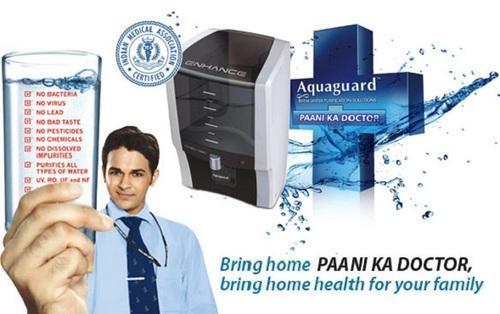 Products in Marketing mix of Aquaguard
Aquaguard water purifiers have an advanced product range of water purifiers with a patented technology known as mineral guard technology. The various types of water purifiers by Aquaguard are as follows:
RO water purifiers: Aquaguard Revivato purify the water from borewell, which has a salty taste.
UV water purifiers: Aquaguard classic and compact, to effectively purify the water from municipal water supply drawn from lakes or rivers this doesn't have a salty taste.
RO+UV water purifiers
Universal water purifiers: Gold Nova and Total sensa these two have RO+UV+ UF features to protect the original taste of water and they automatically choose the type of purifying technology based on the source of water whether it is from bore well, municipal or even a tanker
Personal water purifiers: to provide you pure water on the go.
Aquaguard was one of the first movers for Water purifiers and hence its products are far better then its competitors. Aquaguard mid range water purifiers have a multi stage purification process, 6 liters capacity and with digital display you get to see the cartridge life as well. But On the other hand Kent's similar purifier has 5-stage purification with 8 liters capacity. So Kent is a brand, which is in the field with Aquaguard in the business of water purification.
Place in Marketing mix of Aquaguard
The friendly man from Eureka Forbes in a well-clad uniform suit became the image of Aquaguard servicemen and the installation person. They are responsible for directly selling the product as well as for maintenance and periodic checkup. The company lags behind in the space of gravity based water purifiers which work without electricity as the competitor Kent made a move first and brought them in 2009.
Being one of the pioneers in the water purification industry, Aquaguard has a huge channel network across the country. The product is sold via dealers who provide installation for the products. Or it is sold via modern retailers as well as through online channel. The company is known for its push strategy and has strong incentives for any dealer or employee who sells the maximum. This ensures that there is always growth in Aquaguard.
The company also has a strong service network which is needed for a product such as Water purifiers. There are many spare parts in a purifier for which you need authentic dealers and distributors. As Aquaguard is a leading brand, people are conscious about genuine spare parts and hence search for genuine and authorised service channel partners of Aquaguard only.
Price in Marketing mix of Aquaguard
Other players like Unilever, Sure, Nasaka, Kent are the main competitors for Aquaguard. Kent RO water purifier costs Rs17000 and Aquaguard RO water purifier costs Rs 15900 as being an older player in the market it able fetches this price through economies of scale. Unilever's Pure IT RO purifier costs around Rs 10000 and Aquaguard UV purifier costs around Rs 8000. Being more than 3 decades old Aquaguard is able to provide a competitive price to retailers.
At the same time, we have to remember that there are many local players in the market besides the national level players. These local players give very quick service due to which they take away the market. Hence Aquaguard has competitive pricing as the only advantage in its kitty. This competitive pricing matches very well with its superior value and hence the customers get the right value for money products from Aquaguard.
Promotions in Marketing mix of Aquaguard
Initially in 1980s water purifier was an unknown product so the company adopted the strategy of direct selling and now it has become Asia's largest direct selling company with 5000 direct selling agents covering up to 1.25 million Indian households. Aquaguard has a good brand image and brand loyalty among its customers and in a way Aquaguard has become a synonym for water purifier.
From the start, the push strategy of Aquaguard was very strong & the sales strategy that it employed of sending sales people from door to door was detrimental to create a strong brand. Because of personal sales man being present, the company could handle service very well and also received many feedbacks for its products.
Later the company moved to digital medium of marketing, as the selling agents faced problems to tap the customer base of gated communities. So to deal with it newspaper ads, helpline numbers and TV ads were started. And in this space, competitors like Kent got a celebrity Hema Malini to be the face of their product, which boosted their sales too. Products of Kent and Unilever are more retail focused whereas Aquaguard still relies on direct selling agents as their core strength.
Liked this post? Check out the complete series on Marketing Mix