Jaypee Cements is a subsidiary of its parent company Jaypee Group. It is a public company of Indian origin. As the name suggests the company is associated with cement industry and has been ranked as third largest producer of cement in India. In the year 2003, Jaiprakash Associates was formed after a merger of Jaypee Cement with JIL. In the year 2014, Shree Cements announced its decision of acquiring Panipat's grinding unit and in the year 2016, February an announcement was made that Ultra Tech will be acquiring Jaypee's cement assets. Its competitors in cement sector are as follows-
Gujarat Ambuja Cement
Orient Cement
Birla Cements
About Jaypee Cements
Type: Cement manufacturing company
Industry: Cement
Founded: 1979
Founder: Jaiprakash Gaur
Headquarters: Noida, Uttar Pradesh, India
Area served: India
Key people: Manoj Gaur (Chairman) and Manish Gaur (CEO)
Number of employees: 6,000+
Product in the Marketing Mix Of Jaypee Cements :
Jaypee Cements produces and markets a diversified range of cement that have been specially designed to meet customer requirements for different cement type in the market. The company offers several brands with individual properties and characteristics and these surpass the standards set by BIS easily.
Cement plants are equipped with modern and state-of-art facilities and technology, computerised and fully-automatic process-control system, extensive instrumentation, quality control software that is custom-designed in mines and expert cross-belt analyser. Jaypee Cement markets and produces both OPC and PPC cement. OPC is the top choice of engineering companies for constructing of bridges, highways, power plants, residential structure and transmission lines whereas PPC is mostly used for commercial complex, roads, housing, canals and wells. All brands are sold in HDPE bags of 50 kg with a Jaypee logo.

Place in the Marketing Mix Of Jaypee Cements :
Jaypee Cements has a pan India presence. Its cement plants are found in ten states. The company has eighteen facilities that produce estimated the capacity of nearly thirty-six million tonnes of cement by the year 2011. Jaypee Cements has three modern and computerised cement plants. Its plant at Rewa in Madhya Pradesh has two units with near capacity of 2.5 million tonnes annually. In the year 1995, Jaypee Cements incorporated Bela Cement Limited to establish at Bela in Madhya Pradesh a cement plant.
In the year 2007, a joint venture was signed with Steel Authority of India Ltd to set up a cement plant in the district of Bhilai. In the year 2010, the company commissioned a blending and grinding plant at Bagheri in Himachal Pradesh, at Satna in Madhya Pradesh and at Roorkee in Uttarakhand. Jaypee Cements has a strong distribution network that includes services of stockists, dealers, dumps, regional marketing offices, and corporate offices. It markets most of its products in Uttar Pradesh, Bihar, Madhya Pradesh, North East, North India and West Bengal. Its overseas market includes the export of cement and clinker to Nepal.
Price in the Marketing Mix Of Jaypee Cements :
The cement industry is very competitive and it is very important to make a thorough market research to know its own position in the market and to know the standing of its rival companies also. Jaypee Cements has adopted a competitive pricing strategy and its prices are more or less similar to those of its rival companies. The company offers the wide range of cement products. Basic prices of cement remain same as competitors although the company does give a window of 5% to 10% to its dealers to deal with increase and decrease of market margins. Most of the time the dealer passes this advantage to customers by reducing their profits by 25 -55 and sometimes more to increase sales figures because high volumes will ultimately lead to greater revenues.
Promotions in the Marketing Mix Of Jaypee Cements :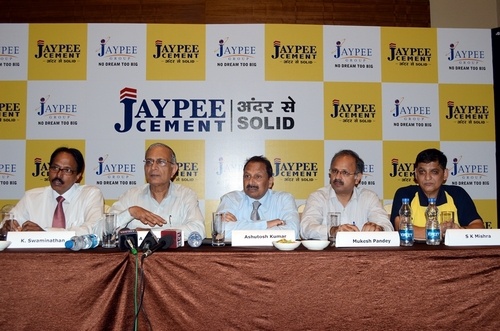 Brand awareness is very important for any organisation because in today's competitive world it is very difficult to sell products without any awareness about it in the consumer market. Jaypee Cements have adopted several promotional strategies to create positive brand visibility. Their ads are shown in various popular channels of television and are also aired on radio.
The company has taken help of print media and advertised via newspapers and magazines. Hoardings have been put in strategic places to gain maximum coverage. Jaypee Cements takes its responsibility towards nature seriously and has developed green belts in and around plants and townships by planting and nurturing samplings. It also organises medical camps and animal-care camps regularly.
Liked this post? Check out the complete series on Marketing Mix