Mini is a product line that is related to automobile industry. It is a British Marque that is owned by its parent company BMW.  It was originally iconic small car that was manufactured between years 1959 and 2000 by British Motor Corporation. Mini has been about passion, inspiration and new ideas and this is one of the main reasons for its success in the market. Some of its competitors are as follows-
About Mini Cooper
Type: Car
Industry: Automotive
Founded: 1959
Founder: Sir Alec Issigonis
Headquarters: Oxford, England
Area served: Worldwide
Key people:Oliver Zipse(Chairman) and Oliver Blume (CEO)
Number of employees: 14,000
Product in the Marketing Mix Of Mini Cooper
Mini has been a renowned brand in automobile sectors and its models include
Clubman

1275GT

Moke

Countryman

Austin Seven

Mini-Minor

Morris
Performance versions of above-mentioned models use brand name Cooper because of its partnership with John Cooper who was a legend in racing circuit. Since the year 2001, Mini models have several variants like One (entry-level), John Cooper Works (high-end), Cooper S (sporty) and Cooper. Hatchback Mini was launched in the year 2001 and was titled Mini but was available in several variations like One, Cooper S and Cooper. In numerous European markets, it was powered by a Tritec engine of 1.4 litres a but everywhere else 1.6-litre engines was used. First Cooper and then Cooper S variants followed and they were its sportier version.
Next came to John Cooper Works or commonly called JCW. A one-off model for racing called Mini Cooper S Works was also launched and it had several modifications like uprated suspension, air filter and racing exhaust for better performance levels. In the year 2004, a convertible model was launched with Cooper S, Cooper and One variant. In the year 2007, a limited edition was launched of Mini Cooper S Sidewalk Convertible.
Place in the Marketing Mix Of Mini Cooper :
Mini models were manufactured at two places Cowley and Longbridge but later it was centred only on Longbridge. After a change in its ownership Cowley plant was demolished, and a new manufacturing plant was created. In year 2006 it was announced by BMW that future engines were to be manufactured in United Kingdom once again, thus making it a British product. Final assembling of the parts was to take place at Oxford and its body pressings were to take place at Swindon Pressings Ltd Subsidiary in Swindon. Mini vehicles are sold in various parts of the world and in year 2011, 285,000 vehicles were sold globally.
United States has been the biggest market for Mini Cooper vehicles and its other top markets are Germany and United Kingdom. Distribution channel of Mini Cooper consists of dealers which do a fantastic job of supplying different products through best possible means.  
Price in the Marketing Mix Of Mini Cooper :
Mini has kept a reasonable pricing policy for its Mini Cooper variants. It wants to compete successfully with its rival companies and hence have kept their price levels in similar bracket as those of its competitors. Its competitive pricing policy along with its penetration policy has resulted in good sales for the brand.  Mini Cooper was designed to become an economical vehicle but it has been projected as a premium car in consumer market that is reasonable priced. Its affordable rates have helped the brand to garner better revenues.
Promotion in the Marketing Mix Of Mini Cooper :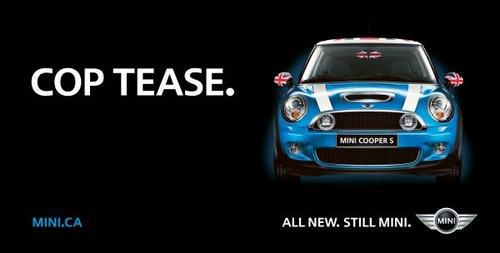 Mini Cooper has been receiving publicity through several trophies and associations. Monte Carlo Rally has been won by Mini Cooper S thrice in years 1967, 1965 and 1964. In year 2003, Mini Cooper was publicized in a popular movie The Italian Job. In the same year, Mini Cooper/Cooper S was the recipient of North American Car of the Year trophy. In year 2005, its convertible model won trophy for Most Spirited/ Entry-level category.
Mini Cooper has always used publicity to promote its name and products. Its ad campaigns have been broadcast on television and featured in magazines and newspaper. In year 2007, a video series titled Hammer & Coop was released as an ad campaign to promote visibility. As part and parcel of a campaign a movie titled Counterfeit Mini Coopers was released. In New Zealand brand has been a sponsor for Mad Men, a program on television.
Liked this post? Check out the complete series on Marketing Mix