Gionee is a private company of Chinese origins. It was founded in the year 2002 by its founder Liu Lirong. It is associated with consumer electronic industry and deals with manufacturing of Smartphone. By the year 2012, it occupied nearly 4.7% of market share in China and had expanded its existence to several countries. Stylish designs and innovative features have helped the company in maintaining its position as one of the top-ten leading mobile phone manufacturers in the global market. It faces competition from rival companies like
Intex
Lava
OnePlus One
Xiaomi Mi4i
About Gionee
Type: Smartphone manufacturer
Industry: Communications equipment
Founded: September 16, 2002
Founders: Liu Lirong
Headquarters: Shenzhen, Guangdong, China
Area served: Worldwide
Current CEO: Li Xuejian
Number of employees: 20,000
Major products: Smartphones, feature phones, and tablets
Product in the Marketing Mix Of Gionee :
Gionee is connected to telecommunication sector and is a high-tech organisation that has puts its onus on production, R & D and selling of mobile phones. All its products are trendy, cool and made to perfection.
One of their vital features is that they are extremely slim and hence are very comfortable for usage. Gionee boasts of a good product portfolio in Smartphone market and some of them are as follows-
S6 Pro- In the year 2016, September 30

th

Company launched version S6 Pro in Indian market with 64GB ROM and 4GB RAM. Its features included fingerprint sensor and 13MP rear with front camera of 8MP

Marathon M5 Plus- Its features include 64GB memory with an additional 3GB. Its display screen is of 15.24 cm

S6s – Has selfie flash with rear 13MP, front camera of 8MP. It has a fingerprint sensor and is also damage resistance.

Marathon M5 Lite(CDMA)- Its features include 4000mAh battery, 32GB memory with additional 3GB and display screen of 12.7cm

P5W- Features include 12.7cm display screen and is available in five colours

F103 model was the first Smartphone made by Gionee in India

Place in the Marketing Mix Of Gionee :
Gionee is one of the largest manufacturing companies and serves a worldwide area. Its headquarters base is at Shenzhen in China. It has an international presence in numerous countries like Algeria, Philippines, Thailand, Nepal, Myanmar, Vietnam, Nigeria, Bangladesh, Taiwan and India. It is helped in its endeavour by two processing facilities titled Dongguan Jinzhong Electronics and Dongguan Jiming Electronics and 20,000 square feet factories. The company has also a very efficient workforce of nearly one thousand employees to handle all its work.
In the year 2016, the month of August, Gionee announced its decision to build a facility for manufacturing purposes in India. Company realises that robust infrastructure is the key for capable and efficient handling and relies heavily on its offline distribution policy by building its physical channel from one territory to other at a brisk pace. In India, its well-planned distribution channel includes five major distributors in South, North-East, West Bengal, Rajasthan and Punjab.
Price in the Marketing Mix Of Gionee :
The smartphone market is price-sensitive and hence Giomee has decided to adopt a value-based pricing system by offering finest hardware and newest technology at reasonable prices.  It also offers enhanced performance, innovative features and beautiful design at rational prices. Affordability has been an important aspect for any consumer and by keeping prices pocket-friendly the brand has ensured higher volumes and greater revenues. Moreover, the rational pricing policy will help in penetrating further markets and keeping a check on its competitors.
Promotion in the Marketing Mix Of Gionee :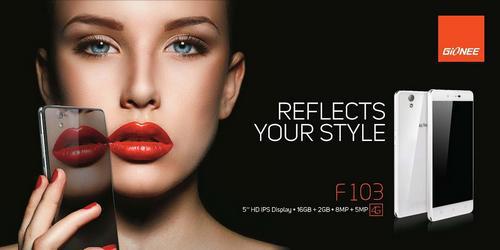 Gionee as an international brand is making its existence known in emerging markets where there is huge scope for budget phones. It has taken help of all three mediums electronic, social and print to market its products effectively. Several ad campaigns have been released in newspapers, billboards, radio and different channels of television. As Social media is slowly and steadily becoming one of the most prominent advertising tools in recent times, its ads are also displayed through various portals.
The company has an official website to provide related information and maintain direct contact with its consumer base. The brand is not a very big fan of e-commerce and hence has put its onus more on traditional channels than social media to increase its brand visibility and create positive awareness about its products. Indian actor Alia Bhatt is its brand Ambassador in India.
Liked this post? Check out the complete series on Marketing Mix