Barista Lavazza is a chain of Espresso Coffee bars hailing from India. The chain was first established in February 2000 and later acquired by Lavazza in 2007. Thereafter, it was re-christened Barista Lavazza. The Barista Lavazza espresso coffee bar chain is headquartered in New Delhi, India.  The company founded by Pratha Duttagupta is also operational in South Asia and the Middle East.
In 2001, a 34.3% equity stake was later bargained for Tata Coffee.  However, later this was bought out by Sterling Group of which it is a wholly owned subsidiary. Its most prominent competitors include:
Café Coffee Day
Costa Coffee
Starbucks
Barista Lavazza was the recipient of the Times Group and Business Standard 'Brand of the Year' award in 2002.
About Barista
Type: Chain of espresso bars and cafes
Industry: Food and beverage
Founded: 1996
Founder: Amit Judge
Headquarters: New Delhi, India
Area served: India, Sri Lanka, Maldives
Key people: C Sivasankaran (Chairman) and Sunil Arora (CEO)
Number of employees: 3,000+
Products in the Marketing Mix of Barista :
Barista Lavazza procures coffee from the Indian roaster named as Fresh and Honest, based out of Chennai and owned by Lavazza. Its product range includes coffee, tea and confectionary items as below:
Coffee and Teas

Coffee Add-ons

Smoothies

Granitas

Sandwiches

Rolls

Pastas

Desserts

Other Drinks
Within each category, Barista offers a range of items. Espresso Italiano, Espresso Macchiato, Cappuccino, Caffe Latte, Caffe Mocha are some of its popular varieties of coffee.

Place in the Marketing Mix of Barista :
Barista believes in catering to its customer base through strategically located outlets.  Most of its outlets are therefore positioned in and around Malls, Cinema halls, Colleges, and Offices etc.  The brand caters to a large spectrum of customers and has a generic appeal. As such, the locations for the outlets are positioned in such a way that the customer base is adequately covered.
Barista currently operates in over 120 outlets all over the country.  The company is expanding extensively and opening a new outlet approximately every 10 days.  Mumbai alone has 30 outlets.
The company itself owns every Barista outlet as it doesn't operate on a franchise business model.
Price in the Marketing Mix of Barista :
Barista's pricing strategy was based on 'Skim Pricing'. This means that they started at a higher price, thereby skimming off people's pockets, so to speak. As competition started building with more players doing well in the industry, they started lowering their prices. By now, the company was also having certain economies of scale due to larger output which made the lowered prices economically feasible.  Today, Barista caters to different segments of society just like its competitor Café Coffee Day.
Promotions in the Marketing Mix of Barista :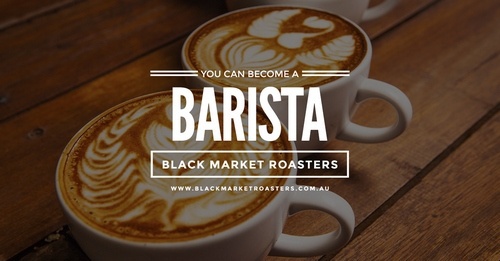 Around 65% of Barista's customer base is in the 15-30 years age group.  The rest of the customers belong to the 30 plus to 60 years age group.
Barista's brand positioning gives the impression that the place is meant for people who genuinely enjoy drinking coffee and want to have intellectually stimulating conversations with like-minded people over coffee along with some quiet time. Therefore it is advertised as a place 'where the world meets' and is mostly frequented by students and professionals where they can just sit, have coffee and discuss myriad topics.
The services and outlets are based on European cafes. In fact, the name 'Barista' is Italian and means 'Bartender'.
The service is of self-service variety where the customer places his order at the counter and collects it by himself once it is ready. The décor of the café is vibrant with the interiors, logos, and images in bright colours like red. The red colour meant to exude the idea of warmth coffee. Even the literature provided by Barista is in line with its brand image.
The company relies on a special "Barista Coffee Card" to promote its product. The card entitles a customer to one complimentary hot beverage for every seven purchases. This facility is available in all Barista stores and no special membership is required. Barista also believes in forming special alliances and collaborations with other brands to increase its sales and customer base.  For example, it entered into a deal with Leo Mattel toys to provide board games in the outlets.
Liked this post? Check out the complete series on Marketing Mix