LaCoste is associated with Lifestyle and Retail industry and deals in accessories and apparels. It is of French origin and was founded in the year 1933 by its famous co-founders Andre Gillier and Rene Lacoste. The brand is easily recognisable through its logo of the green crocodile as Rene Lacoste was popularly hailed by his fans as the Crocodile. In the year 2012, the brand changed its ownership as it was purchased by Maus Freres. Lacoste faces fierce competition from several lifestyle brands and sportswear companies like the following-
About Lacoste
Type: Fashion brand
Industry: Clothing
Founded: 1933
Founder: Rene Lacoste, André Gillier
Headquarters: Paris, France
Area served: Worldwide
Key people: Thierry Guibert, CEO
Number of employees: Over 10,000
Product in the Marketing Mix Of Lacoste :
Lacoste is a vintage company that is known for niche look, quality designs and modern comfort. It is undoubtedly a leader in the premium-casual-wear segment and this is reflected in its modern collections via unique style and natural elegance. The company started its operations by producing tennis shirts that included an embroidered crocodile logo displayed on the chest. It expanded its portfolio to include shirts for sports like sailing and golf. In the year 1951, brand Lacoste started introducing colour shirts besides the already available tennis-white shirts. With time it expanded its portfolio to include several items like-
For men –
Apparel includes sportswear, trousers, coats, shorts, jackets, sweatshirts, t-shirts, knitwear, polo and shirts
Footwear includes canvas, plimsolls, boat shoes, loafers, boots, city shoes and trainers
Accessories include socks, underwear, fragrance, sunglasses, watches, hats and caps
Leather goods include belts, wallets and bags
Women
Apparel includes dresses, shorts, skirts, jackets, coats, knitwear, tops and sportswear
Footwear includes trainers, canvas and boots
Accessories include caps, scarves, hats, watches, fragrances, sunglasses and gloves
Leather goods include belts and bags
Kids-
For both boys and girls brand offers choice in apparel, footwear and accessories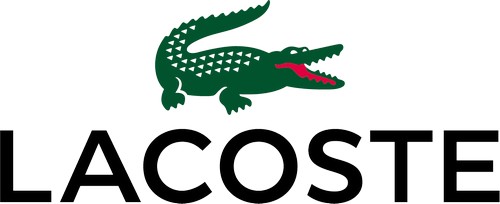 Place in the Marketing Mix Of Lacoste :
Lacoste is a globally recognised brand with its product presence in nearly one hundred and twenty countries like Australia, Canada, India and China.  The brand introduced its products in United States market for the first time in the year 1952 and by 1970s had gained immense popularity. The company has a strong community that includes a workforce of ten thousand employees responsible for distribution, production, designing and communication all over.
It operates by means of its own boutiques located at independent places as well as in very popular departmental stores like Halls, Belk, Macy's and Nordstrom.  Lacoste products are easily available using 10,600 wholesale point-of-sales. It also sells its products by the use of 11 online outlets that meets client requirements by a single click.
Price in the Marketing Mix Of Lacoste :
Lacoste has targeted sports personalities and fashion conscious people as its target customers. They prefer customers who have high buying power and who do not hesitate before making a purchase because of a price tag. Owning a product from Lacoste is a status symbol and buyers have no hesitation in flaunting it through their purchases. It is in simple terms an expensive and trendy brand name that deals in high-quality and premium items. The company has adopted a premium pricing strategy for its products as it is sure of its customer loyalty. The Rich clientele is the main reason why product prices seem reasonable and affordable to its potential and permanent customers.
Promotions in the Marketing Mix Of Lacoste :

In order to maintain its rich heritage and iconic image, Lacoste has adopted several marketing strategies. The company is aware of its social responsibility and has taken part in several events. It helps children in sports at school level through Rene Lacoste Foundation. It funds an organisation in the Philippines that is working towards saving crocodiles from being extinct.
Lacoste has adopted an aggressive marketing plan and its ads are shown via television, magazines, billboards and social media platforms.  It has roped in several famous personalities to promote its brand name like John Isner, Andy Roddick, Richard Gasquet and Stanislas Wawrinka. Famous golfers Colin Montgomerie ad Jose Maria Olazabal are also associated with this world-renowned brand. In the year 2009, LaCoste roped in Hayden Christensen as the face for fragrance in men's section.
Liked this post? Check out the complete series on Marketing Mix