Maersk is a conglomerate associated with transportation and logistics industry. It is a publicly traded company of Danish origins. Maersk was founded in the year 1904 by its co-founders Arnold Peter Moller and his father captain Peter Maersk-Moller. In the year 2015, it was ranked at 148th position in Forbes Global List 2000. It is the largest shipping company in world with a long list of competitors' like-
Evergreen line
Hapag-Llyod
China Ocean Shipping Company
CMA CGM
Mediterranean Shipping Company
APL
NYK
CSCL
About Maersk
Type: Public limited company
Industry: Shipping, logistics, and energy
Founded: 1904
Founder: Peter Mærsk Moller and Arnold Peter Moller
Headquarters: Copenhagen, Denmark
Area served: Worldwide
Key people: Jim Hagemann Snabe (Chairman) and Soren Skou (CEO)
Number of employees: 110,000
Product in the Marketing Mix Of Maersk :
Maersk has business dealings in several sectors mainly in energy and transportation. It is the largest operator of supply vessel and container ship in the world since the year 1996. Maersk group has a modern and large fleet with nearly 550 container vessels that manage a widespread network of various trade routes across the world. Its product portfolio includes
Container shipping and related activities include terminal activities, forwarding solutions, logistics and container services.
APM Terminals unit operates a network of Inland Services, Terminal and Global Port.
Tankers, offshore and other activities include transportation of oil and gas products, drilling services to various oil companies with help of 24 rigs, marine and towage services, offers anchor handling vessels and in wreck removal.
Oil and gas activities include exploration and production of oil and gas in several countries
Place in the Marketing Mix Of Maersk :
Maersk group is an international company with its headquarters base at Copenhagen in Denmark. It started its operations from Svendborg and with time has spread its presence via offices and subsidiaries in nearly one hundred and thirty-five countries of the world including United States, United Kingdom, India and Australia. Its major routes include Intra-Asia, Oceania, Trans-Atlantic, Latin America, Trans-Pacific, Africa and Asia-Europe.
APM Terminals unit has its headquarters at Hague in Netherlands and its terminal and port operations are spread over Europe, South America, North America, Asia, Middle-East and Africa. Maersk Group is also occupied in exploration activities in Colombia, Brazil, Morocco, Algeria, Angola and Qatar. It has a strong distribution network that includes an efficient and capable workforce of nearly 89,000 employees.
Price in the Marketing Mix Of Maersk :
Maersk group has been trying to reduce its costs and increase its efficiency. It has been delivering profitable growth at a constant rate. Its estimated revenues were 47.569 billion dollars and profits at 5.195 billion dollars at the end of the financial year 2014. Pricing policy of Maersk group depends on factors like long-haul or short destination, fleet type and the route followed.
It is a customer-focused company that offers eco-efficient and reliable transport services. Maersk has adopted a value-based pricing policy that is dependent on the type of product and service required and also on its client. It faces stiff competition from other shipping companies and hence has kept its pricing policy flexible and reasonable to suit individual needs.
Promotions in the Marketing Mix Of Maersk :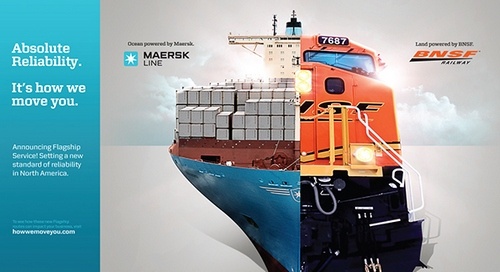 Maersk has always known the benefits of marketing on any organisation and hence has adopted several promotional strategies. Its main medium of advertisement is print media and advertisers to a great extent via newspapers. Maersk has found social media as a terrific medium for B2B marketing and has started authentic interaction with its existing and potential customers.
Its website showcases Maersk's rich history, its product line, its seascapes through videos and photos creating a direct link with customers. Company responds quickly to any controversial or emergency news via social media. It shares stories and videos on Twitter, Facebook, Instagram and industry news and business updates via LinkedIn and Google+.
It also has undertaken several sponsorship deals to gain positive visibility like World Robotic Olympiad.  Maersk group is an industry leader and recognises its responsibility towards its customers. It educates its customers on environmental impacts of shipping industry by applying the concept of transparency in its dealings. Maersk group has been the recipient of several accolades and awards in recognition of its works like Transportation Safety Administration Award, Maritime Excellence Lifetime Achievements Awards and Customs-Trade Partnerships against Terrorist Validation Award.
Liked this post? Check out the complete series on Marketing Mix