Hard Rock Café is a private company that is associated with food and beverage industry. It includes theme restaurants, whose walls are covered with rock-and-roll memorabilia. This tradition has been followed by every restaurant with this retail chain. Hard Rock Café was founded in the year 1971 by its founders Peter Norton and Issac Tigrett.  In the year 2007, it became a subsidiary of its parent company Seminole Tribe of Florida. Some of its rival companies are as follows-
House of Blues
Rainforest Café
Planet Hollywood
About Hard Rock Cafe
Type: Hotels chain
Industry: Hospitality
Founded: 14 June 1971
Founder: Peter Morton and Isaac Tigrett
Headquarters: Orlando, Florida, United States
Area served: Worldwide
Key people: Jim Allen (Chairman) and Jon Luther (CEO)
Number of employees: 20,000
Product in the Marketing Mix Of Hard Rock Cafe :
Hard Rock Café is an international retail chain with eleven casinos, twenty-two hotels and one hundred and fifty-seven cafes in its organisation. Every one of its outlet has excellent ambience, maintains high standards and offers several services and deals to its consumer base.  
A special package is offered for people wanting to celebrate a happy occasion like wedding, anniversary or birthday party. Spas, bars, food restaurant and shops are part of its casinos and hotels.  Hard Rock Café is dedicated to offering best of dining experience along with the rock-n-roll music.  It has a memorabilia collection that exceeds 60,000 pieces and includes handwritten lyrics by John Lennon and Flying-V- Guitar of Jimmy Hendrix.
Place in the Marketing Mix Of Hard Rock Cafe :
Hard Rock Café started its journey from Piccadilly in London and in the year 1982 started its international expansion plans first with the United States and later to several countries in the world. Its headquarters base is in Orlando in the United States. By the end of the year 2015, December, its international presence was spread to fifty-nine countries with 191 locations that included hotels, casinos and café.
Some important restaurants and cafes are in Berlin, Paris, New York, Philadelphia, Chicago, San Francisco, Los Angeles and Toronto. Casinos and Hotels are located in places like Goa in India, Cancun in Mexico, Panama Megapolis in Panama, Punta Cana in the Dominican Republic, Vancouver in Canada, Manchester in the United Kingdom, Penang, Singapore and Macau. Hard Rock Café has adopted a franchise set-up for distributing its products except in the United States where they are operated and owned by corporate houses.
Price in the Marketing Mix Of Hard Rock Cafe :
Hard Rock café realises the importance of a proper pricing policy. It has adopted several pricing strategies focussing on different aspects of its business. It has agreed to a value-based pricing system for its restaurants, hotels and casinos.
Customer-centric programs are held in its outlets providing a rich experience and as people do not mind paying for such events the brand has been successful in implementing a mid-premium pricing policy. To its loyal customers, it offers several deals and discounts which help in toning down high prices to average levels. Shops attached with Hard Rock Café have adopted a premium pricing policy for its apparels and several products as they are exclusive and high-end products.
Promotions in the Marketing Mix Of Hard Rock Cafe :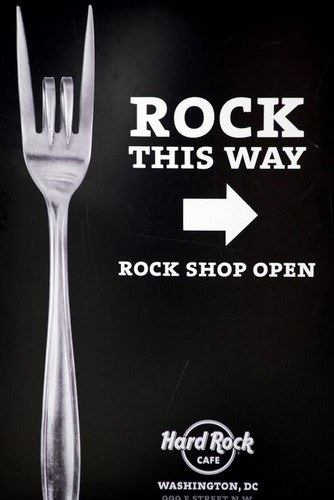 Marketing strategy is an integral part of Hard Rock Café so that its brand retains its visibility amongst its customers. It has adopted both print and electric media tools for promotion. Billboards are displayed at popular and crowded areas and commercials are shown in different channels to gain maximum coverage.
Hard Rock Café has been an active participant in several charities, events and philanthropic activities to create brand awareness. It has organised auctions, parties, weddings and meetings and held live concerts in its hotels and cafés as part of the promotional policy. Its websites provide related information about its background and upcoming events. The brand offers Hard Rock Café tours to its interested customers by providing All-Access System through member cards.
A member earns points while spending at any Hard Rock Café and after collecting suitable points can redeem it via discount, food, drink or merchandise. A free gift like a hat, cup or a t-shirt is allotted on spending more than 25 dollars at a time. Hard Rock Café is a great believer in celebrity endorsement and has roped in famous personalities to relate to its cause like John Bon Jovi and James Hetfield.
Liked this post? Check out the complete series on Marketing Mix