Foster's lager is an international brand of Australian origin. It is associated with the beverage industry and deals in distribution of Australian lager. Foster's Lager is owned by its parent company SABMiller and was introduced in the consumer market in the year 1889. Their annual global sale is nearly 500 megalitres and it has been ranked at the second position in the United Kingdom. Foster's Lager faces competition from brands like
About Foster's
Type: Beer brand
Industry: Brewing
Founded: 1888
Founders: William and Ralph Foster
Headquarters: Melbourne, Australia
Area served: Worldwide
Current CEO: Roland Fletcher
Number of employees: 5,000
Major products: Foster's Lager, Foster's Premium Ale, Foster's Radler
Product in the Marketing Mix Of Foster's :
Fosters is a premium beverage brand that produces pale lager. It has a refreshing taste with 4% and 5% alcohol content in Europe and rest of the countries respectively. It's smooth and awesome taste has made it a desired product in the consumer market. Its main product is the larger but it is also available in several variants that are as follows-
Foster's Twist- It was launched as a refreshing alternative and had a hint of citrus. It was later withdrawn from consumer market
Foster's Super Chilled- It is available easily in bars and pubs and is served at a chilled temperature
Foster's in the year 2008 was introduced as a scuba with a widget. It was available in cans and is available currently in the United Kingdom only
Foster's Keg is available in the United Kingdom for private parties
Foster's Gold has a 4.5% of alcohol percentage and is sold only in Bottles

Place in the Marketing Mix Of Foster's :
Foster's lager is a world-renowned brand that is marketed by Heineken International in Europe and SABMiller Group in other parts of the world. It is the largest beer brand in the global market with a worldwide global consumption. Its products are available in nearly one hundred and fifty countries. Fosters lager has twenty manufacturing plants situated in nine countries around the world. It has a wide network of distribution channels for its products.
The company has engaged top company for providing logistic services as it will ensure timely delivery of products to various outlets. It has standardised infrastructure and advanced transport system to take care of brewing, warehousing, bottling and recycling process. Foster's lager has the support of Foster's group in providing global services. One can easily find a can or bottle of Foster's lager and its variants in hotels, restaurants, pubs, supermarkets, liquor stores and bottle shops.
Price in the Marketing Mix Of Foster's :
Foster's mission is to maintain its position as a top-notch brand by maintaining its product quality. In order to become a highly successful brand, it has decided to adopt mid-level pricing policy for its premium product. It does not want to lose its customers because of prices and hence has decided to maintain reasonable prices so that it seems affordable and price-friendly to its customers.
Fosters faces stiff competition from its rival companies and as it wants to penetrate in further markets it has adopted competitive and penetration policy to further its cause. This will help in creating new customers and in maintaining previous ones. More the sales greater the revenues are the mantra of this premium brand.
Promotions in the Marketing Mix Of Foster's :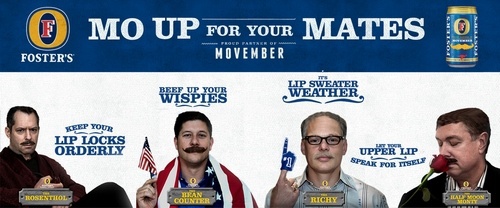 Foster's believes in the concept of advertising whole-heartedly and has adopted policies to market its products in global market. It has taken help of print media and has launched several advertisements on billboards to attract the customers. Foster's has also launched commercials on television with catchy taglines. The company has roped in several celebrities to help in advertising its products.  Barry Humphries, a comedian promoted Foster's lager in the United Kingdom through his character Barry McKenzie in Private Eye. It uses slogans like Australian for Beer and The Amber Nectar.
Foster's believes in advertising through sports and events. It had a sponsorship deal from years 1986 to 1989 with Norwich City F. C, football club. F 1 events have also been sponsored by the brand regularly between the years 1986 to 2006 as it became the title sponsor for Australian GP, San Marino GP and British GP. It also has a sponsorship deal with ASP World Tour and A 1 Team Australia.
Liked this post? Check out the complete series on Marketing Mix