Chick-fil-A is associated with food and beverage industry as it deals in fast-food sector. It is a private company of American origin and was founded in the year 1946 by its founder S Truett Cathy. Chick-fil-A is a subsidiary of its parent company Cathy Family. The brand is well-poised in this highly competitive market but still faces competition from the following-
Subway
Burger King
McDonald's
About Chick-fil-A
Type: Fast food restaurant chain
Industry: Quick-service restaurant
Founded: 1946
Founders: S. Truett Cathy, Ben Cathy
Headquarters: College Park, Georgia, United States
Area served: 48 states, District of Columbia, and Puerto Rico
Current CEO: Dan Cathy
Number of employees: 27,000 (2022)
Major products: Chicken sandwiches, chicken nuggets, waffle fries, salads, milkshakes, and desserts
Product in the Marketing mix of Chick-fil-A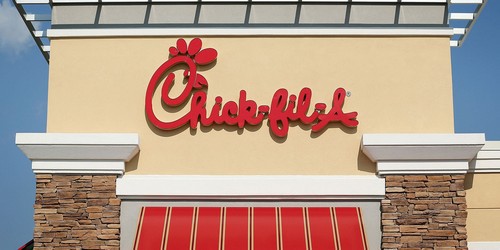 Chick-fil-A is a restaurant chain of fast-food specializing in sandwiches made from chicken. The joint serves breakfast, lunch and dinner menu and also offers catered selections for special events. Its impressive product portfolio includes fresh and healthy items like-
Breakfast
Chick-fil-A Buttered Biscuit
Chick-fil-A Sausage, Egg, & Cheese Biscuit
Chick-fil-A Egg White Grill
Chick-fil-A 4 Chick-n-Minis
Chick-fil-A sunflower Multigrain Bagel
Chick-fil-A Bacon, Eggs & Cheese Biscuit
Chick-fil-A Hash Brown scramble Bowl
Chick-fil-A Fruit Cup
Chick-fil-A Hash Brown scramble Burrito
Chick-fil-A Chicken, egg & Cheese Bagel
Chick-fil-A Greek Yogurt Parfait
Chick-fil-A Hash Browns
Chick-fil-A Chicken Biscuit
Chick-fil-A Bacon, Egg & Cheese Muffin
Sauces
Chick-fil-A Honey Mustard sauce
Chick-fil-A Barbeque Sauce
Chick-fil-A Zesty Buffalo Sauce
Chick-fil-A Garlic & Herb Ranch Sauce
Chick-fil-A Polynesian sauce
Chick-fil-A Sauce
Chick-fil-A Sriracha Sauce
Dressings
Creamy Salsa
Zesty Apple Cider Vinaigrette
Light Italian Dressing
Fat Free Honey Mustard Dressing
Light Balsamic Vinaigrette
Garlic and Herb Ranch Dressing
Chili Lime Vinaigrette
Avocado lime ranch Dressing
Drinks
Freshly-Brewed Iced Tea Sweetened
Fresh Squeezed Lemonade
Coca-Cola
Honest Kids Apple Juice
1% White Milk
1% Chocolate Milk
Simply Orange
DASANI Bottled Water
Dr Pepper
Gallon Beverages
Iced Coffee
Coffee
Treats
Chick-fil-A Chocolate Milkshake
Chick-fil-A Frosted Lemonade
Chick-fil-A Strawberry Milkshake
Chick-fil-A Vanilla Milkshake
Chick-fil-A Icedream cone
Chick-fil-A Cookies & Cream Milkshake
Chick-fil-A Peach milkshake
Chick-fil-A Frosted Coffee
Chick-fil-A chocolate chunk Cookie
Kids Meal
Chick-fil-A Grilled Nuggets Kid's Meal
Chick-fil-A Chick-n-Strips Kid's Meal
Chick-fil-A Nuggets Kid's Meal
Salads
Chick-fil-A Market Salad
Chick-fil-A Spicy Southwest Salad
Chick-fil-A Cobb Salad
Entrees
Chick-fil-A Chicken Sandwich
Chick-fil-A Deluxe Sandwich
Chick-fil-A Spicy Deluxe Sandwich
Chick-fil-A Spicy Chicken Sandwich
Chick-fil-A Grilled Chicken Club Sandwich
Chick-fil-A Grilled Chicken Sandwich
Chick-fil-A Grilled Chicken Cool Wrap
Chick-fil-A Chick-n-Strips
Chick-fil-A Nuggets
Chick-fil-A Grilled Nuggets
Sides
Chick-fil-A Side Salad
Chick-fil-A Superfood Side
Chick-fil-A Waffle Potato Fries
Chick-fil-A Greek Yogurt Parfait
Chick-fil-A Fruit Cup
Chick-fil-A Chicken Noodle Soup
Chick-fil-A Buddy's Apple Sauce
Place in the Marketing mix of Chick-fil-A
Chick-fil-A operates mainly in Canada and United States. It has its headquarters based at Atlanta in the United States. The brand has opened nearly two thousand and two hundred restaurants that are spread over every part of its home country to include forty-six states. The first restaurant was opened at Greenbriar Mall in Atlanta and with time the company opened its restaurants at other locations like Manhattan, New York City, and Columbia. Its first foray into the overseas market was in the year 2014 with a restaurant at Calgary International Airport in Calgary at Canada.
Chick-fil-A has a unique way of operating. It selects a location and then builds a restaurant over there. The company retains ownership but as it believes in franchise system it offers the interested operator a chance. He has to pay an initial payment of ten thousand US Dollars and go through a training program to become eligible for handling the store. The franchise owner must pay 50% of the net profit to Chick-fil-A as part of its business dealings.
Chick-fil-A built its first freestanding franchise at Atlanta in Georgia. The company has opened drive-through-only joints at thirty-one locations and most of its restaurants can be found at airports, hospitals, universities, and malls. Chick-fil-A has created a very good presence in online sector and hence offers online delivery and order placements.
Price in the Marketing mix of Chick-fil-A
At the end of the financial year, 2016 Chick-fil-A posted its revenues at 8 billion US Dollars. It has targeted middle and upper-middle class people from urban families as its target customers who are looking for quick serving fast food joints with good quality offerings. Chick-fil-A is an established brand with a lot of credibilities. It faces stiff competition from several rival brands.
The company has adopted a reasonable pricing policy that keeps its product items at an affordable range. In order to deal with its competitors the company has adopted a competitive pricing policy and has kept its product prices at par with the prices maintained by its rival brands.
Promotions in the Marketing mix of Chick-fil-A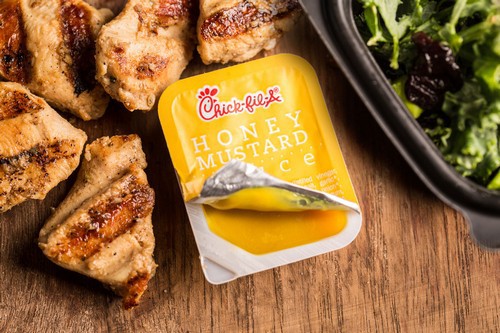 Chick-fil-A has adopted an innovative technique to publicize its brand and the products. It has created ad campaigns that have been able to deal a direct impact on customer mindset. As part of its promotional activity, the company offers a free meal to people who come dressed as a cow on their annual Cow Appreciation Day.  Its descriptive taglines are very popular like 'We didn't invent the Chicken, Just the Chicken Sandwich', and 'Eat Mor Chikkin'.
Chick-fil-A has created a video called 'Running of the Cows' and has also started Best Cow Costume Photo contest via its website to promote brand visibility. All its ads are unique and enjoyable. The company has utilized social media platform to its full advantage and maintains strong presence via Twitter, YouTube and Facebook page.
Chick-fil-A has entered into several sponsorship deals to increase its brand visibility. It has become the title sponsor of The Peach Bowl and is the key sponsor of ACC and SEC of college athletics. The company organizes a high school basketball tournament at Columbia and a charity tour by motorcycle every year. Chick-fil-A offers food service during some of the events it organizes.
It actively participates in more than seven hundred programs like children's homes, families in need and academic scholarships. The brand has been the recipient of several awards like Consumer Choice Award for its fresh and healthy food items.
Liked this post? Check out the complete series on Marketing Mix