Oral-B is associated with FMCG industry as it deals with oral hygiene products. It is a subsidiary of its parent company Procter & Gamble since the year 2006 and was earlier owned by the Gillette Company. The brand was introduced in the year 1950 by its founder dentist, Dr Robert Hutson. It faces competition from brands like
Pepsodent
Colgate
Close-up
Philips Oral Healthcare
Johnson & Johnson
About Oral-B
Type: Oral hygiene products
Industry: Oral health and personal care
Founded: 1950
Founder: Dr. Robert Hutson
Headquarters: Belmont, Massachusetts, United States
Area served: Worldwide
Key people: Richard R. Braun, Chairman, and John A. Pepper, CEO
Number of employees: 10,000+
Product in the Marketing mix of Oral-B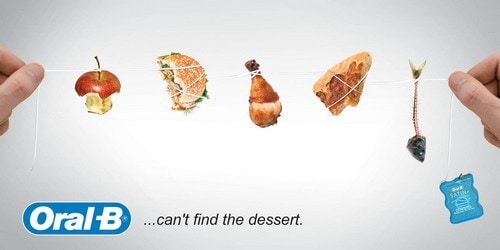 Oral-B is a recognised brand that has a diversified product kitty and includes-
Oral-B toothpaste and Mouthwash- Offers professional level cleaning for healthy teeth.
Oral-B Gum & Enamel Repair Original Toothpaste
Oral-B Gum & Repair Extra Fresh Toothpaste
Oral-B Pro-Expert professional Protection Mouthwash
Manual Toothbrushes- Are available as Complete, 3D white and Pro-Health. Have unique bristles and flexing sides to help in gingivitis prevention, removal of tartar and plaque and protects against bad breath.
Oral-B Pro-Health Clinical Pro-Flex Manual Toothbrush
Oral-B Pro-Health Compact Clean Toothbrush
Oral-B Pro-Health Sugar Defense Manual Toothbrush
Replacement Brush Heads- It helps in inter-dental cleaning, prevents gingivitis, helps in orthodontic care and removes tartar and plaque. These are extra gentle on gums and teeth and are best for people with braces
Oral-B Sensitive Gum Care Replacement Brush Heads
Oral-B FlossAction Replacement Brush Heads
Oral-B CrossAction Replacement Brush Heads
Floss – Are available as Complete, 3D White and Pro-Health. It has deep power to clean and comfort effectively.
Oral-B Glide Pro-Health Comfort Plus Mint Floss
Oral-B Glide Pro-Health Deep Clean Mint Floss
Oral-B Glide Pro-Health Clinical Protection Floss Picks
Battery Powered Toothbrushes- Has bristles which reach to deep end for removing plaque that are between the teeth. Makes gums healthy and kills bacteria.
Oral-B Complete Battery Replacement Brush Heads
Oral-B Pro-Health Battery Replacement Brush Heads
Oral-B Pro-Health Clinical Battery Toothbrush
Electric Toothbrushes- Are available for Kids, Vitality, Pro and Genius. Its features include the pressure sensor, timer and Bluetooth connectivity. Additional benefits include removal of tartar and plaque, orthodontic care, interdental cleaning and protection against bad breath.
Oral B Genius 8000 Rechargeable electric toothbrush
Oral-B 7000 with Bluetooth electric Rechargeable Toothbrush
Oral-B Pro 5000 with Bluetooth connectivity electric Rechargeable Toothbrush
Kids- Are available as Replacement Brush heads, manual toothbrush, battery-powered and electric toothbrush. Helps in removing extra tartar and plaque, offers orthodontic care and protects against bad breath.
Oral-B stages power Disney Dory Electric toothbrush
Oral-B Pro-Health Jr Disney Frozen Vitality Toothbrush
Oral-B Star Wars battery Toothbrush
Place in the Marketing mix of Oral-B
Oral-B started its journey from a small place in the United States and with time has spread its product presence to include most parts of the world. It is easily available in most countries in several outlets like the grocery store, kirana stores, hypermarket, supermarket, malls, shopping centres, dentist's clinic and medication shops. It can also be purchased via online stores as most of the e-shopping sites keep this popular product in their product kitty.
Oral-B has a strong distribution channel that felicitates quick and easy distribution to all its outlets. The company also takes help of its parent company to distribute its products in the consumer market. Oral-B distributes the product items directly via its own sales representatives or indirectly via independent distributors.
It also has tie-ups with sales personnel from other companies to market its products in the consumer market. Distributor plays an important role in the distribution channel of Oral-B. He is the agent who actually carries out the transactions and Oral-B receives market intelligence, order processing, sales contact and market coverage from him directly.
Price in the Marketing mix of Oral-B
Oral-B has targeted middle and upper-middle-class section of society as its target customer, who is looking for innovative and qualitative products. They are looking for a change from the age-old products in the market. Oral-B has positioned itself as a global leader in toothbrush market and as the first choice of any dentist.
Oral-B has adopted a skimming pricing policy for its products. It has launched some inventive product items and at the onset does not have that many competitors. The company at this time adopts premium prices and books a profit by selling its innovative and newly launched products at a fast rate.
Later when other brands launch similar sounding products it adopts a competitive pricing strategy to tackle its competitors. It drops its prices by way of discounts, offers and incentives to make its product prices at par with the prices set up by its rival brands. This helps in maintaining its customer base as well as creating more sales and ultimately more profits.
Promotions in the Marketing mix of Oral-B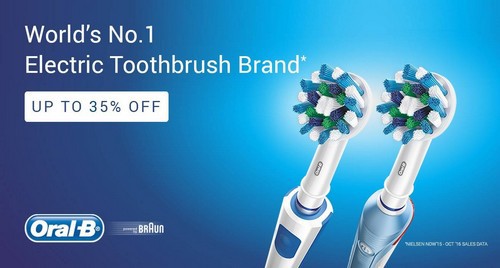 Oral-B has adopted a bold strategy that includes both ATL and BTL marketing to promote its products in the consumer market. It has launched several ad campaigns via print, digital and visual media in newspapers, magazines, hoardings, television channels, radio and billboards.
Oral-B also uses social media platform for advertising and remaining in contact with its customers. It offers dental care information to interested customers via its site. The company also interacts via its Facebook page, YouTube and Twitter account. Offers, incentives and discounts are also mentioned on its website so that customers can avail themselves of latest offerings. It has used the tagline the brand more dentists use themselves worldwide, to describe its brand to perfection.
The company realises the importance of celebrity endorsements and have roped in several famous personalities to become its brand ambassador and to act in its ad campaigns. In the year 2013, Shakira became the brand spokesperson. Delta Goodrem, Australian singer is the brand ambassador for Oral-B 3D white. In the year 2013 Madhuri Dixit, famous Indian actor, interacted online with customers via #AskMadhuriwithOralB.
This was a publicity gimmick by Oral-B marketing team and it paid off with huge success. It was one of the most innovative campaigns and helped the brand in creating further brand visibility. The company has announced TV presenter Emma Willis as its brand ambassador for the promotion of Oral-B's power brushes. She will appear in several campaigns as part of the brand's promotional activity.
Liked this post? Check out the complete series on Marketing Mix