Mr. Muscle is a home-care product associated with FMCG sector. It is a disinfectant cleaner in India for floors and kitchen. Mr Muscle is a subsidiary of its parent company C. Johnson & Sons after it purchased Drackett Company from its previous owners Bristol-Myers Squibb in the year 1992. Mr Muscle was developed and manufactured by its then manufacturer Drackett who introduced it for the first time in the consumer market in the year 1986. It faces competition from the following rival brands in several fields related to surface cleaning like-
Dazzle
Waxco
Clean up
Pristine
Domex
Lizol
About Mr. Muscle
Type: Home-care product brand
Industry: Consumer goods
Founded: 1986
Founders: Bristol-Myers Squibb
Headquarters: Slough, Berkshire, England
Area served: Worldwide
Current CEO: Fisk Johnson
Number of employees: Over 10,000
Major products: Multi-surface cleaners, oven cleaners, drain cleaners, toilet cleaners, and air fresheners
Product in the Marketing Mix Of Mr. Muscle : 
Mr Muscle is actually a cleaner for hard surfaces. It was introduced as aerosol oven cleaner but with time the company has expanded to include a diversified product range related to surface cleaners. Its product portfolio includes the following-
Toilet
Muscle Toilet Power Limescale Destroyer
Muscle Toilet power Discs
Muscle Advanced Power Bathroom and Toilet Cleaner
Muscle Toilet Power Stain Destroyer
Muscle Toilet Power Thick Bleach Gel
Muscle Toilet Power Strips
Muscle Bathroom and Toilet wipes
Muscle Bathroom and Toilet Cleaner
Bath
Muscle Bathroom and Toilet Wipes
Muscle shower Shine
Muscle Multi-Task Bathroom
Kitchen
Muscle Advanced Power Kitchen Cleaner
Muscle Advanced Power Anti-Bac
Muscle 5 in 1 Kitchen Cleaner
Muscle Advanced Power Window and Glass
Muscle Window and Glass Cleaner
Muscle Multi-Task Kitchen
Muscle Orange Action floor wipes
Muscle Oven Cleaner
Muscle Kitchen and Bathroom Drain Gel
Muscle Kitchen and Bathroom Drain Foamer
Muscle Multi-Purpose Kitchen Wipes
Muscle All Purpose Cleaner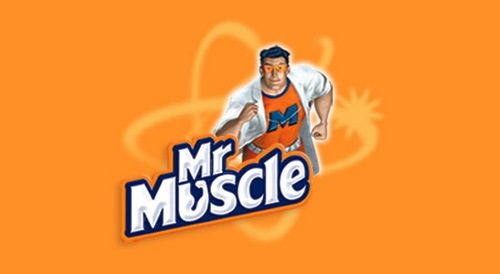 Place in the Marketing Mix Of Mr. Muscle :
Mr. Muscle was introduced in its country of origin United Kingdom and with time has spread its presence to include several countries in the global market of Africa, Latin America, Asia, Australia and Europe. It is one of the most popular cleaning products in India.
Mr Muscle has a strong distribution channel to transport its products from manufacturing facilities to consumers. It includes the traditional network of wholesaler, distributor and retailer to reach consumers via different channels like supermarket, hypermarket, malls, discount stores, convenience stores and grocery stores.
Price in the Marketing Mix Of Mr. Muscle : 
Mr. Muscle is an established brand that faces stiff competition from several rival brands in the consumer market. It also wanted to make inroads in new markets to gain maximum market share. Mr Muscle has set up a team to gain market perception and to gather detailed information about its own production, marketing, and distribution costs and also about the product prices of rival brands.
After evaluating every aspect it has adopted a competitive pricing policy and set up its product prices a bit less than that of others to gain a competitive advantage in the consumer market. It has maintained reasonable, cost-effective and affordable prices so that it becomes easy for a consumer to buy the product. Mr Muscle has also adopted a promotional pricing and offers incentives like discounts, offers and coupons to increase its sales volume and eventually garner better and larger revenues.
Promotions in the Marketing Mix Of Mr. Muscle :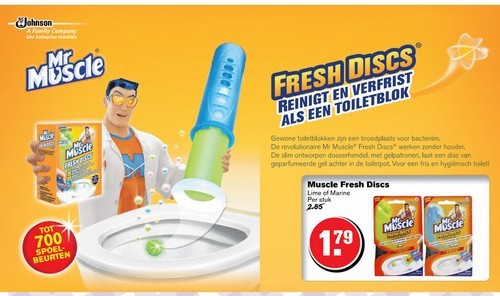 Mr Muscle has adopted several marketing plans to promote its products in the consumer market.  It has launched several ad campaigns that are shown with the help of digital and print media. The company has advertised in local newspapers, popular and prime time channels of television, radio and magazines to gain brand visibility.
Ads have been displayed on hoardings that are placed at popular and populated places so that maximum number of people can connect with it. Mr Muscle has also taken help of social media platforms like Twitter, Instagram, YouTube and Facebook to promote its brand and products. As part of its promotional policy, it announced coupons in several stores so as to gain a significant customer base.
Liked this post? Check out the complete series on Marketing Mix