The MAC Cosmetics marketing mix has been the driving force behind the high demand for the company's products among makeup artists in the makeup industry. With product innovation and quality service at the forefront, the brand has managed to become of the best skincare companies in the world.
The Make Up Art Cosmetics or the MAC Cosmetics marketing strategy focuses on the different elements of the marketing mix like product strategy, place strategy, price strategy and promotional mix. More and more brands of beauty products are entering the industry but the big brand has managed to create a direct relationship with professionals and consumers and this has led to immense brand visibility in the market.
The MAC Cosmetics' marketing strategy has helped the fashion line to compete in the market successfully against other brands, gain a competitive advantage over many brands and achieve the desired business goals in these competitive times.
Introduction of Makeup Art Cosmetics or MAC Cosmetics
#MAC Cosmetics
Origin Country: Canada
Founder: Frank Toskan and Frank Angelo
Founded: March 1984
Headquarters: New York City, United States of America
Parent: The Estee Lauder Companies Inc.
Employees in 2023: 12,000
Net Worth in 2023: 1+ billion USD
Annual Revenue in 2023: 1+ billion USD
Net Assets in 2023: 57.212 billion GBP
E-commerce Site: www.maccosmetics.com
The Canadian company MAC Cosmetics or Make Up Art Cosmetics is one of the most popular cosmetic brands in the world. Founded by Frank Toskan, a photographer and Frank Angelo, a makeup artist, the company has seen tremendous success in the industry in such a short time.
MAC has made a name for itself because of its focus on product innovation which has led to a boom in the company's sales in the worldwide market. The journey started in the founder's kitchen where both friends started making make-up with their own hands. This is the inspiration behind the signature packaging of the brand called "black pots".
The first store MAC PRO was opened in Toronto and within a short time, it had hundreds of stores in seventy countries. Currently, MAC Cosmetics has 500+ stores in 120 countries which is a big feat for the brand that started from a small kitchen.
Target Audience: MAC Cosmetics Marketing Strategy
MAC Cosmetics is one of the best skincare companies in the world that sells makeup and beauty products at a high product price. In the beginning, the target audience was makeup experts looking for better products. Within a short time because of mouth publicity and massive popularity, there was a high demand for the company's products amongst makeup artists.
Later models and makeup artists started recommending the products to friends, family members and colleagues and the target audience of the company became the masses of every race, gender and age along with the make up artists and models.
MAC Cosmetics Marketing Strategy & Marketing Mix (4Ps)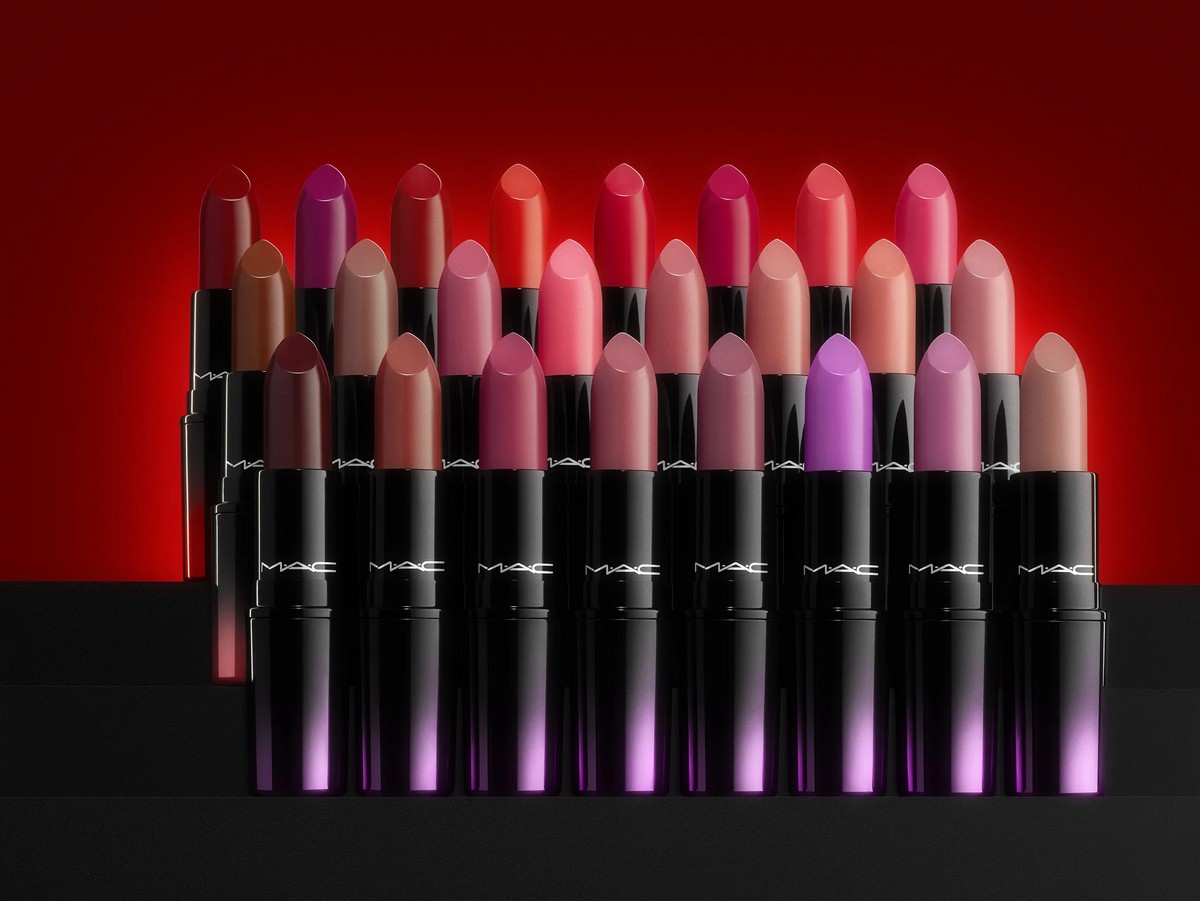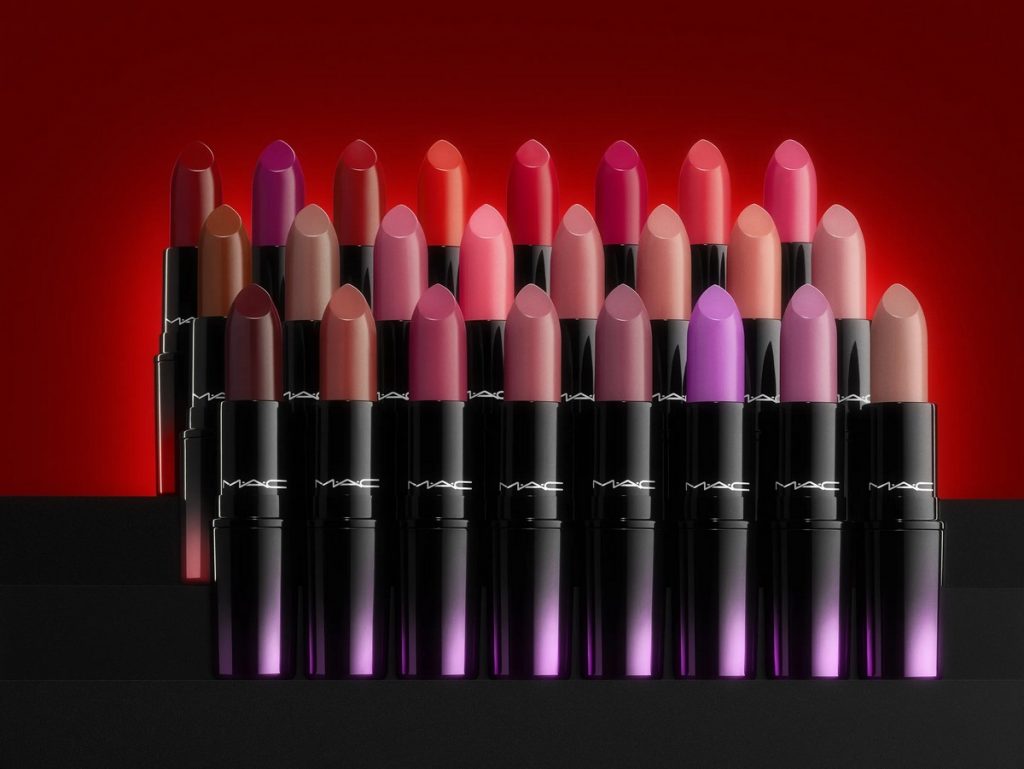 The MAC Cosmetics marketing strategy analyses the brand with marketing mix components so that it can create a direct relationship with all its customers be it models, their family members or make-up artists or the many consumers who are looking for professional tools and products.
The various marketing strategies of the brand like the product, place, promotion and price strategies have created a framework that has led to brand visibility, product awareness and global expansion.
Product Strategy: MAC's Cosmetics Marketing Strategy
MAC Cosmetics is a renowned company with high brand awareness in the professional cosmetics industry. Although the company manufactured products for make-up experts and models in the beginning huge popularity encouraged the brand to sell all its products directly to consumers worldwide.
MAC Cosmetics is an inclusive brand that has created a comprehensive product strategy under which all the products are meant for everyone irrespective of age or gender. MAC is one of the few companies that manufacture products in a vast range of shades for different types of skin tones and individual preferences.
MAC Cosmetics is known as "The Ultimate Color Authority" and this is because the MAC Cosmetics marketing strategy ensures that the brand uses different pigment mixes to satisfy individual consumer needs.
The skin-care and cosmetics company pay special attention to product packaging and has used black pots to differentiate their quality products from other brands in terms of packaging in the market.
Product in the Marketing mix of Mac Cosmetics
The MAC Cosmetics marketing strategy puts the focus on product categories, innovation, quality and shades. The product strategy ensures that there is a MAC product for every customer irrespective of age or gender. As the brand offers numerous shades in its product line more and more customers are showing their preference for MAC products.
MAC products and services include
Lips
The MAC Cosmetics marketing strategy for lips include lip brushes, liquid lip colours, lip pencil, lipsticks, lip glosses, lip liners and lip primers etc.
LOVE ME LIQUID LIP COLOUR
BROWNISH BURGUNDY LIP PENCIL
GLOWPLAY LIP BALM
Face
The MAC Cosmetics' marketing strategy for the face includes face brushes, face primer, foundation, powder, concealer, highlighters and pigments etc.
STUDIO FIX MATTEFINE 12HR SHINE-CONTROL FACE PRIMER
STUDIO RADIANCE FACE AND BODY RADIANT SHEER FOUNDATION
PRO LONG-WEAR CONCEALER
STUDIO FIX SOFT MATTE FOUNDATION STICK
Brush kits and Tools
The MAC Cosmetics' marketing strategy in the brushes and tools segment includes applicators, sponges, bags, accessories, brush kits, lip brushes, eye brushes and face brushes.
BRUSH CLEANSER
316 SYNTHETIC LIP BRUSH
168 SYNTHETIC LARGE ANGLED CONTOUR BRUSH
Eyes
The MAC Cosmetics' marketing strategy for eyes includes an eye primer, eye brushes, eye mascara, eye shadow, eyeliner, eyelashes and eyebrows etc.
POWDER KISS SOFT MATTE EYE SHADOW
MIXING MEDIUM LASH–EYE PRIMER
MAGIC EXTENSION EYE MASCARA / MINI M.A.C
SKIN
The MAC Cosmetics marketing strategy in the skin-care segment includes makeup removers, cleansers, serums, treatments, exfoliators and masks etc.
HYPERREAL SERUMIZER SKIN-BALANCING HYDRATION SERUM
GENTLY OFF WIPES + MICELLAR WATER
PREP + PRIME NATURAL RADIANCE
New Collection
The new collection and popular product lines from MAC Cosmetics include Viva Glam Product Line, Wild Cherry Collection and MAC Selena Collection.
The Most Popular Products include
PRO-LONG-WEAR CONCEALER
PREP + PRIME FIX + FINISHING SPRAY
RETRO MATTE LIPSTICK
The most popular lipstick shade from the lipstick line is the
Mac's Cosmetics marketing strategy ensures that the brand offers high-end services to keep the customers happy. This includes
CHAT WITH AN EXPERT
Customers can connect with MAC artists through live chat, email or message for any queries
INSTORE MAKEUP SERVICES
Customers have to take an appointment for a 15-minute service with a MAC artist
VIRTUAL TRY-ON
MAC Cosmetics offers virtual-try-on facilities where customers can swipe 200+ shades from the comfort of their homes or any other place they desire.
Place in the MAC's Cosmetics Marketing Strategy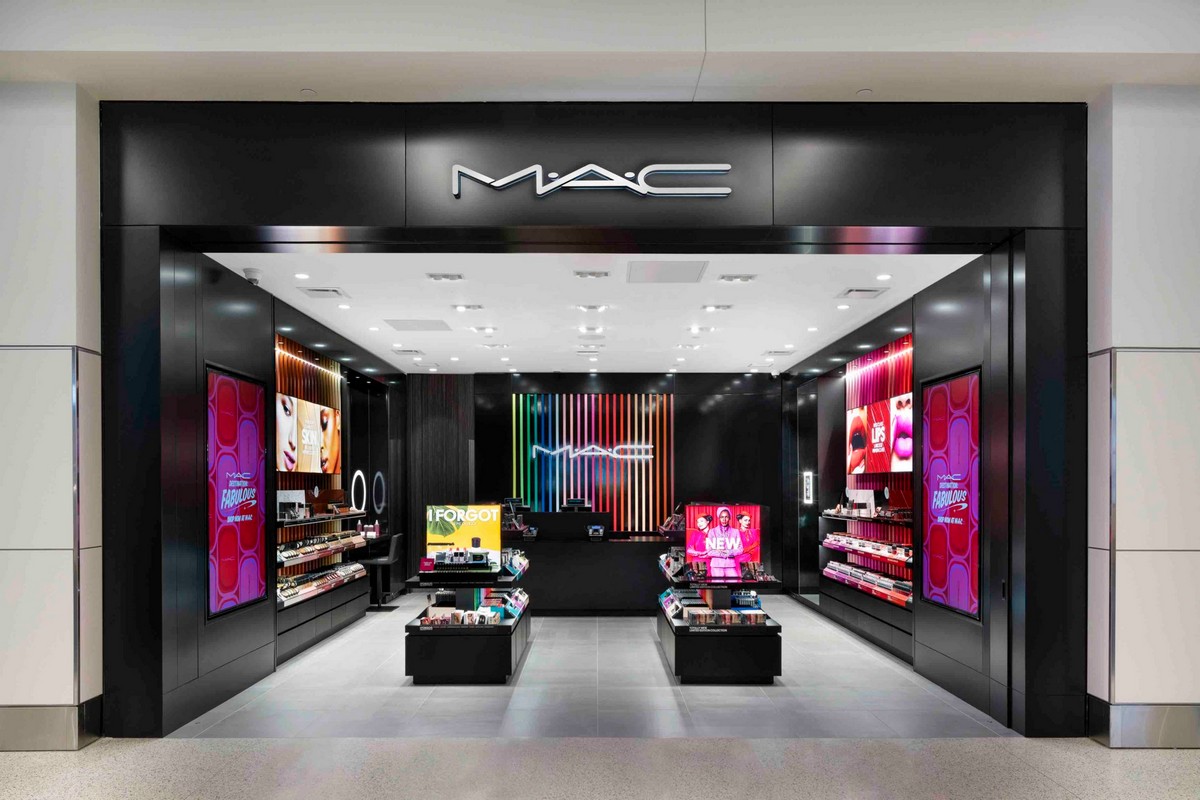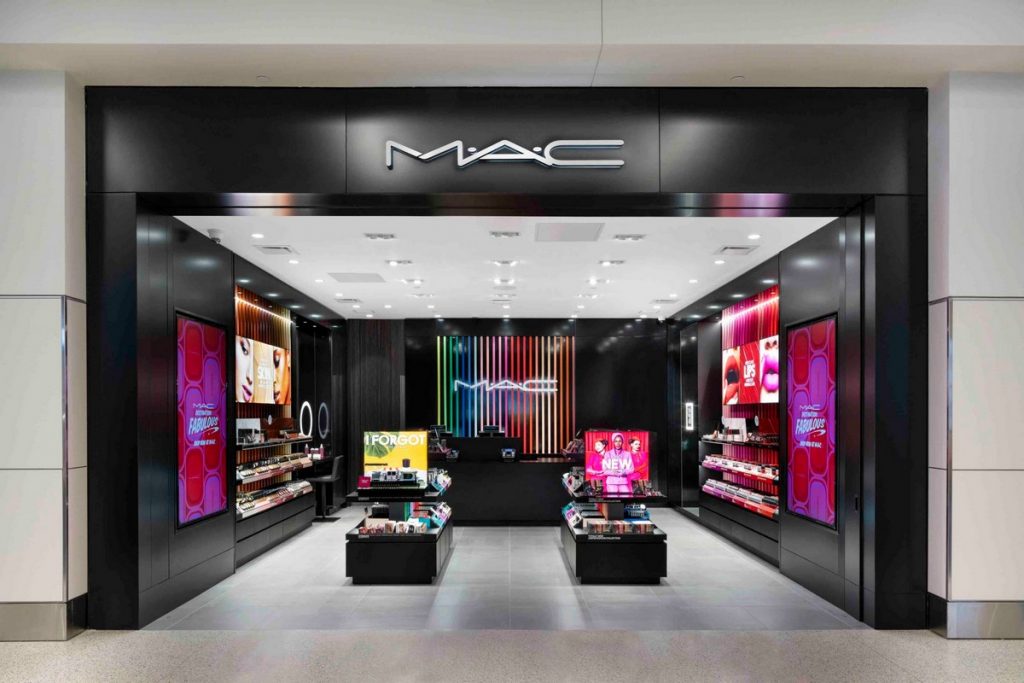 From its first store in Toronto to outlets in seventy countries by the year 2000, the company has come a long way. MAC Cosmetics has spread its product presence to 120 countries with more than 500+ independent stores. The company has stores in developed and developing countries where its products are run by professional artists who use the brand's premium products to apply makeup on celebrities, models and movie actors.
Manufacturing for Mac products started in Toronto, Ontario, Canada but the company opened other manufacturing facilities in Italy and other countries as well.
The brand's success can be attributed to global expansion, setting up sales points and familiarizing itself with the marketing and production system of every continent.
Place and distribution strategies: Marketing Mix of Mac Cosmetics
Mac Cosmetics' marketing strategy makes sure that the place and distribution strategies of MAC are up to the mark so that the products reach the end customers easily. MAC products cannot be purchased through unauthorized retailers or any other independent store. MAC has a very strict policy against product sales sale by unauthorized retailers in any part of the world.
The various sales channel used by the company include
Department Store
MAC products like skin care, lips, face etc. are sold only through MAC outlets which are located in big department store and authorized dealers like Debenhams and House of Frasers.
Online Stores
MAC Cosmetics products as well as services like consultation and virtual try-on are available through its online stores. Since 2017 and 2018 the products are available online for purchase at Ulta Beauty Inc and Sephora Canada respectively. After the pandemic figures for online sales have become very high and have helped the brand in generating solid earnings.
MAC Cosmetics Price Strategy: Marketing Mix of Mac Cosmetics
More and more brands are entering the beauty market and giving competition but MAC Cosmetics has created a niche place for itself because of its pricing strategy which includes a product line price and a premium pricing strategy.
The pricing strategy followed in the Mac's Cosmetics marketing strategy includes
Premium Pricing Strategy
Mac's Cosmetics' marketing strategy has adopted a premium pricing strategy for all its products. The products of MAC Cosmetics have a timeless quality for which people are willing to shed even high product prices. These are used by everyone who are looking for something extra compared to the products of other brands even if the price is high. This is why the premium pricing strategy of the brand has been successful in generating higher revenues.
Product Line Pricing
The Mac's Cosmetics marketing strategy has adopted a product line pricing strategy where the product prices are relative and complement one another. This type of pricing strategy has proved advantageous for MAC and resulted in better revenues
MAC Cosmetics Promotion Strategy: Mac Cosmetics Marketing Strategies
The MAC Cosmetics marketing strategy has adopted several types of promotional mix for its premium products. MAC realizes the importance of advertising in these competitive times and has used the following tools for promotional activities-
Word-of-Mouth Publicity
The most important promotional tool in MAC's Cosmetics marketing strategy is mouth publicity. The brand is a favourite of professionals and consumers alike who speak well about them to others. This was the way the brand gained recognition in its earlier days when it could not spend on promotional activities. Even today people talk about MAC products and consider them very good irrespective of high product price
Celebrity Endorsement
The brand has been a favourite of celebrities, actors, makeup professionals and other high-end clients like Princess Diana, Madonna, Cher, Nicki Minaj and Naomi Campbell.
Sustainable Efforts and Cruelty-free Products
The MAC Cosmetics marketing mix advocates for cruelty-free products as part of its sustainable initiatives.
Social Media
MAC promotes its products through social media platforms like Twitter, Facebook and Instagram. It is quite active on the website and provides important information for its customers.
The MAC AIDS FUND
MAC's Cosmetics marketing strategy realizes the importance of addressing various healthcare and social issues in the world. The company launched the MAC AIDS FUND in the year 1994 for spreading awareness about the humanitarian causes that were close to them.
The fund is an initiative that supports children, men and women impacted by AIDS or HIV on a global level. MAC Cosmetics donates 100% of the company's sales money earned from MAC's Viva Glam Lipstick and Lip-gloss to the fund to show its commitment to the fight against these diseases.
Collaborations
MAC has collaborated for the Viva Glam Lipstick and Lip-gloss Line with celebrities like Nicki Minaj, Lady Gaga, Rihanna and Miley Cyrus to generate more and more sales so that it could contribute heavily to the MAC AIDS FUND.
Successful Campaigns – Notable Digital Marketing Campaigns
Viva Glam Campaign
The Viva Glam was one of the most successful campaigns of MAC Cosmetics which was launched to raise funds and awareness for HIV/AIDS patients
#WhatsYourThing
#WhatsYourThing is a fully integrated ad campaign that highlights the individuality and self-expression of everyone.
key Takeaways from the MAC Cosmetics Marketing Mix & MAC's Cosmetics Marketing Strategy
The key takeaways from the MAC Cosmetics marketing mix are-
Analyze the brand and align its business and marketing strategies
Maintain the distribution network
Consumer cost advantages and multi-segment pricing in the consumer market
Continue with the premium pricing strategies as it helps to maintain a high brand status in the market
Focus on consumer loyalty
Emphasis on different promotional tools
Liked this post? Check out the complete series on Marketing Mix