Fevicol is a well-known brand of Indian origin and is a subsidiary of its parent company Pidilite Industries Limited. It is associated with FMCG industry and deals in Adhesives. The brand was launched in India in the year 1959 and since then has captured nearly 60% of the market share. It is marketed and manufactured by its parent company. Some of its rival brands in market are as follows-
Loctite
Bond tied
Araldite
About Fevicol
Type: Adhesive
Industry: Manufacturing
Founded: 1954
Founder: Baldevbhai Patel
Headquarters: Mumbai, India
Area served: Worldwide
Key people: Arvind Poddar (Chairman) and Saurabh Agrawal (CEO)
Number of employees: 12,000
Product in the Marketing Mix Of Fevicol :
Fevicol is an adhesive for bonding items. It was first marketed as glue and as a replacement product for collagen and other adhesives that required prior boiling before usage. It is a white adhesive and appears as a viscous paste.
Several product variants are available in the market for attributes like non-staining, vibration-resistance, shock-resistance, fire-resistance, versatility, shrinkage, sagging, time-to-set, impact resistance and bonding strength. It is used by children for art and crafts, carpenters for making furniture, as office stationary and other purposes both by customers and industries usage. Products are available in different sizes like 10kg, 5kg, 2kg, 1kg, ½kg, 250gms, 125gms, 30kg and 50kg packs. Some variants of Fevicol available in market are as follows-
Fevicol MR is a variant of Fevicol for bonding plywood, wood, fabrics, Thermo cool, cardboard and paper
Fevicol SH is a variant of Fevicol that is synthetic resin paste and used for either woodworking or for products which have at least one porous surface. It easily binds every type of cork and boards, veneers, laminate, plywood and wood. It is extensively used in bookbinding and sports products
Fevicol SH Xtra is a new and improved variant of Fevicol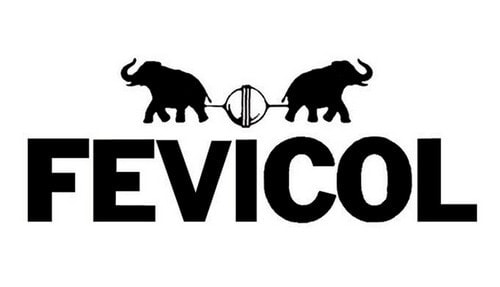 Place in the Marketing Mix Of Fevicol :
Fevicol has an international presence that involves the availability of its products in nearly fifty-four countries of the world like Japan, China, South Africa, Thailand, Singapore and Indonesia.  It is an Indian brand and has a domestic network that has spread over more than fifty thousand locations in India. Fevicol has always believed in penetration policy and for that, it has spread its network in every nook and corner of both urban and rural India. Its distribution channel includes services of wholesalers, retailers, distributors and franchises.
For industrial products brand has adopted direct marketing option. It has 65,000 retailers and dealers to supply its products quickly, easily and efficiently to consumer market through corner shops, convenient shops, discount stores, superstores, art and craft shops, furniture-making shops and hypermarkets.
Price in the Marketing Mix Of Fevicol :
Fevicol has become a part of India and enjoys a monopoly in the market. Its high quality sets it apart from its competitors. It is a premium brand with the loyal customer base, who does not mind paying marginally higher prices to buy this premium product. Fevicol is a brand that is highly confident of its product value and hence has not followed competitive pricing or demand-pricing policy. It has adopted a mid-level premium pricing policy for its products because it wants its customers to buy its products easily and without any price-pressure.  Its consumers have realised the advantage of value-based pricing and have thus opted for a right combination of the quality product plus reasonable prices.
Promotions in the Marketing Mix Of Fevicol :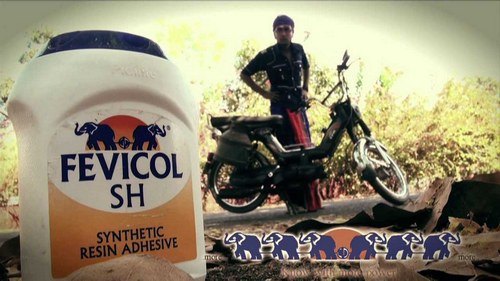 Fevicol has been successful in its endeavour to leave a lasting impression on consumer minds through its several advertisements. The company has put the special onus on all its commercials as they have a particular theme that revolves around Fevicol that keeps everything together. The marketing campaign of a brand involves innovative ads that are shown through every possible advertising tool to the customers. Fevicol has involved electronic media, print media and social media for displaying its ads in television, radio, newspapers, magazines, billboards, sides of buses and other vehicles and also on online portals.
Fevicol Furniture Book was launched in the year 1990 for displaying furniture designs and concepts apt for homes in India. It has 31 volumes with every single one focussed on a particular topic ranging from farmhouses, restaurants, showrooms, offices to residential area. It was a huge promotional booster for the brand and its popularity has led to its launch on web platform for easy accessibility.
Liked this post? Check out the complete series on Marketing Mix