Carlsberg is a public limited company that is associated with beverage industry. It was founded by J. C. Jacobsen of Danish origin in the year 1847 and its first headquarters was based in Copenhagen in Denmark. The flagship brand of this renowned company is Carlsberg Beer and it also brews Baltika, Somersby Cider, Tuborg and few local beers. In the year 2001, the company was adjudged at fifth position as the largest group of the brewery after its merger with Orkla ASA, a Norwegian company. In the year 2004, it became sole owner of the company and by the year 2009, it had acquired fourth position in terms of brewery group. Some of its main competitors are as follows –
About Carlsberg
Type: Public limited company
Industry: Brewery, Beverage
Founded: 1847
Founder: J.C. Jacobsen
Headquarters: Copenhagen, Denmark
Area served: Worldwide
Key people: Flemming Besenbacher (Chairman) and Cees 't Hart (CEO)
Number of employees: 40,000
Products in the Marketing Mix Of Carlsberg :
Carlsberg group has nearly five hundred brands in its product portfolio and Carlsberg is its flagship beer. It is also popularly known as Carlsberg Lager, Carlsberg Pilsner and Carlsberg Beer. This variety was first made in the year 1904. Its product kitty includes bottled water, soft drinks, ciders and of course beer. Special Brew, another of its variety, was made in the United Kingdom and Denmark. It is a strong lager and it includes cognac flavour. This was brewed to commemorate Winston Churchill's visit to Denmark in the year 1950.
In British market, it was titled as Special Brew and in Denmark as Passerby or Easter Brew. It has 7% alcohol content and is connected with street alcoholics. A single can of Special Brew has 500ml contents and includes three and a half units of alcohol. In the year 1955, a strong beer was created that had an Elephant label. It is still in production in Carlsberg breweries and is exported globally. Okocim Palone is one of the strong beer varieties available in the market. It is from Poland and has an alcohol concentration of more than 5.6%.
Place in the Marketing Mix Of Carlsberg :
The beer market is on a roll as it is expanding at a greater rate because of the higher volume of consumption amongst consumers. Carlsberg operations are spread at an estimated one hundred and forty markets. It has numerous outlets to provide products to its consumers. It has engaged distributors for efficient and fast results.
In the year 1966, for the first time, beer from this brand was not made in Denmark but brewed at Photiades brewery, situated in Cyprus. The company took over various breweries under its acquisition policy and spread its operations in various parts of the world. Carlsberg group has divided their operations into three markets that include Western and Northern Europe, Asia and Eastern Europe.
Price in the Marketing Mix Of Carlsberg :
Carlsberg has projected its product as premium mild-beer. The company has kept its pricing policy open and reasonable. Although it is providing a premium and qualitative product its prices are comparatively very reasonable. Although if one looks from the buyer's perspective the prices are on the higher side but free samples, discounts and coupons are some of the brand's tactics to keep down its prices compared to its competitors.
It has kept different prices for its different varieties. Carlsberg is cashing in on its international image and is targeting higher section of society. Brand has also ventured into new territories and at these places has maintained a penetration pricing policy to attract and create new customer base
Promotions in the Marketing Mix Of Carlsberg :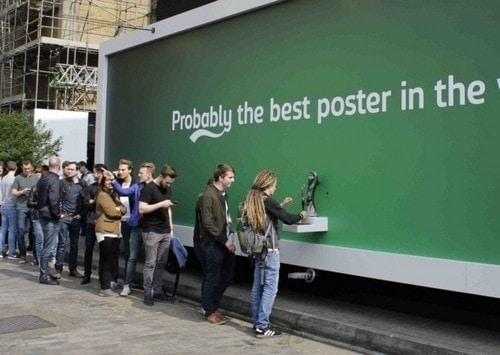 Carlsberg has an outstanding global presence and in order to remain as one of the top-most groups, it has undertaken excellent branding and advertising policies that have helped it to maintain its position. It has targeted the youth with their mild-section variants. For people who are avid sports lovers brand has opted for sponsorship of teams and events related to sports.
The company is continuously reinventing itself in terms of marketing policies. Social networking is the preferred medium nowadays and hence it has launched innovative ads and engaged social media to target techno-savvy customers. Some of its logos include a swastika and an elephant.
Carlsberg is an international brand and has adopted an aggressive promotional strategy to penetrate new markets. Free samples have been distributed as part of their penetration and promotional policy.
Liked this post? Check out the complete series on Marketing Mix