Hypercity is a retail chain owned by its parent company K Raheja Corporation Group. It is a hypermarket and is associated with lifestyle and food retail industry.  First Hypercity outlet was opened in the year 2006 and was spread across an area of 125,000 square feet.
It offers its shoppers an international experience by providing comfortable and highly spacious settings to shop for a diversified product range.  Company faces competition from several rival companies and some of its competitors are as follows-
About Hypercity
Type: Supermarket chain
Industry: Retail
Founded: 2006
Founder: K Raheja Corp
Headquarters: Mumbai, India
Area served: India
Key people: Umashankar Shukla (President) and Sadashiv Nayak (CEO)
Number of employees: 10,000
Product in the Marketing Mix Of Hypercity :
Hypercity has focussed its attention on sectors like fashion, home and food and its aim is to offer something fresh at every given point. It offers a contemporary and diversified range of innovative products that are procured from local, domestic and international markets. Hypercity has more than forty thousand items belonging to multiple categories, SKUs, brands and sub-categories and its extensive product kit includes items like-
Electronic goods
Groceries
Fresh Vegetables
Household items
Fruits
Healthcare and Pharmaceutical items
Stationeries
Consumer durables
Furniture
Apparel
Furnishings
Toys

Place in the Marketing Mix Of Hypercity :
Hypercity is of Indian origin and has spread its network to twenty stores in India. Its first outlet was opened in Malad at Mumbai and since then it has extended its reach to places like Vadodara, Baroda and Ahmedabad in Gujarat, Thane, Mumbai, Panvel, Navi Mumbai and Pune in Maharashtra, Jaipur in Rajasthan, Bhopal in Madhya Pradesh, Amritsar in Punjab, Hyderabad in Andhra Pradesh, Bangalore in Karnataka and Janakpuri and Noida in Delhi-NCR region. All its outlets are extremely spacious and parking is available for its customers.
Moving with times it has joined e-commerce sector in the month of September in the year 2016.  It is a shopping app that guarantees delivery within a time span of three hours. Hypercity has a well-trained staff to deal with customers in an efficient manner. Every Hypercity store has a separate and strong management system that ensures stocking and selling of items from the same store as it is not cost-efficient to transfer products from one store to another.
Price in the Marketing Mix Of Hypercity :
Hypercity caters to million-plus consumers with help of differentiated price-points. Expansive nature of its business activities makes the formation of pricing policy a challenging task. The company has adopted a reasonable pricing plan for most of its products so that the items seem affordable to its customers. It has an exclusive agreement with several companies like Waitrose, which is UK-based, and so it can drop product prices by 50% to attract consumers and increase its sales volume. Hypercity considers private labels as one of its major revenue earners because they are purchased directly from vendors and thus costing is very less.
For various products the company has also adopted a bundling pricing strategy under which it offers one product free with the other.  This helps in selling more than one item at a time.  For price sensitive individuals the company offers several schemes and discounts like Happy Hours, Buy One Get One Free and Percentile Discounts.
Promotions in the Marketing Mix Of Hypercity :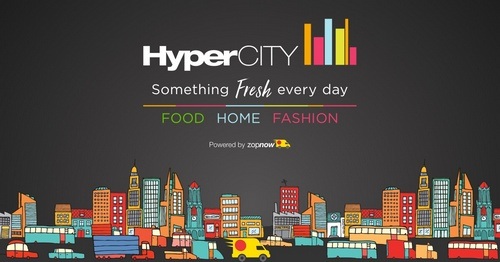 Hypercity is one of the main hypermarket chains in India and the company follows both indoor and outdoor promotional strategy to market its products. Catalogues are printed and are distributed so that the customers can be aware of recent discounts and schemes.
The company has taken help of print media through ads in newspapers, leaflets and billboards. Hypercity runs dissimilar promotions for its different stores depending on local conditions. Start and ending date of every promotion is specified to avoid any confusion. Hypercity has been the recipient of several awards and this has helped the company in creating a positive impact on consumer mindset.
Retail Week, an important magazine from the United Kingdom has voted it as a topmost retail outlet in India. Hypercity Pune has grabbed best store design award in the year 2012 in Hypermarket category. Hypercity has a descriptive slogan Big Store, Big Savings.
Liked this post? Check out the complete series on Marketing Mix