Punto Fa, S. L is commonly known by its trading name Mango. It is associated with lifestyle and retail industry as it deals in apparels and accessories. The company is of Spanish origin and was founded in year 1984 by its co-founders and brothers Nahman Andic and Isak Andic. Mango is an established and fast-fashion brand that is known for its stylish apparels. It faces competition from the following-
Bershka
Supreme
Cos
New Look
French Connection
About Mango
Type: Fashion retailer
Industry: Retail
Founded: 1984
Founders: Isak Andic
Headquarters: Barcelona, Spain
Area served: Worldwide
Current CEO: Toni Ruiz
Number of employees: Over 11,000
Major products: Women's, men's, and children's clothing, accessories, and home goods
Product in the Marketing mix of Mango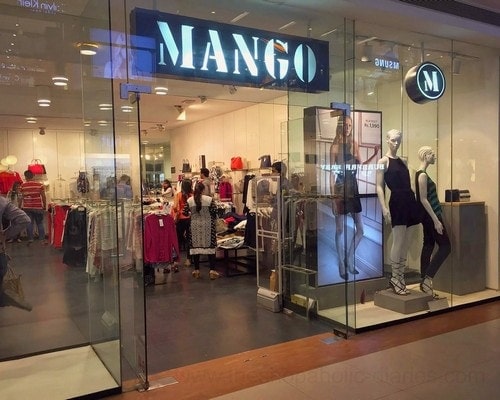 Mango is a designing and manufacturing company that has products for kids, women, babies and men. It has a unique product line that appeals to fashion conscious people who are in the look-out for something new and latest. The brand portfolio includes
Women
Swimsuits and Bikinis
Skirts
Shorts
Jeans
Pants
Coats
Jackets
Sweatshirts
Sweaters and Cardigans
Tops and T-Shirts
Shirts
Jumpsuits
Dresses
Belts
Sunglasses
Scarves
Jewellery
Cases and Wallets
Bags
Shoes
Girls
Jewellery
Bags
Belts
Shoes
Swimwear
Pyjamas and Underwear
Skirts and Shirts
Shorts
Jeans and Pants
Coats and Jackets
Sweatshirts
Sweaters and Cardigans
T-Shirts
Jumpsuits
Dresses
Men
Sunglasses
Ties
Belts
Wallets
Bags
Footwear
Underwear
Swimwear
Bermudas
Jeans
Pants
Coats
Leather
Jackets
Suits
Blazers
Sweatshirts
Sweaters and Cardigans
Polo Shirts
T-shirts and Shirts
Boys
Scarves
Shoes
Swimwear
Pyjamas and Underwear
Bermudas
Jeans and Pants
Coats and Jackets
Sweatshirts
Sweaters and Cardigans
Polo Shirts
T-Shirts and Shirts
Place in the Marketing mix of Mango
Mango is a global brand with international presence. It started its journey from Barcelona in Spain and with time has spread its presence to Africa, Europe, Asia-Pacific and Americas to include countries like Turkey, Chile, Morocco, Nigeria, Argentina, Namibia, Poland, France, Germany, United States, Salvador, Greece, Hungary, Georgia, Romania, Pakistan, Canada, Sri Lanka, Armenia, Sweden, Istanbul and Spain. It has its headquarters based at Palau Solita i Piegamans in Barcelona, Spain. The company entered Indian market in year 2001 via its store in Delhi and has spread to several outlets including a store in metro city Mumbai.
Mango has a strong and widespread distribution channel. It works via a network of nearly two thousand and two hundred stores spread overestimated one hundred and ten countries in the global arena. The brand is available in company-owned outlets and concession stores. Mango has adopted a franchise system and its stores are opened under a franchise that is responsible for its upkeep. Stores are equipped with advanced technology and offer impeccable services to make the shopping experience a seamless one.
Mango realised the importance of online marketing and opened its website in the year 1995 and by the year 2000 had opened its first online e-store. E-tailor Myntra who deals in fashion has bagged the management and distribution rights of Mango in India. The arrangement states that Myntra will facilitate in opening and managing of twenty-five stores for the fashion brand Mango.
For the next five years, the brand will be displayed exclusively on Jabong and Myntra platforms. Myntra will actually be responsible for the omnichannel presence of Mango that includes offline stores which currently are eight in number and its online store Mango.com. New stores will be added via sub-franchising and will be located at strategic points spread all over India.
Price in the Marketing mix of Mango
At the end of the financial year 2015, Mango had registered its revenues and net income at 2.327 billion Euros and 170 million Euros respectively.  It has targeted fashion conscious females and males from the middle-age group belonging to the upper and upper-middle section of urban cities as its potential customers. Mango has positioned itself as a complete and unique lifestyle brand that offers trendy and up-to-date apparels.
Mango provides both high quality and medium quality products but if compared with rival brands its product prices are a bit higher. The company has positioned itself as a mid-range brand and has adopted mid-premium pricing policy for its customers who are willing to shed some extra bucks for quality clothing. As its customers belong to urban cities the pricing seems affordable and reasonable to them if compared with the brand value.
Promotions in the Marketing mix of Mango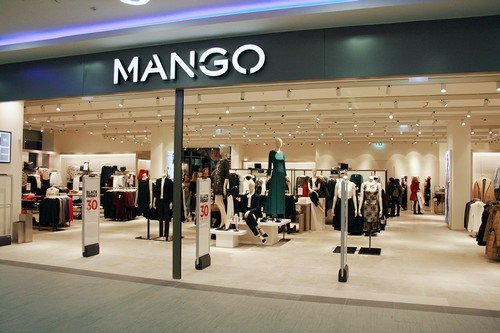 Mango has adopted a bold and distinguished marketing policy to create positive brand awareness in the consumer market. It uses print, electronic, digital and social media platforms to its advantage. Smart and trendy ad campaigns have been launched via television, fashion magazines and online platforms including Twitter, YouTube, Facebook and Instagram to keep the brand visibility alive in both offline and online markets.
The Twitter account incorporates several posts on premium limited edition collection, its Facebook page shows images from latest campaigns and plays its playlist, and Instagram incorporates inspirational quotes and posts related to Mango. After viewing the official website for a few seconds a box pops up asking permission to link with your email address and receive updates creating direct contact with the customer.
Mango realises the importance of campaigning by famous personalities. It has roped in football star Zinedine Zidane as the face of Mango. In the year 2011, Kate Moss was signed as the muse for Mango and appeared in a commercial video. She was replaced by Miranda Kerr, an Australian model. The company taglines are What Should I Wear, Urban Women and Fashion for the Young.
In the year 2016 new ad campaign Karlie Kloss Metallic was launched that has taken the ad world by storm. It has been appreciated by one and all and helped the brand in creating a positive brand vibe in markets. The brand has taken help of Google plus for presenting Mango Committed Playlist, in order to target the younger generation.
The recent ad campaigns have included a diverse range of individuals from an elderly statesman to a young bachelor, emphasising on the product range for every generation. The company has adopted a promotional marketing policy and has distributed e-gift cards to create further sales.
Liked this post? Check out the complete series on Marketing Mix