Havmor is associated with frozen food sector and deals in making of ice-creams. It was founded in the year 1944 by its founder Satish Chona. Currently, it is one of the top three ice cream brands in Gujarat in terms of sales. Brand name Havmor is very apt as it offers more value and taste for money. Some of its main competitor's are-
About Havmor
Type: Private limited company
Industry: Ice cream
Founded: 1944
Founders: Satish Chandra Chona
Headquarters: Ahmedabad, Gujarat, India
Area served: India
Current CEO: Kyungwoon Cho
Number of employees: 5,000
Major products: Ice cream
Product in the Marketing Mix Of Havmor :
Havmor has become one of the most recognised ice cream brands in the country with a diversified product range. Its manufacturing process maintains standards of quality and hygiene that have been set up by global advisories. Some of them are as follows
Kulfis- Like Kulfi and Chowpatty

Packs – It includes bulk packs, party packs, family packs, take away and cups of flavours like Chocolate Chips, Vanilla and Strawberry

Double Sundaes- Includes Mango-Strawberry and Choconut-Frenchvanilla

Roll cut – Includes Fifty-Fifty, Malai Kulfi, Raja-Rani and Dry Fruit Katri

Range of Ready-To-Eat sundaes include Super Sundae and Chic-Choc Sundae

Kids Special- has Mini Chocobar, Lolly-Pop, Bon-Bon and Ringo-Bingo

Topo Cones – It is crispy and fresh and includes flavours like Butter Scotch, Strawberry, Choco-Vanilla and Chocolate

Ice-Candies- Are available in flavours like Rocket Candies, Orange, Limechu, Zim-Zim and Kachi Keri

Bars- It includes flavours like Classic Chocobar and Zulu bar

Dolly- Raspberry Dolly and Mango Dolly

Premium packs include pre-packed spoon with flavours of Swiss Cakes and Roasted Almond

Ice Cream Pastry- It includes Mango flavour and Black Forest

Sandwich ice cream

Cups of several flavours

Cassata Cut

Almond Chocobar

Place in the Marketing Mix Of Havmor :
Havmor is an Indian brand that has a strong presence in Western part of the country. Its headquarters base is in Ahmedabad and its market share in Gujarat is estimated at 35%. Havmor started its operations from Karachi in undivided India before partition and after year 1947, settled in Ahmedabad in Gujarat. It has a very strong distribution channel that includes more than five thousand dealers. Havmor has forty ice cream parlours that are located within and outside of Ahmedabad.
Its manufacturing factory is equipped with ultra-modern machinery and latest technology and is located at Naroda in Ahmedabad. Havmor has three zonal offices located in Jaipur in Rajasthan, Bombay in Maharashtra and Ahmedabad in Gujarat. It has sixty-five distributors and an efficient workforce to provide quick results. Havmor products are easily available to customers through availability in ice-cream parlours, fast food outlets and restaurants.
Price in the Marketing Mix Of Havmor :
Havmor is a brand well-known for offering quality products at consumable prices. The brand has made it its personal endeavour on providing maximum satisfaction at affordable price range. It has adopted a reasonable pricing policy so that every customer finds its prices affordable and is able to purchase products without any price worry. Havmor has decided to extend its network to several parts of the country and has adopted a competitive and penetration pricing policy to make a breakthrough in further markets. It has kept its pricing ranges at par with its rival companies so that it can maintain and create a new consumer base. Havmor is one of the top earners and this is because of its huge sales volume that results in greater revenues.
Promotions in the Marketing Mix Of Havmor :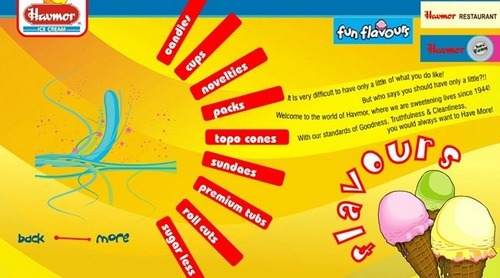 Havmor has dedicated its journey to its motto Achchai, Sachchai, Safari and now Navy Su Che has been added to it. The motto defines the standards maintained by brand in terms of hygiene and quality. Havmor has taken part in several promotional activities to make its presence known in every part of India.
It recognises that these are competitive times and promotional activities are necessary to create positive brand awareness amongst its customers. It has taken help of advertising tools like radio, hoardings and newspaper to increase its visibility in the market. Havmor has been the recipient of various awards and trophies like Times Food Award in the year 2008 in the category of Best Ice Cream by Times of India.
Liked this post? Check out the complete series on Marketing Mix