Easyday is a consumer store related to retail department category and has targeted middle-income people as its customers.  It was established in the year 2008 and its ownership is at the hands of Bharti enterprises limited and operations under one of its subsidiaries Bharti Retail Limited. Easyday is of Indian origin and has its headquarters base in New Delhi in India. Management and technical support are offered to the brand via Wal-Mart Stores, the largest retailer in the global market. It faces competition from the following-
About Easyday
Type: Retail brand
Industry: Retail
Founded: 2007
Founder: Sunil Bharti Mittal
Headquarters: New Delhi, India
Area served: India
Key people: Sunil Bharti Mittal (Chairman) and Pravin Jain (CEO)
Number of employees: 10,000
Product in the Marketing Mix of Easyday :
Easyday is a popular outlet with a wide range of merchandise in a capacious set-up. The company caters to regional and local needs and sells items from several brands. It also has a special corner called Youth Zone for products that are youth-oriented like cosmetics, apparel, movies, books and music. Some of its products include-
Fresh produce and groceries- vegetables, fruits, milk, meat, cereals, poultry, baked products, dairy products, soups, canned goods, cookies, snacks, grains, beverages, spices, sauces and chips

Beauty product includes fragrances, toiletries, shaving products, make-up and skin-care items
Healthcare products
Footwear
Several accessories
Apparel and hosiery products
Stationary and books
Gifts, toys
Home-improvement items like lighting, tools, electronic accessories
Kitchenware

Place in the Marketing Mix of Easyday :
Three types of format stores are operated by Bharti Retail with a nametag of Easyday. They are located at prime spots to gain maximum exposure so that it can garner good sales. Easyday is the name given to standard stores in the neighbourhood, Easyday market to mid-size compact hypermarkets and Easyday hyper to hypermarket style larger stores. Bharti Enterprise declared its intention of joining the retail industry by opening its first Everyday store in Ludhiana in Punjab in the year 2008 and Easyday market in the same year in Jalandhar, Punjab.  
The first store of compact-hyper nature was opened in Indore in Madhya Pradesh. Since then it has spread its network far and wide in every part of India. It has its reach in thirteen states through two hundred and twenty stores. Cedar Support Services provides construction services, design and real estate to Easyday. In the year 2015, the company combined its operations with Future Group and as a result, it became the biggest chain in the retail industry in India.  Its network spread to two hundred and forty-three cities through five hundred and seventy outlets
Price in the Marketing Mix of Easyday :
Affordable prices are the mantra of Easyday retail outlets because it wants to cater to a large section of people. The brand is interested in selling products in huge quantities to a maximum number of people so that vast sales volumes are created.
Easyday has agreed to several pricing policies to market its goods. It has kept the basic prices low and hence has adopted a reasonable pricing policy. During festive seasons it encourages bulk buying through its economic pricing policy. This is possible because of special offers and discounts on several products. The company has adopted a penetration policy and to create new inroads it periodically offers an incentive to the customers so that they visit and buy, thus creating large sales figures and ultimately greater revenues.
Promotion in the Marketing Mix of Easyday :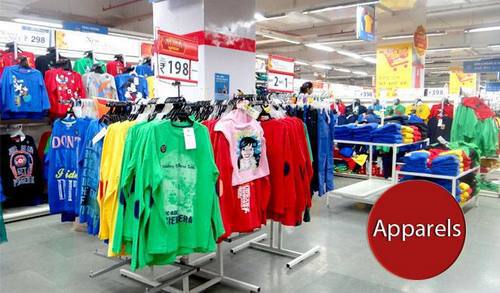 As part of their promotional activities, Easyday has been a participant in various events for social causes like eye donation, blood donation camp, eye and dental check-ups and health-awareness programs. The company encourages its employees to volunteer for the education of street children. It collects clothes so that they could be donated to the less-privileged section of society.  Easyday has also been part of Go Recycle, a campaign for plastic recycling. In order to create customer's interest in its brand and products, Easyday has launched several marketing strategies.
Its promotional techniques include advertising in local newspapers and offering promotional coupons for a specific period. The brand has also taken the help of social media and has started advertising its products through the internet and by sending emails about latest offers to their regular customers.
Liked this post? Check out the complete series on Marketing Mix