Gianni Versace S.p.A is popularly known in the fashion world as Versace. It is a private company of Italian origins. Versace is associated with retail and lifestyle industry as it deals in apparels and accessories. The brand was found in year 1978 by fashion designer Gianni Versace. It is a classic brand favoured by royalties, dignitaries and celebrities. Versace faces competition from the following brands-
Ralph Lauren
Burberry
Christian Dior
Chanel
Gucci
Hugo Boss
Louis Vuitton
Zara
Prada
About Versace
Type: Fashion house
Industry: Fashion
Founded: 1978, Milan, Italy
Founder: Gianni Versace
Headquarters: Milan, Italy
Area served: Worldwide
Current CEO: Donatella Versace
Number of employees: 3,200
Major products: Ready-to-wear clothing, accessories, fragrances, home furnishings, and more
Product in the Marketing mix of Versace
Versace is a fashion brand dealing in luxurious items and offering a perfect blend of intricate, breathtaking and exclusive products to its customers. The company ensures that original style and designs are offered so as to maintain its exclusive brand image. Its collection includes Versace Collection, Versace Jeans and Versus Versace. Product portfolio of Versace has items for male, female and children. Its kitty includes-
Home Collection includes products for living and dining area and bath and bed items like
Frames
Ashtrays
Blankets and Throws
Vases
Cushions
Candles
Crystal and Glassware
Trays and Bowls
Plates
Tea and Coffee products
Slippers
Towels
Bathrobes
Comforters
Duvet
Pillow Cases
Bed linen
Women
Beachwear
Active-wear
Coats and Jackets
Skirts
Leggings
Jeans and Trousers
Knitwear
Sweatshirts and T-shirts
Bodysuits and Bralettes
Dresses
Blouses and Tops
Backpacks
Tote Bags
Clutch Bags
Shoulder Bags
Boots
Icon Bags
Sneakers
Watches
Eyewear
Fashion Jewellery
Perfumes
Small Accessories
Belts
Gloves and Hats
Men
Fragrances
Eye-Wear
Watches
Pouches
Card Holder
Key Rings
Wallets
Socks
Pens
Fashion Jewellery
Ties
Scarves
Belts
Backpacks and Bags
Slides and Sandals
Loafers and Moccasins
Lace-ups
Sneakers
Beachwear
Activewear
Underwear
Jeans and Trousers
Sweatshirts
Knitwear
T-Shirts
Shirts
Coats and Jackets
Suits
Versace also makes apparels and accessories for children of both genders from ages 6 months to 36 months and 4 years to 14 years.
Place in the Marketing mix of Versace
Versace is a global brand with its product presence in several countries of the world. It has its headquarters based at Milan in Italy. By the year 2016, Versace operated via an estimated one thousand and five hundred boutiques in the world market. With time Versace has extended its operations in overseas market and its first boutique out of Italy was opened in the year 1991 at Glasgow in Scotland.
In the year 2011, Versace entered into a partnership deal with H&M to launch a new line of clothing and some home items to be sold in H&M outlets. In the year 2015, it collaborated with Lil Buck to launch a line of exclusive sneakers. In the year 2015, Mind Group firm from China and Versace entered into a deal to design luxury residential towers in China that would be known as Versace Residencies.
In order to maintain its commercial presence successfully, Versace manages its sales activities via its retail, distribution and sales departments. The company has several tie-ups that help it in selling and marketing its products via its outlets. Versace has an official website that offers distribution and purchasing facilities in several countries even where the brand does not have an outlet. This has helped in making a huge difference in its sales figures as they have grown considerably with the opening of its online store.
Price in the Marketing mix of Versace
At the end of the financial year 2016, Versace posted its revenues at Euro 669 million. It targeted elite class with the very high taste for innovative and luxurious items as its prospective customers. The company has positioned itself as a superior brand that blends high-end couture, glamour, style and perfect designs for its sophisticated customers.
Versace has adopted a premium pricing strategy for its products that tend to tilt on the lofty side. As its customers belong to the section of society who is more conscious of brand value than monetary matters the brand is able to maintain its very high pricing policy. It is an honour to wear a Versace is the conception in the fashion industry and hence the customers are eager to buy and wear apparels from its collections.
Versace also designs customized apparels that are simply breathtaking and unique. It charges extra for such items because of its exclusive nature. The company has adopted high premium pricing for such products. All its customers are ready to pay the prices set up by the brand and hence the company has been able to hold its reputation in the consumer market with success.
Promotions in the Marketing mix of Versace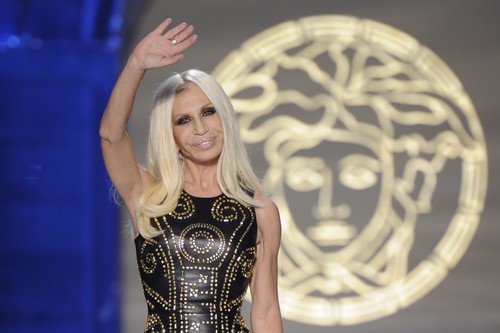 Versace is a globally recognised brand with the highest visibility amongst its elite customers. It has paid minute attention on all its promotional activities to maintain its high brand visibility. Its logo of Medusa, a mythological figure from Greece, is catchy and has a direct and positive impact on the customers. As part of its awareness and fight against animal cruelty, the brand announced its willingness to stop usage of fur in all its collections.
As Versace is a brand especially for celebrities it has been in limelight both directly and indirectly via these famous personalities. The brand is worn and endorsed by some high-profile celebrities to project its image in the fashion industry. Dresses have been designed for Elizabeth Hurley, Michael Jackson, Elton John, Princess Caroline of Monaco and Princess of Wales.
In the year 2000, Jennifer Lopez wore green Versace dress at 42nd Annual Grammy Awards and was named fifth most iconic dress of all times and in the year 2008, Elizabeth Hurley's dress was voted at first number in a poll conducted by Daily Telegraph.
Versace has entered in several sponsorship deals and one such was with Lamborghini to produce Lamborghini Murcielago LP640 VERSACE in the year 2006. The brand takes part in several fashion shows as part of its marketing strategy.
Liked this post? Check out the complete series on Marketing Mix