Pandora is associated with retail and lifestyle industry as it deals in jewelry and stones. It is a retailer as well as a manufacturer of jewelry. This international company is of Danish origin and was founded in the year 1982 by its founder Per Enevoldsen. This publicly traded company occupies the third-largest position in the global arena in terms of sales figures. It faces competition from several rival brands like-
Tiffany & Co.
Cartier
Mouawad
Chopard
Chamilla
Blue Nile
Harry Winston
Billig Jewelers Inc
Signet Jewelers Limited
About Pandora Jewellery
Type: Jewelry Company
Industry: Fashion
Founded: 1982
Founders: Per Enevoldsen and Winnie Liljeblad
Headquarters: Copenhagen, Denmark
Area served: Over 100 countries
Current CEO: Alexander Shulman
Number of employees: 27,000
Major products: Charm bracelets, rings, earrings, necklaces
Product in the Marketing mix of Pandora Jewellery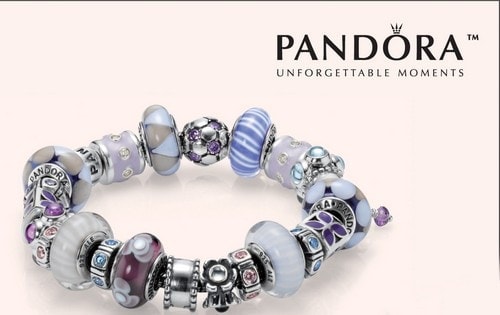 Pandora has created a niche place for itself by working diligently and ensuring high quality of products. It offers modern as well as hand-made jewelry made by the highly skilled workforce and craftsmen.  In the year 2017 alone the brand shipped more than 117 million pieces from its crafting facility in Thailand. In order to retain the integrity of the brand, exceptional quality materials are used like diamonds, glass, natural gemstones, pearls, man-made stones, leather, 14k gold and sterling silver. Its product portfolio includes
Necklaces- It includes lockets, pendants, petites, chains with pendants and chains in gold and silver
Classic Elegance Necklace, Clear CZ
Pandora Signature Heart Pendant, Pandora Rose & Clear CZ
Disney Classic, Mickey Pendant, Yellow Enamel
Charms- It is one of the most popular products from the house of Pandora and includes safety chains, dangles, clips, and spacers.
Perfect Mom Dangle Charm, Soft Pink & Lilac Crystal
Mama Bear Dangle Charm
Flourishing Hearts Charm
Bracelets- Is available in leather, gold, and silver with charms and stones and in several colors like red, purple, blue and white.  It includes items like bangles, chain, bolo, and cord.
Golden Sparkling Strand Bracelet, Golden-coloured CZ
Brilliant Bow Bracelet, Clear CZ
Silver Charm Bracelet with Heart Clasp
Earrings- These are a must-have for every female and are available in hoops, drops, dangles, and studs. Earrings are made with metals like silver and gold in different colors.
Flourishing Hearts Stud Earrings
Bright Hearts Hoop Earrings, Royal Purple & Lilac Crystal
Sweet Statements Stud Earrings, Pandora Shine & Silver Enamel
Rings- These are created in different styles according to birthstones or preferences in colors like yellow, red-purple etc.
Pandora Signature Arcs of Love Ring
Beaded Wish Ring, Pandora Rose
Timeless Elegance Ring, Pandora Rose & Clear CZ
Place in the Marketing mix of Pandora Jewellery
Pandora is a multinational company with its headquarter base at Copenhagen in Denmark. The company started its journey as a family-run shop from Copenhagen and built a production site for manufacturing jewelry in Thailand. It has spread its net far and wide with a product presence in more than one hundred countries, occupying six continents.
From Europe Pandora entered the North American market in the year 2003. In the year 2014 at least 90% of its total sales were achieved from the markets of the United States and Europe. In the year 2015, a distribution deal was finalized with China to increase its outlets considerably.
Pandora has a far-reaching distribution channel that includes more than seven thousand and seven hundred selling points and more than two thousand and two hundred concept stores.  At its onset concept stores were opened but with success, the company also adopted a franchising model.
The first one to open under this model was in Australia in the year 2009. Good and well-trained employees are a boon for any company and Pandora Employs more than twenty-two thousand and three hundred employees out of which thirteen thousand and two hundred are employed in its manufacturing site at Gemopolis in Thailand.
In the year 2011, Pandora launched its e-platform for online sales in Europe and later expanded its e-market to include parts of Australia.
Price in the Marketing mix of Pandora Jewellery
At the end of the fiscal year 2016, Pandora listed its revenue figures at 20.281 billion DKK and its net income at 6.025 billion DKK. It is a versatile and unique jewelry brand that has targeted upper class and upper-middle class women from the urban background.
During recent times the company has changed its policy and has started targeting men as their prospective customers as men can easily buy gift-items for their women-folk. Pandora has positioned itself as a brand that offers hand-finished, high-quality and modern jewelry at mid-premium prices.
The brand has adopted premium pricing policy for its quality products. As it is one of the most popular and well-established brands of recent times, its pricing policy has been a great success. Its customers are high-profile people for whom an established brand matters instead of money. In order to capture the mass market, it has adopted a mid-premium pricing policy for some of its products. These rates are comparatively reasonable and affordable if compared to premium products.
Promotions in the Marketing mix of Pandora Jewellery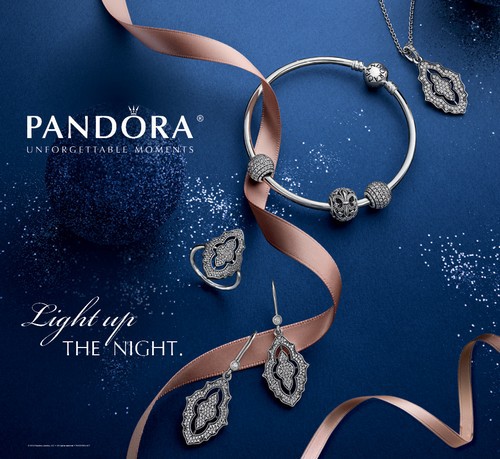 Pandora is an established company with great brand visibility. The company has adopted several promotional activities to create and maintain its brand awareness in the consumer market. Pandora has been one of the few companies that have depended on word-of-mouth publicity and it has proved to be an advantageous tool. The brand believes in personalized services and has tried to create an intimate rapport with its customers that has ultimately paved the way for its success in the high-end market.
 It has launched new ad campaigns that feature strong role models linked with the brand name. Several famous personalities have worn its charms and pendants like Christiane Amanpour, Donna Karan, and Catherine Zeta-Jones.
Pandora relies heavily on its print media and advertises via fashion magazines. It has also taken help of social media platforms because it has recognized its tremendous power over the new generation. Ad campaigns are shown via its policy of viral marketing on YouTube, Facebook, Twitter and the official website.
Pandora has a supplier policy for guiding its procurement and sourcing departments and dealing with suppliers. The company has issued a code of conduct that acts as the guideline for its ethical standards. The company tagline is Unforgettable Moments. It has issued a Jewellery guide that gives a detailed description of its products, materials used and how to clean and maintain its luster.
Liked this post? Check out the complete series on Marketing Mix