Yummmm. Ferrero rocher is such a chocolate that you would hate to attach terms like marketing mix to it. But still here it is. Read on to find out the marketing mix of ferrero rocher.
Ferrero Rocher is a praline-filled hazelnut and chocolate shell, wrapped in golden foil packaging that has instant consumer recognition. Today the product comes in number of specifically targeted pack formats, including a seasonal cube and Christmas tree shaped box, an Easter egg format and various sizes to meet consumer needs all around the year. A new diamond format in also introduced to further enhance the premium value of the brand.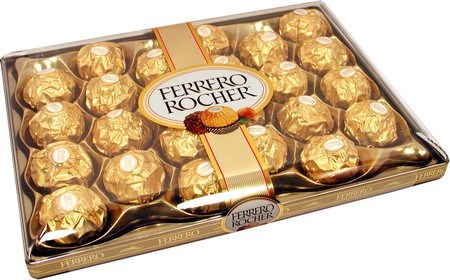 Price
Ferrero Rocher is available in packs of containing numbers ranging of 3 to 24. The prices of the pack of Ferrero Rocher is Rs.75 to 900. As these chocolates are highly priced they are not affordable to the common man.
Promotion
Ferrero Rocher is responsible for one of the all time classics commercials-"Ambassador's Reception". The famous ambassador advert made its return to the screen in 2003, but this time with a humorous and contemporary twist, as the ambassador was female. In 2004 the creative moved on further with 'Share the Magic' with the aim to expand the role of Ferrero Rocher beyond that of just a formal gift to one that is also relevant to broader social occasions, while maintaining all of the aspiration and glamour synonymous to the brand. The objectives of the updated execution were to drive modernity and relevance in a salient way and engage a younger consumer target. This was achieved with results showing ad was highly successful, with penetration of the brand increasing by two percent.
As one of the top advertising spenders in the chocolate confectionery market.
Place
Ferrero Rocher is not an easily available chocolates. It is available in big stores, supermarkets, malls. It is done by distributors of Ferrero Rocher. Ferrero Rocher does not have any office in India but is planning to enter in India
Also Read about Marketing Mix