Calvin Klein is a globally recognised fashion house of American origins. It was launched in the year 1968 by Calvin Klein, the renowned fashion designer. It dealt in designing and producing clothing, fragrances, accessories and home furnishings.
The company is a subsidiary of its parent company PVH and has its headquarters based in Midtown Manhattan in the United States. Calvin Klein is a minimalistic brand with its target audience ranging from high-income group to middle-income group of people. Its brand equity is excellent because of high-profile marketing policies. It faces stiff competition from numerous groups and some of its chief competitors are as follows-
About Calvin Klein
Type: Fashion brand
Industry: Fashion
Founded: 1968
Founders: Calvin Klein and Barry Schwartz
Headquarters: New York City, NY
Area served: Worldwide
Current CEO: Jeff Boyd
Number of employees: 11,100
Major products: Apparel, accessories, fragrances, home goods
Product in the Marketing Mix Of Calvin Klein :
First products that were launched by brand Calvin Klein was a line of understated coats and youthful dresses and by the year 1971 its kitty included lingerie, classic blazers, skirts, shirts, pants and sportswear for women. Classic fabrics, earthy tones and simple yet elegant designs gave his work an understated elegance which became highly popular.  Later sunglasses, furs, belts, shoes and scarves were added to the collection.  During the late 1970s, Calvin Klein relaunched his collection of jeans and gave it a more firm shape which became a rage amongst its customers. Later this jeans-inspired assortment included jackets, skirts and shirts. Products in its men's collection included overcoats, suits and neckties that were stylish, comfortable and simple.
These products created a huge frenzy in a market for Calvin Klein products and placed the brand at its top. In the year 1978, the brand introduced a make-up collection that included 18 products related to skin care and beauty. A new line of fragrance was also launched to complement its beauty products. During the 1980s, a company launched underwear collection for men and boxer shorts for females. In the year 1991, it introduced a new collection of silk-scarf and in the year 1995, a collection of tableware, sheets and towels were launched. In the year 2013, PVH acquired Warnaco Group and this helped in uniting its sportswear jeans, underwear and formal line under a single group.

Place in the Marketing Mix Of Calvin Klein :
In the year 1989, brand Calvin Klein opened its first store in Dallas Suburb. It was a free-standing full-line store with products like fragrances, cosmetics, accessories, outerwear, shoes, hosiery, sleepwear and underwear for both male and females. In the year 1995, the brand opened a 22,000-square-foot store of four levels at Madison Avenue. By this time its number of stores in the United States were six through which it was dealing successfully with its customers. During 1993 and 1994, the company made a deal with four companies of Japanese origins for creating in-store shops. By now brand was selling its products through an estimated 12,000 outlets in the United States and its products were also being sold in countries like Japan, New Zealand, Australia, Ireland, United Kingdom and Canada.
Calvin Klein has adopted an efficient distribution policy that involves both direct and indirect sales for maintaining high sales. Its products are easily available at both online and direct-dealing stores. It has departmental stores, direct distributors and specialised outlets at its disposal in nearly 21 countries. Efficient and capable workers are employed to provide relevant information and to help customers in finding the exact product that they are looking for.
Price in the Marketing Mix Of Calvin Klein :
Brand Calvin Klein has opted for competitive pricing policies that are changeable to suit the needs and requirements of particular product line or place. In 1977 it was able to generate huge revenues because of its penetration pricing policy as it wanted to keep its prices lower than its major competitors. Its strategy was successful and its products became highly popular among both older and younger generation and also among middle and wealthy class of people. Competitive pricing has helped the brand in maintaining the loyalty of its customers through high sales.
Calvin Klein is a premium brand with reasonable pricing policy as it believes in the concept of large volumes and hence larger turnover. It has also used a skimming technique to promote its premium products. The strategy involves entering a market with premium prices and slowly decreasing them through numerous offers to attract and maintain its customer base. It has also taken help of Discount pricing and has thus allowed discounts and other bargains to create further sales.
Promotions in the Marketing Mix Of Calvin Klein :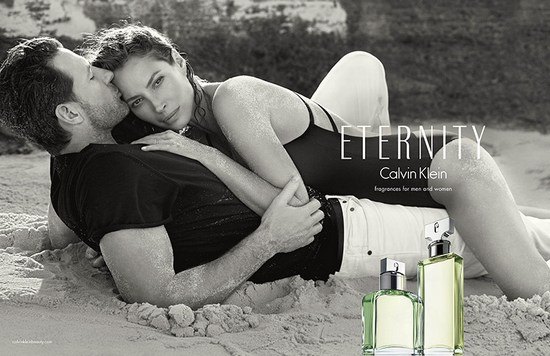 Calvin Klein has always believed in the positive impact of promotional strategies and has undertaken various measures to promote its business. Controversial advertisements have also helped in high visibility in markets and have resulted in huge turnovers. In the late 1970s, a billboard at Times Square was put up showing Patti Hansen, a model, on her knees and hands with her derriere skyward and brand label visible on right hip. This caused a sensation. One of the most controversial ads of Calvin Klein jeans were of 15-year old Brooke Shields posing in skin-tight pair with provocative comments. Although the posters were later taken down but by that time they had done their part in making the brand a high-profile one.  
In the 1990s, brands underwear line was promoted with help of giant billboards that showed images of Mark Wahlberg, famous pop singer. This was a highly successful ad campaign and the underwears were subsequently called as Calvin's. Television, print media and social media have played a huge part in the success of brand Calvin Klein. The company has its own monogram with a cK emblem that is visible on all its products. Its slogan is Between Love and Madness lie Obsession. In order to create consumer awareness advertising campaigns are displayed in fashion magazines like Glamour, Harpers Bazaar, Elle and Vogue.
Liked this post? Check out the complete series on Marketing Mix