The McDonalds Marketing Mix 4Ps is a lesson for other fast-food restaurant chains as the successful business model has helped the company to capture a huge chunk of market share in the world.
So, What Makes McDonald's Business Model and Marketing Strategies Successful?
Well, the answer is its intense focus on customer satisfaction with help of a world-class marketing plan, product innovation, pricing strategies and promotional mix.
McDonald's invested fully in its iconic model and marketing mix strategies that have helped the McDonald's brand to become one of the most successful fast-food chains of restaurants worldwide.
Introduction to McDonald's Corporation
Origin Country: United States of America
Founder: Richard McDonald, Ray Kroc and Maurice McDonald
Founded: 15th May 1940
Headquarters: Chicago, Illinois, USA
McDonald's Employees: 200,000
Annual Revenue in 2023: 23.594 billion USD
Net Income in 2023: 6.081 billion USD
Market Value in 2023: 199.560 billion USD
Market Cap in 2023: 182.78 billion USD
McDonald's Corporation is the largest fast-food restaurant chain in the world based on revenue and the second-largest private employer in the world. It is ranked ninth in the world based on the highest global brand value and is also the largest buyer of apples, potatoes, pork and beef.
McDonald's fast food business operated as a hot dog stand by the McDonald brothers Richard McDonald and Maurice McDonald. In the year 1955, a franchise agent and a shrewd businessman Ray Croc joined the company and later purchased the fast-food chain from the McDonald brothers. The rest is history as Ray Croc adopted a policy of aggressive expansion and helped McDonald's restaurants to establish their feet in international markets.
A Brief History of the McDonalds Brothers
McDonald's brothers Maurice and Richard McDonald started their journey with a hot dog stand and laid the foundation for the future food business. Eventually, the restaurant transformed into a franchise model.
The McDonald brothers created a business model where the focus is on low pricing strategy, assembly-line production and standardized procedures. In 1948, McDonald's launched "The Speedee Service System" which had 15-cent shakes, fries and hamburgers as menu items.
Brand Mascot
In 1962, the mascot "Speedee" was replaced by the "Golden Arches" as the universal mascot of the McDonald's brand. In 1965, Ronald McDonald, the clown was introduced in target markets to lure in children as the target customer.
Present-Day McDonald's as a Company
In the present-day McDonald's restaurants are featured regularly in the Fortune 500 list and are one of the S&P 500 Dividend Aristocrats. The success is attributed to the McDonald's marketing mix elements like pricing strategy, direct marketing, innovative product strategy and promotional mix.
The business has undergone several ups and downs over the years yet an excellent marketing plan has ensured McDonald's success in the industry. Market demand for McDonald's products remains strong as ever as more and more customers keep ordering online food as well as visiting its outlets all over the world.
McDonald's Marketing Strategy & Marketing Mix (4Ps)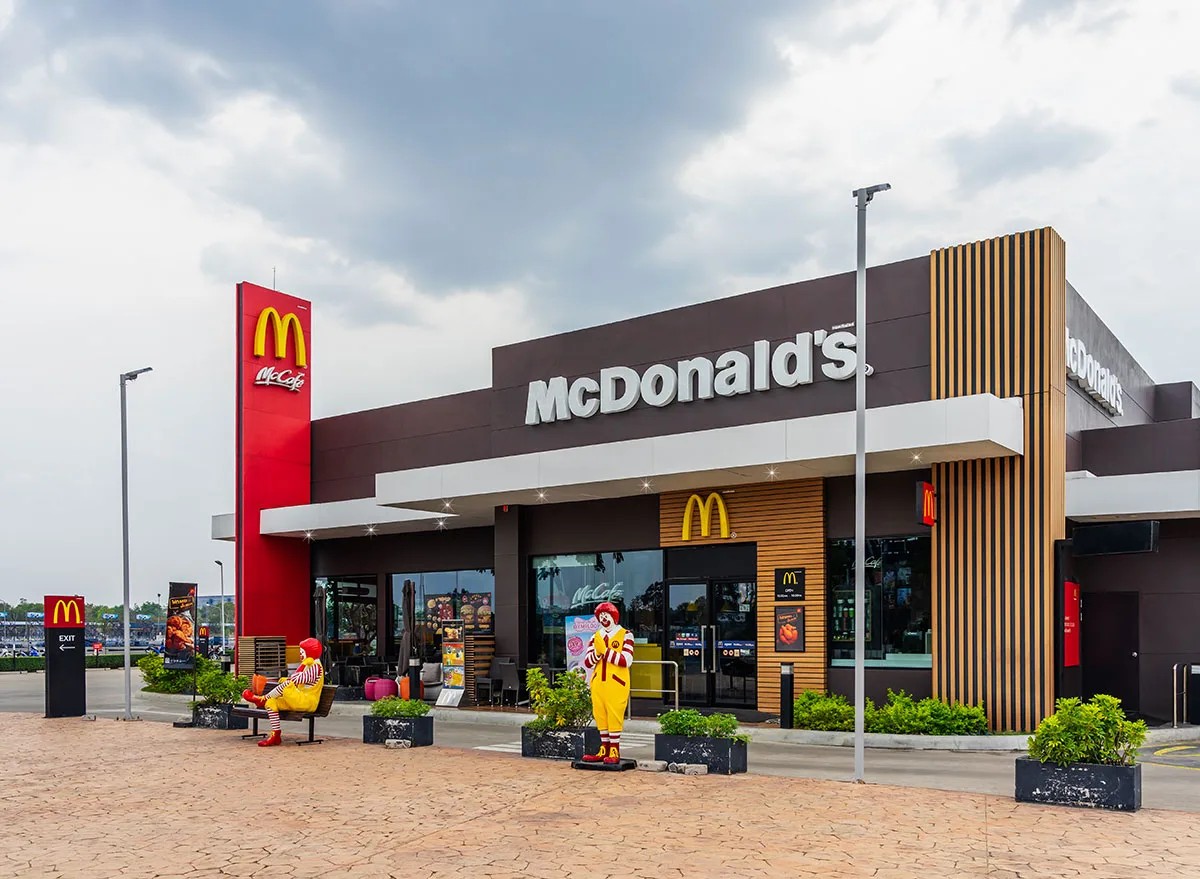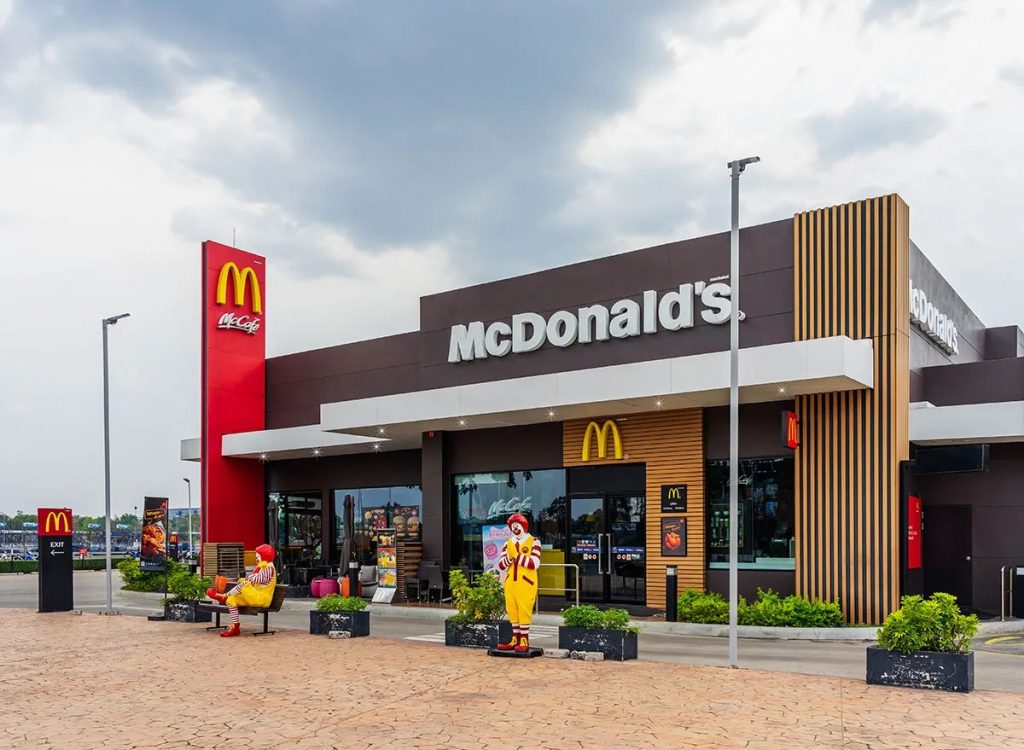 McDonald's marketing strategy & marketing mix (4Ps) are brand positioning business strategies that have shaped the course of Macdonald's restaurants and helped the company achieve desired business goals and objectives in the target market.
The marketing mix and marketing strategy of McDonald's fast food restaurant is very simple. McDonald's invested heavily in its product innovation and marketing plan to lure in more and more customers to its fast-food restaurants.
The company realizes that McDonald's success is interlinked with customer satisfaction hence McDonald's focuses on meeting all customer demands with folded hands at every cost.
An overview of McDonald's Marketing Mix (4Ps) and Marketing Strategy
Let us get an overview of the McDonalds marketing mix (4Ps) and marketing strategy to know more about the McDonald's brand, its product, place, pricing and promotion mix.
Product Strategy in the McDonalds Marketing Mix
The product-related strategy of McDonald's marketing mix focuses on the value, quality, innovation and taste of the products. It has projected itself as a feel-good brand with Ronald McDonald, the clown as its mascot and hence wants to drive profitable growth with delicious food.
The McDonald brothers spent a lot of time, money and effort in experimenting with product mix and McDonald's marketing strategy so that it can meet customer demands in various target markets easily.
Product Focus Areas in the McDonald's Marketing Mix
McDonald's focuses on constant improvement and innovation of its menu items. It is a fast food chain of restaurants and thus the product focus areas primarily include taste.
In the beginning, McDonald's spent a lot of effort in a uniform product selection for all its outlets. With time the brand realized that although uniformity was cost-effective it was not transforming into more customers, sales and profits.
The product marketing mix then changed from uniformity to regional preferences. As a result, McDonald's fast food chain of restaurants currently reflects the local taste and preferences in the menu items.
The marketing strategy for the product mix is simple. The company keeps on altering its food products to meet the local market demand. The trends and tastes of every region vary and this is reflected beautifully through the food items in McDonald's product mix. Before a new food product is introduced the brand tests it in the target market to get a sense of product demand.
McDonald's Food Products (Product Mix) Marketing Strategy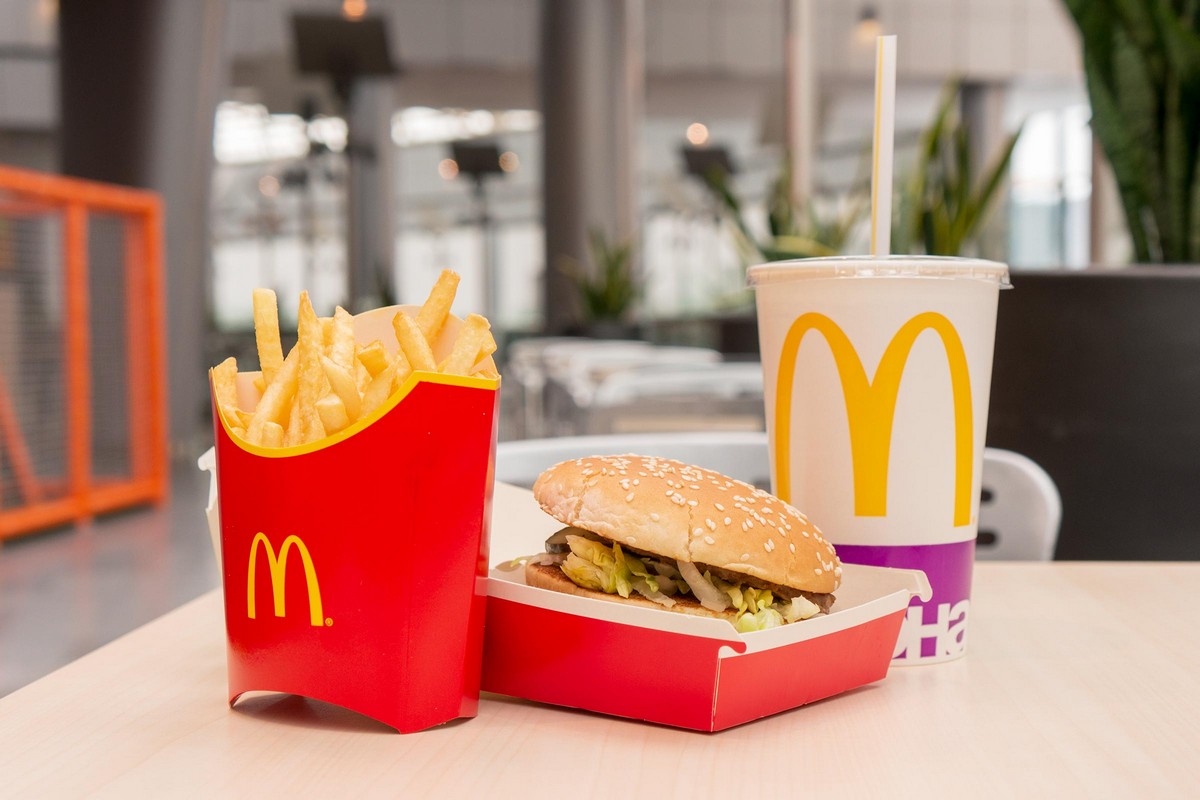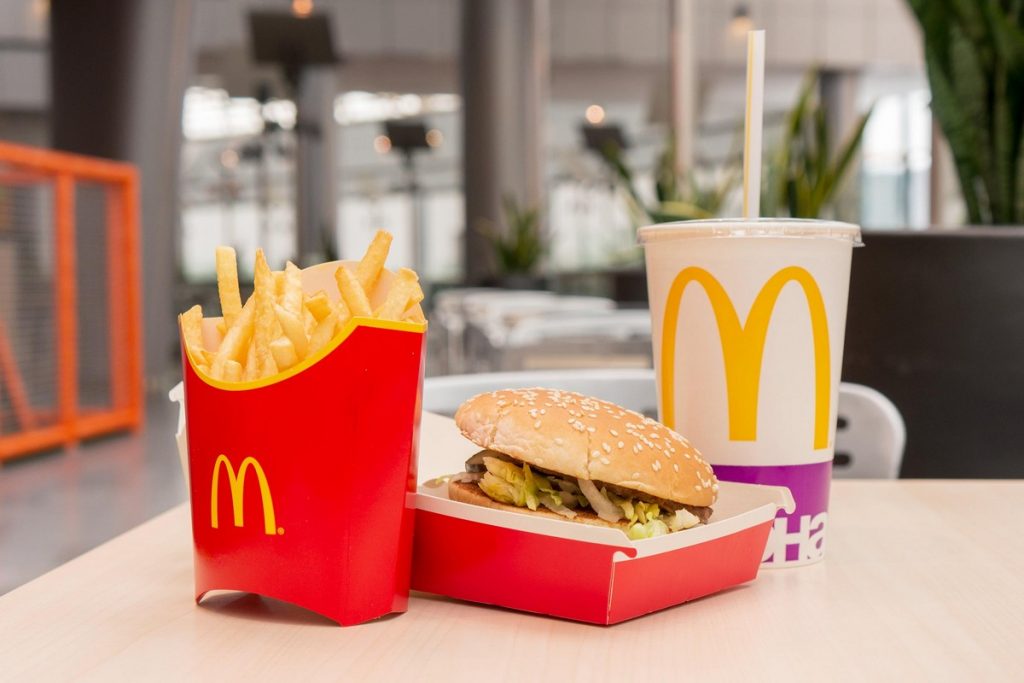 McDonald's sells five major food elements milk, potatoes, bread, chicken and beef. They have several dessert, beverages and breakfast options to lure in more customers and meet customer demands successfully. In 2007 the company had only 85 food items on its menu but the list expanded to 145 items by 2013.
McDonald's food products in its product mix include hamburgers, fish, cheeseburgers, chicken sandwiches, snack wraps, pork, sauces, sides, salads, fruit, wraps etc. The restaurants also serve non-meat plant-based products like McPlant burgers.
The best-selling food products that have become iconic items in the product mix are Big Mac, Christmas-themed McFlurry and French fries. Breakfast items in the product mix include McDonald's products like McMuffins, bagels and breakfast sandwiches and All-Day Lunch includes cheeseburgers, French fries, chicken Mcnuggets, Big Mac and Quarter Pounder etc.
In beverages, the restaurant serves soft drinks, tea, coffee, frozen beverages and shakes in the non-alcoholic category and beer in the alcoholic category. Desserts include baked pies, soft-serve ice creams, cookies, melts, parfait, smoothies and pineapple slices (in some Hawaii stores)
Happy Meal
McDonald's introduced "Happy Meal" for children as its target audience. The term Happy Meal has become synonymous with McDonald's because whenever you mention Happy Meal to a child the first word he utters is McDonald's.
Big Mac
Big Mac, the signature product of the brand is in huge demand among the target audience.
AMERICAN CHEESE SUPREME VEG BURGER
MCFLURRY CHOCO CRUNCH SMALL
MEDIUM FRENCH FRIES
BIG SPICY PANEER WRAP
Doubled Down on Core Products
The product marketing mix has doubled down on its core products to keep its target audience happy. Originally the McDonald brothers started their product mix with limited items as their focus was on quality products and quick service time.
As the business expanded the new owner Ray Croc, who started as a franchise agent, was encouraged to double down on core products. Rest they say is history as the company now serves a wide range of food products.
Place Strategy in the McDonalds Marketing Mix
McDonald's restaurants have spread their global presence to 119+ countries with help of 40,031 restaurants and serve an estimated 69 million customers daily through its franchise and company-owned restaurants and 200,000+ McDonald's employees.
McDonald's owns all the land on which the restaurants are located and earns revenues through rental payments from the franchises. The business model of McDonald's UK has a majority of company-owned restaurants and less than 30% operated as a franchise model.
McDonalds marketing mix focuses on a strategic business plan where McDonald's brand trains the franchises at Hamburger University.
The place strategy of McDonald's marketing mix focuses on entering new territories and meeting different market demands successfully. The present fast-food chain with 40,031 restaurants gives credence to the fact.
In several countries, McDonald's fast food restaurant is operated as joint ventures between local entities and the McDonald's Corporation.
Place & Distribution Marketing Strategy in McDonald's Marketing Mix
The place and distribution marketing strategy in the McDonald's marketing mix involves placing the restaurants in strategically high-traffic locations like highways, schools, universities, shopping centres etc. so that more and more customers can visit. McDonald's employs trained staff to serve their customers efficiently.
They have tapped the local target market by localizing their menu and creating unique experiences for the target audience. The placement and distribution channels in the marketing mix include-
Most of the standalone restaurants offer drive-through and counter services with outdoor and indoor seating arrangements. The basic idea is to make the customer comfortable in a McDonald's outlet.
The company's restaurants, also known as Pay and Drive, Drive-Thru, McDrive or Auto-Mac in different countries have separate stations for picking up, placing and paying for orders.
McDrive is located near highways and does not have seating or counter service and in cities, these restaurants offer drive-through service.
Customers can find a McDonald's outlet in almost all gas stations and convenience stores. In the UK these are found in petrol stations and service stations.
Prices and Pricing Strategies in the Marketing Mix
McDonald's marketing mix puts the focus on revenues and pricing strategies. The fast food business earns its revenues from royalties, rent and fees paid by franchisees. Another important source of revenue is the earnings in the company's restaurants worldwide.
The brand has adopted an affordable and bundle pricing strategy in the marketing mix. These include-
Affordable Pricing Strategy
The affordable pricing strategy makes McDonald's look more appealing to middle-class families, teenagers and students who love fast food. The company also offers discount coupons as part of its marketing mix strategy to make its products look affordable and gain a competitive advantage.
Bundle pricing strategy
The brand has adopted a bundle pricing strategy that encourages bulk sales. The basic idea behind adopting this pricing strategy is to increase its sales volume and generate higher revenues. Two or more products are added and sold as a single bundle under this pricing strategy to gain a competitive advantage in the market.
Psychological Pricing Strategy
The company has adopted a psychological pricing strategy where it sets the product price at $ .99 to make it look cheaper. The idea is to make the product price look affordable.
McDonald's Promotion Strategy (Promotional Mix)
The company has positioned its brand as a restaurant chain that offers quality cost-effective meals in a fun environment. The promotion strategy in McDonald's marketing mix focuses on its target market where the customer's likes and preferences reign over everything else.
McDonald's launched extensive advertising campaigns over the decades to boost marketing communications with its customers. McDonald's promotion strategies include
Traditional Media
The company spends a huge portion of its marketing budget on McDonald's promotion strategies through traditional media like newspapers, radio, television and hoardings. The brand has created special digital marketing campaigns with Ronald McDonald, its mascot to attract children customers.
Seasonal Events
The company organizes seasonal events like McHappy Day. This is held annually and a percentage of the sales goes to charity. McHappy Day is the signature event for Ronald McDonald House Charities.
McDonald's unveiled the "Christmas Food Menu for 2022" with fan-favourite treats like Christmas-themed McFlurry, Big Tasty Burger, Cheese Melt Dipper, McCrispy and The Festive Pie for a six-week duration during a promotional event.
Direct Marketing
The brand believes in a direct marketing strategy and through customer opinions tries to make appropriate changes. It also offers discount coupons to boost sales volume and gain a competitive advantage over rival brands.
Social Media
Information is uploaded on the company website to inform the customers about products and product changes. The company also advertises online via social media platforms like Instagram, Facebook and YouTube as they know that marketing communications are best done through social media platforms.
Sponsorships
McDonald's employs a large sponsorship and marketing budget to boost brand recognition. It sponsored the 1998 FIFA World Cup and 23X1 Racing as a founding member.
McDonald's Marketing Strategies with Jingles and Slogans
The brand has launched some of the most popular jingles and slogans as part of its marketing campaigns like "I'm Loving It", "Every Time a Good Time" and "Put a Smile On".
Partnerships with Other Brands and Creators that Complement Their Fast Service
The American multinational company operates on the franchise model and has a tie-up with the Coca-Cola Company for serving Coca-Cola soft drinks in its restaurants.
McDonald's Green Marketing Strategies: Initiatives for Making Healthy Food and a Sustainable Future
The company realizes the importance of green initiatives and has taken steps in this regard. Use of eco-friendly packages made of renewable resources, reducing carbon footprints, changing white napkins with plain brown thus saving water, wood and energy usage, sustainable packaging and ingredients and buying raw materials from local farmers are some steps in the right direction.
Cobranding – McDonald's Marketing Strategy
Michael Jordan, the basketball player was the first celebrity to associate with the brand for a value meal named after Michael Jordan called McJordan. The Quarter Pounder was available at Chicago franchises. The popularity of Michael Jordan called McJordan value meal led to other tie-ups with celebrities.
The company has collaborated with Korean Boy Band BTS and curated a Korean Boy Band BTS meal campaign to attract customers.
The collaboration of Macdonald's with Travis Scott has led to a limited-edition Travis Scott meal and a range of merchandise. The company is one of the most valuable brands which has capitalized on the popularity of Scott beautifully through the Travis Scott meal which was an instant hit among customers.
McDonald's announced deals with Uber Eats and DoorDash, two of the largest providers for ordering food online. Now the company can integrate delivery into the mobile app via "White Label" services of the providers Uber Eats and DoorDash. Ordering food online has become very easy from the app and digital sales have been on a rise since then.
Iconic Marketing Campaigns by McDonald's
Nobody Can Do It Like McDonald's Can
The "Nobody Can Do It Like McDonald's Can" campaign was launched in 1979 and established the brand in the industry
Raise Your Arches
Created by Leo Burnett the campaign "Raise Your Arches" was a landmark ad that looked relatable and funny
Breakfast, Done Properly
Launched in 2021 "Breakfast, Done Properly" is considered one of the best campaigns by the brand.
Conclusion
McDonalds marketing mix (4Ps) and marketing strategies, pioneering ideas, healthier choices, excellent locations, greener alternatives, local providers, modern facilities, better marketing budget and pushing forward Ronald McDonald as its mascot, especially amongst children were brilliant moves that have helped the brand to build its reputation and image in the market.
Also Read Service Marketing Mix
Liked this post? Check out these detailed articles on
Topic of Marketing Mix of Brands
Alternatively, check out the Marketing91 Academy, which provides you access to 10+ marketing courses and 100s of Case studies.