Jet Airways is associated with Airlines industry and is of Indian origins. It has been ranked at the second position in India as the largest airline. Jet Airways was founded in the year 1992 and it started its operations from the year 1993, 5th May. It faces competition from several airlines like
Air India
Kingfisher
IndiGo
About Jet Airways
Type: Airline
Industry: Aviation
Founded: April 1, 1992
Founder: Naresh Goyal
Headquarters: Mumbai, India
Area served: India
Key people: Jalan Kalrock Consortium (Chairman) and Sanjiv Kapoor (CEO)
Number of employees: 16,015
Product in the Marketing Mix Of Jet Airways :
Jet Airways started as an air-taxi operator and in the year 1995, it started conducting full-fledged operations. International flights were added to its roster in the year 2004 and in the year 2007; it acquired another company Air Sahara. Jet Airways has a diversified portfolio that includes both intangible and tangible products like-
Jet Airways has a fleet of 117 carriers that include Boeing 777-300ER, Boeing 737-700, ATR72-500 and others.
On-ground services include check-in option that is possible via mobile, the internet or by calling or visiting airport officials. It has fully operational airport lounges for passengers that offer capable and efficient staff assistance. Special services are offered to expectant mothers, infant, unaccompanied minor, people with medical issues and guest with any disabilities.
In-Flight services include three types of seating options. First Class has private suites with the closing door, private wardrobe, lie-in-bed seat and 23-inch television with Headphone. Business Class seats are extra wide with personal screen and reading light. Economy class has comfortable seats and international flights have a reading light and 10.6-inch screen television. Airways offer several foods, beverage and entertainment options in flight.

Place in the Marketing Mix Of Jet Airways :
Jet Airways operates its flights both in domestic front and in international arena from its main hub located at Chhatrapati Shivaji International Airport in Mumbai and its secondary hubs located at Kolkata, New Delhi, Chennai, Bangalore, Abu Dhabi and Amsterdam. Its operations include three hundred daily flights to nearly forty-eight domestic ones and twenty global destinations to seventeen countries in North America, Europe and Asia.  In the year 2004, Jet Airways commenced its first international flight to Colombo and its first long-haul flight was to London in the year 2005.
Brussels Airport has been its scissors hub since the year 2007 for transatlantic connections to the United States and Canada but later Brussels was replaced by Amsterdam Schiphol Airport since 2016, 27th March.  Jet Airways has a wide-spread distribution network that ensures accessible offices and prompt services related to reservation, cancellation, confirmation and enquiries. It also offers mobile and internet services to suit individual needs and requirements.
Price in the Marketing Mix Of Jet Airways :
Pricing plays a decisive role in the airline industry because of intense competition. Jet Airways has adopted a fair pricing strategy. It has three different classes of services and pricing policy is based on individual service for that class. For instance ticket prices for first class passengers are much higher because of extra services and benefits allotted to customers. Moreover, prices for business class and economy class are gradually lower because of fewer services. Jet Airways offers concessional fares to students, patients, senior citizens and armed forces so that they are encouraged to fly with this airline. It also offers additional benefits to its regular flyer to maintain their loyalty towards Jet Airways.
Promotion in the Marketing Mix Of Jet Airways :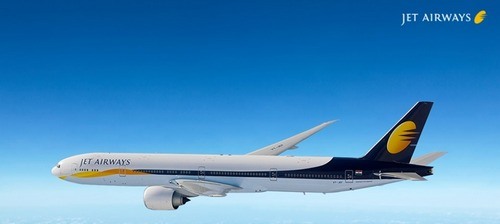 Jet Airways has adopted quite a few promotional plans for its airlines. It has launched several ad campaigns that are shown via television, newspaper and magazines. It also relies heavily on mouth publicity and its travel agents. Jet Airways has realised the potential of star marketing and has roped in Indian film actor Shahrukh Khan as its brand ambassador. He is seen in various ad campaigns thus creating a positive hype and visibility for the company.
To its regular customers, Jet Airways offers Visa Card from Citibank that collects points after every flight and can be redeemed at later date. The company has been the recipient of awards and recognition. It received Most Respected Company in the year 2004, Best Domestic Airline in the year 2005, Best Airline Award in the year 2007, Program of the year in 2008 and Best Cargo Airline in the year 2016.
Liked this post? Check out the complete series on Marketing Mix