Kenya Airways Limited is simply referred to as Kenya Airways and is a flag carrier of its native country Kenya. As the name suggests it is associated with the airline industry. It was founded in the year 1977 on 22nd of January but it started its operations from 4th of February year 1977.
At its onset, Kenya Airways was fully owned by Government of Kenya but in the year 1996, it became a public-private company with Government of Kenya being its major shareholder. It is a member of African Airlines Association as well as Sky Team. It faces competition from the following airlines-
Ethiopian Airlines
EgyptAir
South African Airways
About Kenya Airways
Type: Airline
Industry: Aviation
Founded: January 1, 1977
Founder: Government of Kenya
Headquarters: Embakasi, Nairobi, Kenya
Area served: Africa, Europe, Middle East, Asia
Key people: Michael Joseph (Chairman) and Allan Kilavuka (CEO)
Number of employees: 4,000+
Product in the Marketing Mix Of Kenya Airways :
Kenya Airways is a leading airline that operates in a domestic and international circuit carrying passengers and cargo. It offers up-to-date facilities and top-class products to its customers including on-air and on-ground services to its esteemed clients.
By the year 2016, November, Kenya Airways had a fleet of forty-five airlines including Boeing 737-300F, Embraer ERJ-190, Boeing 737-700 and few others to carry out its operations successfully. In-flight services are divided into divisions or class. Entertainment options vary according to the class being travelled and are also dependent on the particular aircraft. Audio channels, overhead screens, background music and in-seat individual touchscreens are offered to every passenger.
Kenya Airways has a frequent flyer program titled Flying Blue which was launched in the year 2005. Members of Platinum Elite and Gold Elite club are offered services in JV Lounge and these are for passengers flying with Kenya Airways and also with its partner airlines. Services at Simba Lounge are only for business passengers of Kenya Airways. Kenya Airways has a highly efficient maintenance system for overhauling, upholding and checking of aircraft.

Place in the Marketing Mix Of Kenya Airways :
Kenya Airways is one of the top Sub-Saharan operators. It has its headquarters base at Embakasi in Nairobi with Jobo Kenyatta International Airport as its main hub. It operates its flights on both domestic and international front. Kenya Airways undertakes on a weekly basis forty-five cargo and passenger flights to twenty-four international destinations that include seven in Europe and rest in Asia and African countries.
It has a strong distribution network that includes International offices in twenty-two countries, twenty-four general sales agents located in eighteen countries, twenty-six cargo agents and ninety-seven travel agents. Kenya Airways has an official website, from where it is easy to book, cancel and get detailed information about the airlines. The company has tie-ups with travel agents and customers can also get relevant information from their social platforms.
Price in the Marketing Mix Of Kenya Airways :
Pricing policy of a firm is vital as it has a direct effect on performance outcomes. Kenya Airways has adopted a fair pricing policy for all its products and services. It offers fares at reasonable rates so that people travelling in both economy and business class can easily afford its prices. Rates are dependent on the class and flight a passenger wants to travel in.
Kenya Airways wants to make further inroads in the consumer market but has to face a stiff competition from other rival airlines. Hence it has also adopted both competitive and penetration pricing strategy as this will help it in both penetrations and in its dealing with competitors.
Promotion in the Marketing Mix Of Kenya Airways :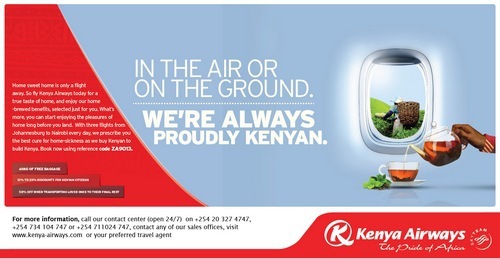 Marketing policy of Kenya Airways includes creating a positive awareness of its brand in the consumer market. Msafiri is the in-flight magazine of the airways and is offered to every passenger irrespective of flight or class he/she is travelling. Kenya Airways has adopted an aggressive marketing plan and has launched several campaigns via electronic and print media. Its commercials are shown in several popular channels of television and are printed in various travel magazines and newspapers. Kenya Airways has utilised social media to its maximum capacity. Its ads are shown at frequent intervals on various travel sites, YouTube, Facebook and Twitter.  An interested client can easily get relevant information from its official website.
Liked this post? Check out the complete series on Marketing Mix