Domino's Pizza is one of the most popular pizza chain and is a delivery company for different varieties of pizza. In today's world, Domino's has been equivalent to quality, freshness and good service. This fast food company has continued to grow by leaps and bounds. The company's innovative ideas, the commitment to provide quality products and its dedication to the customer base have helped it to maintain its position at the top.
Tom Monaghan and his brother James launched Domino's in the year 1960. The next year Tom bought his brother's share with a trade of Volkswagen Beetle. The company was then renamed Domino's Pizza. Dominos opened its first outlet in India in the city of New Delhi. Later it opened other outlets in almost all the cities of India and at present, it has more than 500 outlets in India.
The chief competitors of this coolest dug-out are Pizza Hut, KFC, McDonald and Subways.
Product in the Marketing mix of Domino's pizza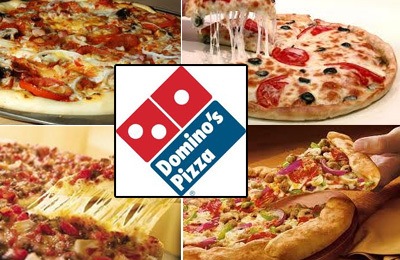 Domino's is widely known for its quality and fresh pizza. The boxes for the food products are specially designed to keep everything fresh and hot. The products offered are of both vegetarian and non-vegetarian variety. In order to seize the market Domino's has worked on a unique concept of localizing the flavors.
Domino's pizza comes in three different sizes – small, medium and large. In the varieties, Country Special Pizza, Mexican Green Wave Pizza, Zesty Chicken pizza, Seventh Heaven Pizza, Chicken and Prawn Pizza, Grand Supreme Pizza, Chicken and Camembert Pizza are some of the popular pizzas.
Besides pizzas, Domino's also deals in some other food items.  Calzone pockets, Garlic Bread Sticks, Stuffed Garlic Bread Sticks, Taco Indiana, Pasta Italiano (white sauce), Chicken Wings, Choco Lava Cake, Spicy Baked Chicken and Butterscotch Mousse Cake are also available here. Beverages like Thumps-up, Fanta and Coke have been introduced in the menu.
Dominos also gives a choice in the matter of crust like theFresh Pan Pizza and Cheese burst pizza.  It has also started offering options including whole-wheat crust and any other company has yet not utilized this option. The buyer also has a choice on the toppings. Extra cheese on a pizza and Dips like Roasted Pepper Dip and Cheesy Jalapeno Dip are available on demand.
Price in the marketing mix of Domino's pizza
Domino's main target is the lower middle class and middle class income group. Best of quality with reasonable pricing is its motto. Dominos has come up with a uniform and consistent pricing policy. This keeps the base price in check and helps the company to attract customers. If you look at the competition, then Domino's has been evenly prized with Pizza hut. But the prices are high as compared to KFC and McDonalds and hence the price conscious customers will prefer the indirect competitor – McDonalds and KFC above Domino's.
Affordability is the key to the tremendous success of this reputed company. To maintain the price level many new and innovative schemes are launched on regular basis. It always gives its customers value for one's money. Special discounts are offered at regular intervals. For Wednesdays, a special scheme was launched where one free pizza was offered with one buy.  Many free food items on purchase of selected and exclusive products are some of the methods to lower the prices and attract the customers. Pizzas are available in three sizes large, medium and regular so that one can buy whichever is affordable to them.
Place in the marketing mix of Domino's pizza
Domino's pizza has always maintained a direct channel with its customer base.  The customers either call or send a message by telephone for the pizza delivery. Consumers can also place their order online through the official website of Dominos.  In both the cases, the packaged food product is delivered and subsequently received by the buyer at the mentioned address. If the order does not reach the buyer in allotted thirty minutes, then the buyer does not have to pay for it. The order is delivered free of charge. The delivery boys are the real heroes of this organization. The detail of every route is decided beforehand and after an order is placed, this route is followed so that minimum time is taken.
One of the most common methods of eating a pizza is to dine-in the Dominos outlet. Dominos has many outlets in very good locations. Most of the shopping malls and main streets have a section for Domino's pizza. Domino's is currently located in 73 countries and has more than 10000 stores.
Promotions in the marketing mix of Domino's pizza
Domino's idea of maintaining direct contact with its consumer base is one of the leading factors that have taken the company to unachievable heights. Its policy of door-to-door deliveries is amazing. Nearly every individual knows that Domino's will deliver the pizza in thirty minutes flat. Domino's sales depend on telemarketing and the efficiency of their trained delivery boys.
Besides evaluating their own strength and weaknesses, Dominos has also been observant of their competitors. McDonalds KFC, Subway, Pizza Hut and Burger King are some of the important competitors of Domino's. The one field where the other companies have been simply unable to give competition is in delivering the pizzas on time.
To promote its food products, Dominos is always introducing new schemes and offers in order to maintain its grip on its customers. The home delivery is always free of charge. Sometimes the company offers a 50% discount on the second pizza. At other times, the company introduces schemes like one small pizza free on one large pizza. Sometimes lucky coupons are also awarded to loyal buyers. The most regular and common scheme is of giving a coke free on every purchase. Thus, the advertising team is actively involved in the marketing and promotional strategy to boost up the sales.
The visual media of television has been utilized to the maximum capacity. Many beautiful ads for domino's pizza with reputed actors have been aired and they all have been very popular with the masses. Most ads of Domino's are targeted to be product introduction or ads or the brand's reminder ads so that people look at the ad and order a Domino's Pizza. Domino's has surely changed the concept of eating amongst the Indian Household. Ads for Domino's pizza can also be seen in newspapers and magazines.
If you liked this article, we bet that you will love the Marketing91 Academy, which provides you free access to 10+ marketing courses and 100s of Case studies.