Michelin is associated with automotive industry and deals with manufacturing of tyres. It is of French origins and was founded in year 1889 by its co-founders and brothers Andre and Edouard Michelin. It is ranked amongst top-three position in world as largest manufacturer of tyres. Its competitors are as follows-
Continental
Pirelli
Bridgestone
Goodyear
Sumitomo
Yokohama Tyres
About Michelin
Type: Multinational tire manufacturing company
Industry: Manufacturing
Founded: May 28, 1889, Clermont-Ferrand, France
Founders: Andre Michelin and Edouard Michelin
Headquarters: Clermont-Ferrand, France
Area served: Worldwide
Key people: Florent Menegaux (Chairman) and Florent Menegaux (CEO)
Number of employees: 124,000
Product in the Marketing Mix Of Michelin :
Michelin is a world-recognised company that manufactures and markets tyres. Besides brand Michelin, it is the owner of several other tyre brands like Tigar and Kimber. It also publishes road maps of France and other places like United States, Thailand, Africa and European countries.
These maps are now also sold online. Its fully-owned subsidiary ViaMichelin offers digital mapping since the year 2001 and generates nearly 400 million routes and maps every month on its portal. Michelin is also known for its Green Guides related to tourism and Red Travel Guides for restaurants and hotels. Michelin stars are awarded to restaurants for exemplary cooking and are considered a great honour.  It is famous for its inventions like the radial tyre, neural tyre and removable tyres. Its product portfolio includes
Bicycle Tyres
Motorcycles Tyres
2-wheeler Tyres
Luxury Cars
Passenger Car Tyres
Tyres for SUVs
Tyres for Bus, trucks
Light Truck Tyres
Heavy Duty Tyres
Tyres for Aircraft
Tyres for Space shuttles
Agricultural Tyres
Earthmover Tyres
Semi-finished products

Place in the Marketing Mix Of Michelin :
Michelin has spread its presence from France to several countries of the world. Its headquarters base is at Clermont-Ferrand in France. Michelin in the year 2012 was involved in the manufacturing of 166 million tyres and this was possible because of its sixty-nine manufacturing plants located in eighteen countries like Italy, Thailand, Brazil, Canada, United Kingdom, United States, Germany, Spain and of course France.
Michelin has a global distribution channel that includes services of wholesalers, retailers, suppliers, warehouses and stockists. Tyres are easily supplied to small retail outlets as well as showrooms. With the advent of e-commerce Michelin has opened its own web-store and markets its products to any part of the world. It also has tie-ups with other online shopping portals to sell its products.
Price in the Marketing Mix Of Michelin :
Michelin boasts of long-lasting and quality tyres. Prices for every region are a bit different as it is dependent on the taxes imposed by that government and its production and supply cost to the area. Michelin has adopted a variable pricing policy for its products that is value-based. As it manufactures a diversified range of products it is not possible to set up a single pricing policy for them collectively.
The company has set up different prices for different vehicles. For example, off-road vehicle tyres cost more than tyres used for on-road vehicles. Michelin faces stiff competition from other companies and has adopted a competitive pricing policy to gain a bit of advantage in such competitive times. It has maintained its high quality but has brought down its profits to implement a reasonable pricing strategy. This has helped the company in increasing its sales figures and ultimately garnering larger revenues.
Promotions in the Marketing Mix Of Michelin :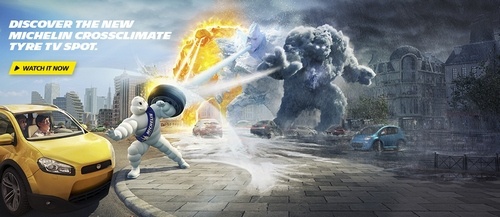 Michelin is easily recognised because of its mascot Bibendum, also known as Michelin Man. It has been an active participant in several events and sports. From years 1972 – 2008 brand took part in MotoGP and achieved nearly 360 victories. It has also competed in Formula One and won Formula One Driver's Championship with McLaren and Brabham.
Michelin is also associated with races like American Le Mans Series, 24 Hours of Le Mans and European Le Mans Series. Michelin has adopted an aggressive marketing policy to retain and increase its brand awareness in the consumer market. Besides sports activities, they have launched several ad campaigns that are shown in newspapers, trade magazines, business magazines, hoardings, television and radio. Michelin also advertises on social media platforms via its website and other shopping platforms. The company also take part in trade fairs to promote its products.
Liked this post? Check out the complete series on Marketing Mix