Surf Excel is a home care brand associated with the FMCG sector. It is a subsidiary of its parent company Unilever and was launched in Indian consumer market in year 1959. Surf Excel is a detergent that has constantly upgraded its product to meet the changing needs of Indian Homemaker. Its outstanding ability to remove most stain marks is one of its major plus points. Surf Excel faces competition from several brands and some of them are as follows
About Surf Excel
Type: Detergent
Industry: Home care
Founded: 1954
Founders: Lever Brothers
Headquarters: Mumbai, India
Area served: Global
Current CEO: Sanjiv Mehta
Number of employees: Over 100,000
Major products: Surf Excel detergent, Surf Excel Bar Soap, Surf Excel Fabric Conditioner
Product in the Marketing Mix Of Surf Excel :
Surf Excel was introduced as detergent powder and was projected as a brand that guaranteed clean and whitest clothes. With time it underwent several changes and introduced new variants with special features. It is available in bars, liquid form and detergent powder.
Varieties have been launched for Front-Load and Top-load category of washing machine. Surf Excel uses natural extracts and essential oils to create products with amazing fragrances. Some of its popular items in diversified product portfolio are as follows-
Surf Excel Matic Front Load Detergent Powder
Surf Excel Matic Liquid Front Load
Surf Excel Matic Liquid Top Load
Surf Excel Matic Top Load Detergent Powder
Surf Excel Liquid Detergent
Surf Excel Quickwash
Surf Excel Easy Wash Detergent Powder
Surf Excel Plus Detergent Powder
Surf Excel Blue
Surf Excel Bar
Surf Excel Gentle Wash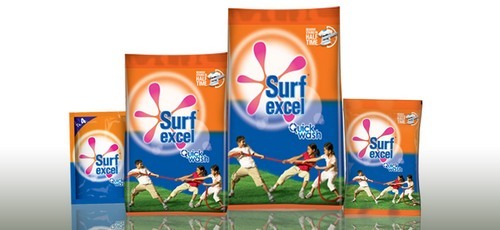 Place in the Marketing Mix Of Surf Excel :
Surf Excel was first launched in markets of Pakistan in year 1948 and eleven years later in year 1959 was launched in India. It has spread its product presence to Africa, Asia-Pacific, Asia, Latin America and Europe to include several global countries like United Kingdom, Sri Lanka and Bangladesh. Surf Excel takes help of its parent company to distribute products in consumer market.
Its intensive distribution channel includes services of regional sales-distributor, national sales distributor and common distributors along with wholesalers, stockists and retailers to reach end customers via hypermarket, supermarket, discount stores, convenience stores and corner shops. It is also possible to buy Surf Excel products online from numerous shopping portals.
Price in the Marketing Mix Of Surf Excel :
Surf Excel has targeted every household in India as its potential customer. In order to meet various needs of consumers, the company has launched sashes of different sizes so that a person can buy easily according to current requirement and affordability. For example, half and one kg product are popular amongst upper and a upper-middle class section of society whereas middle-class and lower-middle class prefer 50 gm, 25gm and 115gm sashes. Surf Excel is a premium brand with a high-end product.
It first adopted a skimming pricing policy as it was a new product without competitors.  Later it started facing stiff competition in the market and adopted mid-premium pricing policy. Its perceived value in the market is very high and the mid-premium rate has helped in attracting a larger customer base. Surf Excel implements promotional policy at regular intervals and offers monetary discounts and extra products at set rates to encourage bulk sales and better profit margins.
Promotion in the Marketing Mix Of Surf Excel :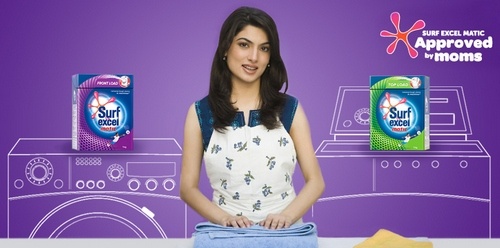 Surf Excel has adopted both ATL and BTL marketing policy to create brand awareness in the consumer market. Its commercials are shown via electronic and print media in popular channels of television, radio, newspapers, magazines, sides and backs of several vehicles like bus and trams and on billboards at populated places to gain maximum exposure. Surf Excel has launched aggressive ad campaigns that have successfully attracted the interest of masses. One of its commercial encourages children to go out and play without the tension of getting dirty because the brand has their back by assuring a super-clean wash. Its tagline Stains are Good has created a huge rapport amongst housewives.
In the year 2005 and 2006, Surf Excel launched promotional activities for children to communicate the thought Dirt is good. Brand realises the impact of star power and has roped in popular television actor Divyanka to act in its commercials. Famous personalities like Mini Mathur and Sonali Bendre are also associated in its promotional campaigns.
Liked this post? Check out the complete series on Marketing Mix