Exide Batteries is a public company of Indian origins. It is a subsidiary of its parent company Exide Industries limited and deals in automobile battery sector. It was established in the year 1947. Exide has targeted vehicle owners as its customers who are on the look-out for the best possible product.   
Lifetime warranty and superior services have made this company one of the most known and popular brands of India. Exide has several sub-brands and subsidiaries to help it achieve its goals. Following are its major rival companies-
SF Sonic
AC Delco
Okaya
Amaron
About Exide Batteries
Type: Multinational battery manufacturing company.
Industry: Battery Manufacturing
Founded: 1916
Founder: The Electric Storage Battery Company
Headquarters: India
Area served: Global
Key people: Mr. Bharat Dhirajlal Shah (Chairman) and Subir Chakraborty (Chief executive officer)
Number of employees: Over 20,000+
Product mix in the Marketing Mix of Exide Batteries :
Exide is the only brand of battery in the global market to provide a lifetime warranty and free services at any of its centres. The company manufactures lead-acid batteries for industrial and automotive usage. Its product kit includes-
Automotive Batteries- It is the leading supplier of these batteries that are used by two-wheelers, three-wheelers and four-wheelers like cars.
Solar Batteries include varieties like Flat-Plate Solar Batteries and Tubular Solar Batteries. They are designed to provide optimal power and efficient energy storage and can work in partial charging-condition also.

Submarine Batteries- Exide offers technical service and provides for its maintenance and upkeep
Inverter Batteries include two varieties Flat-Plate Inverter Batteries and Tubular Inverter Batteries. Its features include minimum fumes emission, low maintenance, reliability and its ability to survive frequent discharge

Home UPS Systems- Offers regulated and uninterrupted power during power -failure

Industrial Batteries – Industrial segment comprises of equipment for power back-up, infrastructure sector and traction. It has the widest range in the world of storage batteries covering applications of the broadest spectrum from 2.5 Ah to 20,600 Ah capacities.

Genset Batteries- Features include high charge retention, good starting ability, long storage life and available in ready-to-use condition from the factory.

Place in the Marketing Mix of Exide Batteries :
Exide Batteries has spread a network in every part of India and has set up its headquarters base in Kolkata, India. It has manufacturing plants in both Sri Lanka and India.  Two factories are established in Uttarakhand, one in Haryana, one in Hosur district of Tamil Nadu, two in Haldia and Shamnagar in West Bengal and remaining two in Maharashtra.
Exide has highly developed R & D facilities for further development purposes. Exide products are available in six continents and nearly eighty countries of the world that includes European and South-East Asian markets. It has subsidiaries in Sri Lanka, Singapore and the United Kingdom. Exide has a distribution channel that is strategically placed to provide maximum coverage and includes twenty-eight branch offices, four regional offices and four thousand dealer-outlets.
Price in the Marketing Mix of Exide Batteries :
Exide Batteries has gained the trust of the nation and enjoys unrivalled reputation. Only qualitative products cannot take a company to desired heights. To survive one needs the best possible pricing strategy because at the end of a day it all comes back to sales and revenues. Exide has a reasonable pricing policy in place so that every customer can easily afford its products. The brand has dealt effectively with its rival companies by adopting competitive pricing policy and keeping price ranges marginally lower than its competitors. One other significant reason for affordable prices is that it wanted to make further inroads in its rural and urban markets.
Promotions in the Marketing Mix of Exide Batteries :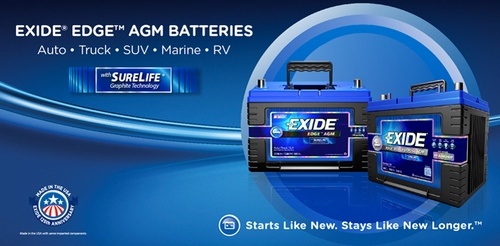 Exide Batteries have a great marketing channel in place that helps in highlighting its features and qualities. Its ads are informative and help in creating positive awareness and great visibility of the brand. Ads are shown in electronic and print media via radio, television, newspapers, billboards and magazines. Social media has also become an advertisement platform for Exide.
Indian Cricket Captain Mahendra Singh Dhoni has been roped in as a brand ambassador for the Parent Company Exide Industries and will promote all its products.  One of its favourite taglines that define its identity is India runs on Exide. It is very apt as it has been able to leave a distinctive mark of its own on Indian consumer.
Liked this post? Check out the complete series on Marketing Mix