Rin is a home care brand and is associated with FMCG sector. It is the secondary brand of its parent company Hindustan Unilever. Rin was introduced in Indian consumer market in the year 1969 and since then has created a niche market for itself. Rin is one of the most popular a brands that emphasises on its product quality by creating a good impression on its customers. Some of its competitors are as follows-
About Rin
Type: Laundry detergent brand
Industry: Consumer goods
Founded: 1983, India
Founder: Hindustan Unilever Limited (HUL)
Headquarters: Mumbai, Maharashtra, India
Area served: India and other parts of the world
Current CEO: Sanjiv Mehta
Number of employees: 100,000
Product in the Marketing Mix Of Rin :
Clothes are an important part of good image and lifestyle. Rin is a detergent brand that guarantees spotless white apparel so that a person can make a positive impression. Rin endeavours towards product improvement via continuous innovation.
The first product launched by the company was a detergent bar and over the years it has increased its portfolio to include other items like detergent powder in the year 1994 and bleach, a whiteness solution, in the year 2007. It added a specialist washing powder for washing machines titled Rin Matic. Moving with times it introduced a liquid version in the year 2012. Rin Perfect Shine was a category extension that guaranteed better results. Some of its products that have been a part of its product portfolio are as follows-
Rin Supreme Bar
Rin Shakti Bar
Rin Shakti Powder
Rin Advance Detergent Cake
Rin Advance Laundry Soap
Rin Matic
Rin Ala
Rin Refresh
Rin Anti-Bac
Place in the Marketing Mix Of Rin :
Rin has a Pan-India presence that has penetrated consumer market quite easily. Rin utilises the facilities and excellent distribution network of its owner company Hindustan Unilever to send its products to the consumer market. Its network extends to every part of the country including both rural and urban areas.HUL has nearly forty manufacturing plants and a research facility in Bengaluru to develop further innovative products and increase product quality of existing products.
Its headquarters base is at Andheri East in Mumbai. Distribution channel of HUL includes services of 2,000 suppliers and 4,000 stockists that extended its presence to reach 250 million rural and 6.3 million urban outlets. Products of Rin are easily obtainable via hypermarket, supermarket, convenience stores, discount stores and corner shops.
Price in the Marketing Mix Of Rin :
Pricing is a most important aspect of any organisation because it is the only medium which allows it to flourish and move forward. Rin is a trusted brand of millions of households and has been able to hold its own because of its pricing policy. Brand Rin caters to a mass market and has adopted the mid-pricing policy. It faces stiff competition from within its own parent company brands and other external brands and has maintained competitive pricing policy.
It has kept product prices reasonable so that consumers find it affordable and can easily make a purchase. The brand also encourages bulk buying and offers incentives. It has implemented a promotional pricing policy and in a sudden move slashed its product prices by 30% to increase bulk sales and gain maximum exposure.
Promotion in the Marketing Mix Of Rin :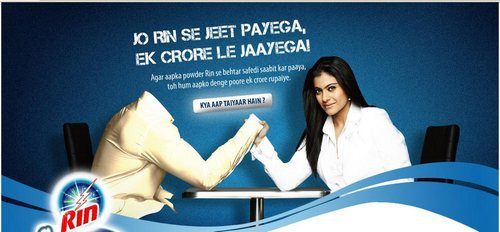 Rin has become synonymous with tag sparkling white clothes and in order to maintain its image, it has adopted aggressive as well as comparative advertisement policies. It launched ad campaigns comparing its product to a similar one of a rival brand. This created a furore and increased its brand awareness to maximum levels. Rin has also integrated a human envy element in its advertisements and marketed it as a brand that is the envy of its rival brands because of high quality. Its confident and bold advertisements are shown via television and radio in electronic media, newspapers, magazines and billboards in print media, Twitter, Facebook and YouTube in social media.
Rin has popular taglines attached with its brand like Whiteness Strikes with Rin; Zara sa Rin; No mitti, Bijli giri and Dugni safedi dugni chamak. Rin has roped in several famous personalities to act in its commercials like Priya Tendulkar, Tanvi Azmi and Miss World, Lara Dutta.
Liked this post? Check out the complete series on Marketing Mix