Reebok is an international brand that deals in the equipment for sports industry. This global company was founded by J.W.Foster in the year 1895 in England and it later extended its network to different parts of the world. Since the year 2005, Reebok has been acting as a subsidiary company for Adidas. At present Reebok has been able to carve a separate identity for itself that is associated with comfort, fashion and a particular trendy image. Some of its competitors are-
About Reebok
Type: Fitness footwear and apparel company
Industry: Sportswear
Founded: 1958
Founder: Joseph William Foster
Headquarters: Boston, Massachusetts, United States
Area served: Worldwide
Key people: Matt O'Toole (Chairman) and Todd Krinsky(CEO)
Number of employees: Over 4,000
Product in the Marketing mix of Reebok
Reebok is a worldwide company that deals with the production and later distribution of products related to sports and fitness. It has a wide variety of items in its portfolio for each segment like children, women and men. The main products of the company are accessories related to sports, apparels and footwear.
Footwear- In its footwear category some of the most important products are
Reetone collection of footwear is on the technology called moving air.This category of shoes is for the health conscious people who are unable to join gym and wearing the shoes forces and helps the muscles in the adaption and development of tone.
ReeGym collection of shoesis for wearing during the workouts in the gym.
ReeZig aretraining shoes that has a higher endurance capacity for agility sports and running. It has a visually striking look and its capacity to reduce the wear-tear in the shoes has made it a hit amongst the professionals. They prefer this collection as it helps in reducing the strain and stress on the muscles by nearly twenty percent.
ReeTrain is a collection of footwear that helps in strength training. The shoes are made in such a manner that it helps the muscles to work much harder. It has three varieties like the EasyTone, that is for casual wear and walking, TrainTone for gym exercises and training, RunTone for stretch running and JumpTone for the strengthening of leg muscles.
Apparels have been an inspirational concept where fashion and sports go hand in hand. Rich fabrics and technology has merged to provide maximum comfort. For men the fitted tanks, running shorts and sleek t-shirts are stylish and highly functional and odor free. The collection includes jackets, polo shirts and tracksuits.  In women's category, the products are tank tops, shorts, t-shirts, training pants and sports tops. Reebok Junior was launched to make designer apparels for the kids where style meets sports. Reebok Classics offered apparels, footwear and accessories under its two categories Always Classic and New Classic.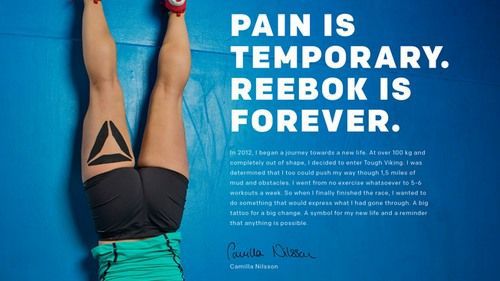 Place in the Marketing mix of Reebok
Reebok has managed to establish its brand name and presence in the global market. It has its headquarters in Canton, USA, and regional offices in Mexico City, Hong Kong, Montreal and Amsterdam.
 Its biggest investment is in the field of distribution infrastructure to create and establish a retail ambiance that is uniform and fully international. As its products, all its outlets are also exclusive, creating a qualitative environment.
The brand has exclusive stores, outlets and dealer outlets. They have hired professionals to choose the appropriate locations that have the maximum visibility for their stores. According to the retailers, the stores are divided into Super-Special stores, Limited-Line Stores, and Single-Line Stores. Reebok has gone for a franchisee organization in India with more than one thousand stores in nearly three hundred and twenty-five cities. It has opened in Hyderabad the biggest Reebok showroom of the world.
Reebok has revolutionized the concept of selling through their Online Purchase System. They have an organized official web system to handle product distribution. Besides this, they have merged with other sites to sell their goods through their shopping portals.
Price in the Marketing mix of Reebok
In order to penetrate and capture the market, Reebok has decided on a common pricing policy. When the brand decided on its apparel section, they set up a penetrating pricing policy at the start. Low prices where set as introductory prices and as the demand started rising, instead of common pricing the strategy changed to reasonable pricing.
In cases where the brand has launched a new product in the market, Reebok first follows the market strategy of skimming policy. Under this, they set high prices for their superior products. As the consumers associate this brand with quality, the value added pricing system helps them to make fast revenues. The company cashes on the loyalty of its consumer base to communicate that quality is the reason for higher prices. It then starts slowly dropping the prices under the name of various schemes and discounts.
In the year 2006, Reebok came up with an unusual strategy of destroyer pricing policy to tackle the growing popularity of Puma and Nike. They deliberately set very low prices that the other companies were unable to match. This led them to higher volume of sales and capturing of a large market share.
Promotion in the Marketing mix of Reebok
In order to familiarize the consumers with its vision and goals, Reebok has gone for hi-fi promotional activities. It has been roping in sportsperson of various fields for instance in cricket Yuvraj Singh, Rahul Dravid, Dhoni and Irfan Pathan and in racing Narain Kartikeyan. It also provides backing to Prakash Amritraj and sponsors the Davis Cup in lawn tennis. Actor Bipasha Basu has also been associated with Reebok ads. Reebok is also the sponsor of four IPL cricket teams in India along with thirty-three of its players.
As a promotional scheme, the brand puts up a clearance sale twice a year for clearing out its old stock and making its consumers happy. It offers coupons, vouchers, discounts on their items to satisfy their consumers. Reebok uses various other mediums to connect with the audience like advertising online, on billboards, in magazines and newspapers and on radio and television. Under Direct-Interaction scheme, the company organized a Run-Easy Campaign; it encouraged the participation of the consumers and distributed thousands of footwear. The brand Reebok has also various Tag Lines that have given their promotional activities a huge boost from time to time. Some of them are "I am what I am", "Have fun while you run" and "Take the gym with you".
Liked this post? Check out the complete series on Marketing Mix