Yum! Brands is an American company popular for fast food production, preparation, and marketing. Its headquarters is in Louisville, Kentucky but it has branches all over the world. Yum! Brands Company runs a number of hotel brands including KFC, Taco Bell, Yum Restaurants India, WingStreet and Pizza Hut etc. In India, the fast food company is the most popular, ahead of even most of the local fast food companies. Founded in 1997, Yum! Brands have become a force to reckon in the fast food industry.
About Yum Brands
Type: Restaurant Company
Industry: Quick-service restaurant
Founded: 1997
Founder: David Novak
Headquarters: Louisville, Kentucky, United States
Area served: Worldwide
Key people: David Novak (Chairman) and David Gibbs (CEO)
Number of employees: 430,000
Competitors
McDonald's Corp
Subway
Starbucks Corp
Domino's Pizza Inc
Chick-Fil-A Inc
Products in the Marketing Mix of Yum Brands :
Taco Bell is known for its tacos, Grilled Stuft Burritos, the signature Quesadillas, Nachos and Burritos among others. Being of Mexican origin, the company is mainly associated with Mexican cuisine though it is also rich with other cuisines.  Taco Bell alone has at least 5,800 restaurants in the USA where it offers its customers with great services.
Pizza Hut on the other side is predominant for its Italian foods, loaves of bread, pasta, and pizzas.  To remain relevant in international markets, Pizza Hut also does some of the local cuisines depending on a branch's location. KFC, on the other hand, is a kind of chicken, burgers, and pizzas among many other foods.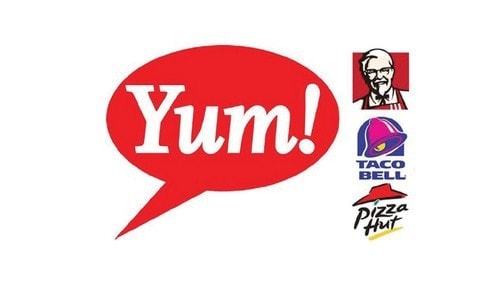 Price in the Marketing Mix of Yum Brands :
Yum Brand employs the premium/ skimming pricing strategy. The company offers better quality foods as compared to its competitors. The ambience offered by the company also outclasses that offered by its competitors thus customers still prefer Yum Brand even with the premium pricing strategy.
Place in the Marketing Mix of Yum Brands :
Yum! Brands are available all over the world. The chain comprises at least 42,000 restaurants across the world, about 9,000 of which are company-owned. The rest are licensed, franchised and unconsolidated affiliates.
In total, Yum! Brands are available in about 130 countries, making it the biggest chain of fast foods companies in the world. Yum! Brands are marketed in a number of channels depending on the location. The company first studies the market and analyses the consumer needs before deciding on the most appropriate distribution channels. As a result, almost all the market segments are attended to.
Promotions in the Marketing Mix of Yum Brands :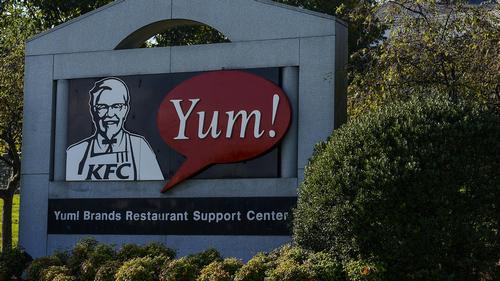 There is one promotion strategy that is only unique to Yum! Brands. This is a strategy that transplants often outrageous concepts across international markets. For instance, the introduction of a sandwich debut in the USA by KFC's Double Down was received with attacks especially from the media.
This bun-less offering that featured two deep-fried chicken patties, a "secret" sauce, two types of melted cheese and bacon was hit hard by many media houses including the New York Times which through Sam Sifton dismissed the sandwich as a "Stunt food" and "new low". It was surprising that even with such bad reviews, KFC managed to sell 10 million Double Downs within just a month, something that triggered it to extend the limited-time duration the product was to run.
The above strategy is a product development-cum-promotion strategy that has put Yum brands on the forefront. True to this statement, Yum Brands are known to frequently come up with new or even advanced products as can be noted at KFC. The Double Down product created an internet buzz to the extent that KFC has to introduce it in South Korea, Malaysia, Philippines, New Zealand, Japan and Australia though it had earlier on not planned to sell it out of the USA. Such a strategy has been used by all the Yum Brands at some point.
Discounts and offers are frequently offered to the markets especially during festivities. At the same time, discounts are frequently offered to corporate customers with some of the brands such as Pizza Hut frequently doing several enterprise discounts. BTL activities such as newspaper inserts, lollipops, hoardings and guiding potential customers to the outlets are also frequently used.
Liked this post? Check out the complete series on Marketing Mix