3M was originally incorporated as Minnesota Mining and Manufacturing Company and was founded 114 years ago on 13 June 1902.
About 3M
Type: Multinational conglomerate
Industry: Industry, worker safety, healthcare, and consumer goods
Founded: June 15, 1902
Founders: Hermon Cable, William McGonagle, John Dwan, Danley Budd, Henry Bryan
Headquarters: Maplewood, Minnesota, United States
Area served: Worldwide
Current CEO: Mike Roman
Number of employees: 95,000
Major products: Adhesives, abrasives, laminates, passive fire protection, personal protective equipment, window films, paint protection films, dental and orthodontic products, electrical and electronic connecting and insulating materials, medical products, car-care products, electronic circuits, healthcare software, and optical films
3M area conglomerate company that produces more than 55,000 products and employs more than 88,000 people. 3M has an impressive presence in almost every continent.
3M sells a wide range of products including adhesives, abrasives, laminates, passive fire protection, personal protective equipment, medical supplies, electronics components, cleaning supplies, and office supplies, among others. It belongs to the industrial, safety, and consumer goods industry
With operations running in 65 countries and products being sold in 200 countries 3M easily qualifies to be among the most reputed and popular companies in the modern world.
Amway and Hindustan Unilever are some of the prime competitors of 3M; varied products like car wash, wax, shampoo and interior and exterior rust protection products happen to be some of the most popular products of 3M.
3M Marketing Strategy and Marketing Mix
In the Marketing mix of 3M, we discuss the product, place, price, and promotions of the brand which has a large product portfolio and widespread distribution.
Product Strategy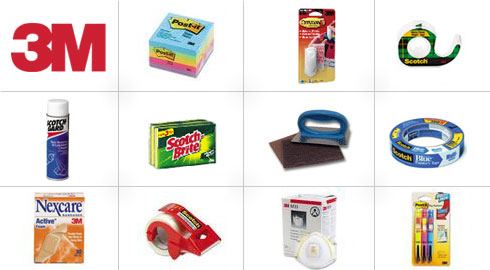 3M is a mutinational corporation and has presence in industries such as healthcare, transportation, electronics and consumer goods. It has a huge product portfolio which includes adhesives, abrasives, health information systems, office supplies and others.
3M has a strong product marketing strategy. It mainly focuses on innovation and new product development. The company has a well-financed research and development center which keeps adding products to its portfolio and keeps improving or diversifying the existing product line.
3M is known to have high-quality products and it has good quality control in place. 3M has a reputation for producing rigorous quality materials through its manufacturing process.
55,000 different products come together to make 3M a conglomerate enterprise. An array of 55,000 products allows 3M to maintain its exquisite presence across the world because people from varied countries prefer varied products.
Some of the popular products and saturated verticals where 3M is active are: 
Abrasives
Adhesives, Sealants & Fillers
Advanced Materials
Automotive Parts & Hardware
Building Materials
Cleaning Supplies
Coatings
Compounds & Polishes
Dental & Orthodontics
Electrical
Electronics Materials & Components
Films & Sheeting
Filtration & Separation
Home
Insulation
Lab Supplies & Testing
Labels
Lubricants
Medical
Office Supplies
Personal Protective Equipment
Signage & Marking
Tapes
Tools & Equipment
3M continue to impress the global audience by catering quality products to their need. The simple idea of bridging the gaps has helped 3M acquire a contemporary reputation and impressive annual revenue of $34.22 Billion USD.
Place Strategy
3M being a conglomerate brand that caters to a global audience needed to make its presence across the world. It is important for enterprises to setup their bases in particular regions to understand the requirement of audience in the specific land and then provide with requisite services/products.
With operational base in 65 countries and products being sold in more than 200 countries, 3M is quite successful when measured on a scale of global presence. 3M is a known brand and people love to use its products.
3M uses the following Place or Distribution strategies
Direct sales: 3M sells directly to large industrial customers, healthcare organizations as well as government agencies. This requires key account management professionals to be employed by the company.
Distributors: 3M has a whole network of distributors who purchase the products in bulk from the brand and sell them to retailers or contributors.
Retail presence: 3M is present in major retail outlets. Example in the US, 3M is present in Home depot, Lowe's, Walmart and other modern retailers.
Price Strategy
When catering to a global audience pricing is not something that can always be controlled by the enterprise. With operational base in more than 65 countries, the price of products is going to differ because a particular resource may be cheaper in Middle East but costly in Indian sub-continent.
As 3M has various product lines, it cannot use one single pricing strategy. There are multiple pricing strategies used by 3M
Competitive Pricing: As 3M has higher quality products, many of its products are priced higher or equal to those of competitors. Post-it notes and scotch tape as examples of such products.
Skimming Price: When it introduces new products, then 3M uses skimming price to maximize the profits at the start before competitors adopt the products.
Value-based pricing: Every product has a perceived value. Basis of this, several products are having value-based pricing. Example – Air filters.
Local laws, global taxes, and other regulations, also affect pricing; with almost every country moving forward to the acceptance of the Goods and Service Tax system, enterprises are going to have an easy time setting prices. Hence, the pricing strategy of 3M can be categorized as competitive pricing and value-based pricing.
3M sells cheaper products in comparison to its prime competitors like Amway but Hindustan Unilever certainly has an upper hand over 3M. 3M is more into electrical supplies and optical fibers and is catering to bigger enterprises and state governments.
Promotions Strategy
3M changed its logo in 2002 & with the new logo, the enterprise aims to come across as a modern enterprise that understands the world better. With all the new logo and branding campaigns, 3M has been successful in getting noticed by people.
One can buy 3M products by visiting local retailers or wholesale stores. 3M has an impressive record of coming up with Television ads that keep the user engaged. They aim to enamor people by educating them hence; they follow a not-so-popular paradigm with their ads.
Different strategies that 3M uses to promote its products include Advertising, Sponsorship, Events, Trade shows, demonstrations, social media, and others. The objective of 3M promotional strategy is to build brand awareness and increase sales through targeted marketing.
3M is growing big time and varied marketing campaigns are adding to its growth. The enterprise spends a handsome amount on marketing, which reflects in its growing revenue.
In 2008, 3M created a renewable energy division that helped it cope with all the allegations of releasing harmful and toxic elements in the local waterways and helped it with some positive brand development.
Liked this post? Check out the complete series on Marketing Mix