Founded in 1988 by Gautam Adani, Adani Group now is a multinational conglomerate company. The headquarters of company are situated in Ahmedabad, Gujarat. Adani Group has loads to its name; they have not only built an empire that is huge but have built a company that makes India popular at the international juncture.
The Group happens to be the largest port developer and operator from India; they function in association with Mundra Port, which is India's largest commercial port. Adani Group has involved a bit of them in almost every vertical.
Some of the top verticals they rule can be listed as:
Logistics
Resources
Energy sector
Agribusiness
Packaged materials
About Adani Group
Type: Multinational conglomerate
Industry: Energy, resources, logistics, agriculture, and financial services
Founded: 1988
Founder: Gautam Adani
Headquarters: Ahmedabad, Gujarat, India
Area served: Worldwide
Key people: Gautam Adani (Chairman) and Rajesh Adani (CEO)
Number of employees: 74,000
Product In The Marketing Mix Of Adani Group
Adani group sees world as an opportunity and they have been quite diverse with the range of products launched. Adani is one of those rare business groups, which deals in logistics, energy sector and in packaged materials as well. Yes! Adani group has been selling oils and other edible materials. Adani surely knows how to grab the essence of market and make profit out of it.
While the logistics, energy sector and agribusiness makes up their core business, Adani group surely looks forward to build a giant empire by undertaking the requisite ports and establishing good trade relationships with foreign ports and the exporters from the inside of country.
Products From Adani Group That Are Actually Ruling The Market:
Fortune Edible oil (largest in India) Adani Group controls the 20% of entire edible oil market in India
Refined and mustard oils
Spices and chili
Port development
Adani power
Place In The Marketing Mix Of Adani Group
Adani Group contributes a huge percentage to employability and ensures proper growth for the country. Over the time Adani group has not only created employment by managing ports but have also diversified their industries and factories.
The uniform distribution of factories, outlets and distribution centers across the country allows people gain employment opportunities and also helps enterprise with the trust building exercise.
Adani over the time has made efficient use of strategies and now plans to keep in touch with the people of country. Online advertisements and the paperback notifications are helping people know more about the business group that actually cares for the country and its people.
Being in the oil industry, one must congratulate the Adani group for having such a fantastic distribution channel. The demand for oil is evergreen and the supply from Adani group is constant. One of the reasons Fortune oil has grown as a brand is the supply part. Without supply in a product such as oil, brand building would have been impossible.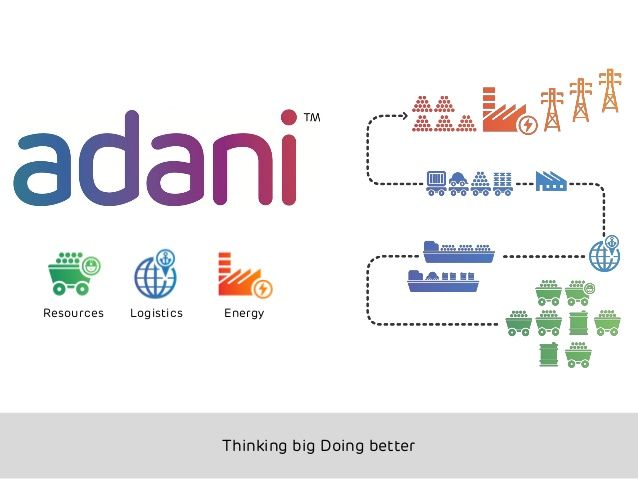 Price In The Marketing Mix Of Adani Groups
Adani Group is an indigenous company hence prices are quite competitive. There are products where the prices dip and give foreign brands the much-needed competition. One-liter packet of refined oil from Adani Group costs somewhere between 70-80 INR while the cost of chilly and spices are equally competitive.
Adani Group understands the need of the hour hence prepare products in all sizes; people can decide the size of purchase based on their needs. Packaging is fantastic too and The brand follows the standard metrics for selling products.
While the international brands are facing a challenge from indigenous Patanjali, Adani Group is minting cash on the fan base it has created over the years. There's more to come from Adani Group that will change the way people in India shop and invest.
Promotion In The Marketing Mix Of Adani Group
Quality products and strong marketing is going to help this brand in the long run. Adani Group sooner or later is going to be the one of the biggest Indian spices and edible oil producing brands. Distribution and reach are one of the major factors to create word of mouth for Adani group.
The strategy and the exquisite implementation of business development procedures have helped this brand grab some eyes. Enrolling celebrities for promoting their products offline is surely the masterstroke.
Adani Group understands the power of Internet and they have built platforms for selling their products online. The brand has also undertaken partnerships where they can actually collaborate with other people and let them earn profit out of their products.
Adani Group has grown to become a giant Indian brand. They have enrolled celebrities like Ajay Devgan and Kajol for marketing their products. Adani has always believed in keeping the brand game strong, they have spent quite some time and money building a brand and now they are adamant about making it sustain.
Liked this post? Check out the complete series on Marketing Mix