Manufactured in 1937, Toyota Motor Corporation is the biggest car manufacturer in the world and has factories in various countries. Toyota has its headquarters in Japan and is one of the worlds most profitable and successful car manufacturers. Australia, which has oldest and smallest car industries, has played a vital role in the development and success of Toyota. Kiichiro Toyoda incorporated the company as a subsidiary from its father's company Toyota Industries.
A construction and mining company known as Thiess imported the first set of Toyota vehicles to Australia in the year 1958. Soon Toyota started selling Landcruiser vehicles. Australian Motor Industries was launched in Melbourne and manufactured Toyota corona and corolla cars. These cars were commercially available in 1971, and by 1979 Thiess Toyota became the commercial leaders. The two companies merged to form Toyota Motor Corporation in 1988. 
Toyota has around 51 manufacturing units in 26 nations across the world. Their innovative hybrid and environmental technology has made it the leader of the automotive industry. Toyota is trying to develop fuel cell technology, which will be incorporated in its future vehicles. It has dealerships all around the world and sells an array of vehicles like SUV's, cars, hybrids and trucks. Their brand is associated with durability, quality, sustainability, safety, innovation and reliability.
Product in the Marketing mix of Toyota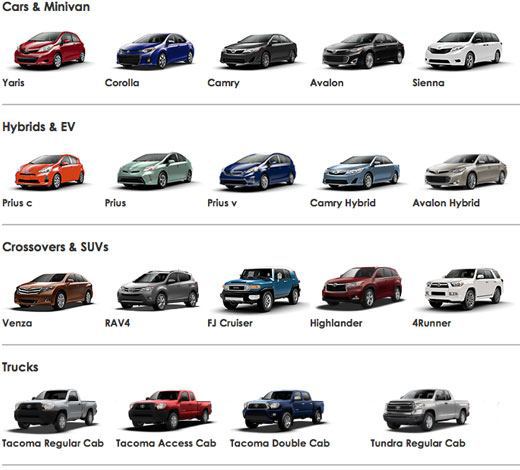 Toyota provides their customers with both tangible and intangible products ranging from cars to warranties. A product of high quality is usually self-marketed, and this is what makes Toyota vehicles so desirable. They have nineteen car models, which are further broken down into different categories
Passenger – comprising of small, medium size, and large vehicles. Aurion, Yaris, Camry, Tarago, Corolla and Rukus
SUVs & 4WD– Kluger, Rav4, Parado and Landcruiser 200
Hybrid – Prius and Camry
Commercial – HiAce, Coaster, Landcruiser 70 and HiLux.
Toyota also offers vehicle parts such as gears and other parts. As far as the intangible parts are considered, they offer financial services, warranties, road assistance, car services and extended warranties. Their extended warranties have various mileage coverage options ranging from 36,000 to 1,00,00 miles.
Customer Interest tops the list of priorities for Toyota, and hence, they have a research center totally dedicated to gathering data on the consumer expectations from Toyota. By 2005, they had invested 22.2 million in their research center. Toyota has put together the Hybrid product line to deal with the increased prices of gas. The first Hybrid car was Toyota Prius Hybrid, which can drive up to 48 miles to its gallon. The Hybrid model was first launched in Japan in 1997, and 2001 worldwide. Camry and Highlander were later introduced in their Hybrid product line.
Place in the Marketing mix of Toyota 
Toyota always keeps its customer first and knows the importance of making its product available to the target audience. They sell their vehicles through dealerships and sales are made to costumers by the selling staff on one to one basis. The sales staff in all these dealerships works together in teams of seven or eight similar to their teams in the assembly plants. The staff is highly skilled with not only sales but also product information, data collection, finance insurance and order taking. Toyota focuses on the 'pull' strategy and make cars that the customer demands. Apart from this, Toyota has sales representative going from door to door in Japan.
A typical dealership of Toyota is similar to the western dealership. They try to minimize supply chain costs and keep a reasonable service level along with having high quality products. They have organized suppliers into different tiers where the first level suppliers work in a product development team. The second tier suppliers make individual parts. This enables cross sharing of the personnel as Toyota sends their staff to the suppliers in case there is a work overload.
Pricing in the Marketing mix of Toyota
Toyota became the second largest two-carmaker company in the year 2003. Due to their innovative designs and heavy investments in promotional activities, they have enticed customers all over the world. They built high quality vehicles and price them moderately.
The selling price of any product is usually determined by the cost price and the profit taken together. Any increase in the cost of production is directly passed to the customers in terms of selling price. However, Toyota has a different approach. Even though the formula is same they use it slightly differently making a huge different. Instead of calculating the selling price, they calculate the profit. Thus, they go by selling price-cost price=profit. They believe that it's the market mechanisms and the consumers who determine the selling price. They also give utmost attention to waste elimination. The profit of the company has increased over time due to the high quality and low cost vehicles.
According to a report in 2007, Toyota unit sold increased heavily to 2,281,000 units worldwide. They offer vehicles of all price range. The price range of their cars starts from $18,990 and goes up to $80,000 according to the model, add options and make. They use low cost and differentiation to have a competitive edge in the automotive industry. They differentiate their product on the basis on quality, technology and superior design.
Promotion in the Marketing mix of Toyota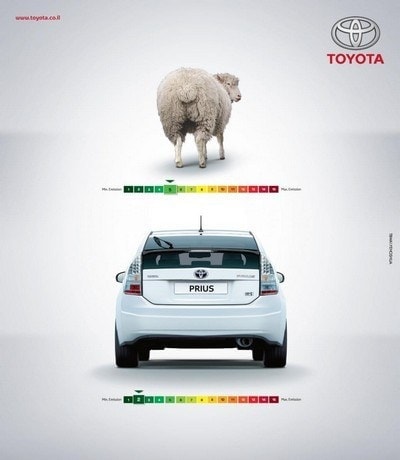 Toyota uses different promotional strategies to increase their sales volume. They advertise themselves through radio, newspapers, television, yellow pages, flyers, billboards, Internet, word of mouth and brochures. They use catchy slogan to draw attention to their brand. It has been 'Moving Forward' since 2004; however, they have come with a new tagline in the US market – "Let's Go Places". In 2012, they announced Virat Kohli as their brand ambassador in India.
In addition to this they started with acash back offer. These offers are given by the Toyota corporate to dealer and the consumers revive it as an instant rebate. Such offers especially attract the non-cash buyers. Some of the promotional schemes also allow the customers to use rebate as a down payment.
To promote their new model Yaris they come with a show called "The Block". By promoting shows they are able to each a wider audience. In the show, they try to entice customers by offering them a chance to win a new Toyota car.