Kerala Tourism is operated under the direction of State Tourism Ministry, Kerala. It is associated with Hospitality and Tourism industry and caters to both domestic and foreign tourists. Kerala is claimed as one of the top ten paradises in the world because of its scenic beauty, varied demography, eco-tourism initiatives and rich culture. The growth rate of Kerala Tourism is more than 13% and it has become a vital contributor towards state economy. Some of its competitors are
Gujarat Tourism
Maharashtra Tourism
Rajasthan Tourism
About Kerala Tourism
Type: Tourism by Government
Industry: Tourism
Founded: 1965
Headquarters: Thiruvananthapuram, Kerala, India
Area served: Kerala, India
Key people: Pinarayi Vijayan (Chairman) and V. Venu, (CEO)
Number of employees: 1,000+
Product in the Marketing Mix Of Kerala Tourism :
Kerala Tourism has taken advantage of local resources and hence has been able to attract tourists with help of several offers and packages. These are modified according to seasons and several additions are made as per the market demand or during special days and festivals. Some of the important packages are Cruise and Coast packages, Monsoon package, Summer package, Mystic-Holiday Package, Jungle-Holiday package and Premium package. Major attraction centres offered by Kerala Tourism are
A long coastline with exotic and sandy beaches
Backwaters that include chain of lakes and lagoons
Hill stations with a gorgeous view of deep-cut valleys, gorges, high mountains, tea/coffee plantations and dense forests.
Amazing wildlife along with several conservation areas, wetlands and national park.
Waterfalls
Lighthouses

Place in the Marketing Mix Of Kerala Tourism :
Kerala Tourism has been able to create a global market for itself as it has become a favourite tourist destination in the world. Most of the foreigners arrive from places like Australia, France, USA and the United Kingdom. Kerala has a strong network of railways, roadways and international airports for arrival and departure of tourists. Distribution channel of Kerala Tourism includes travel agents, brokers, operators and of course tourists. Sometimes a tour operator sells a holiday package directly to its clients and at other times it might be through a middleman.
A tour package includes accommodation in hotels, transportation and several popular sites for viewing. These packages are distributed via general sales agent, marketing agents, marketing executives, district-tourism-promotion councils, tourist reception centres and sales and marketing division. A number of offices and help desk in Kerala, as well as other cities, help in efficient distribution of its services and products. Department also has international agents and offices in countries like Muscat, Oman, UAE, Norway, Italy, USA, Germany and UK.
Price in the Marketing Mix Of Kerala Tourism :
Pricing is an area in tourism industry where one cannot predetermine prices. Kerala Tourism department tries to act as a regulatory body but pricing decisions in the tourism industry are not limited scope the of regulatory mechanism. Bargain pricing has become the norm of the day as holiday-maker tends to book with those agencies who offer them best deal in terms of prices, products and services. Kerala Tourism offers several price related package options to tourists like high pricing, tactical pricing, price bundling, cost-plus pricing and value-based pricing.
As state tourism is ranked amongst the best, it has adopted premium pricing and hence charges a bit higher rates for all its products be it packages, accommodation, transportation or other related services compared to rates charged by other states. The tourism department has adopted differentiation- pricing mechanism for domestic tourists, who are charged with reasonable pricing policy and international tourists who are charged at premium rates.
Promotion in the Marketing Mix Of Kerala Tourism :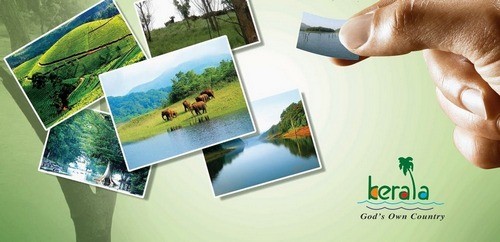 Kerala Tourism with its clear strategy and marketing performance has been able to clinch a top place amongst tourism industry. Its promotional activities include advertising, public relations, publicity, sales promotion and personal selling. It has employed extensive and aggressive advertising campaigns along with eye-catching slogans like Official Host to God's Own Country and One of the Ten Love Nests in India. Tour brochures are available at its official website and via travel agents offices and portals. Kerala Tourism has carried out mass ad campaigns in television, travel magazines, leading newspapers and radio. It has also advertised through mobile technology in form of MMSs and SMSs. Department also conducts shopping festivals, road shows and exhibitions as means of promotion.
Liked this post? Check out the complete series on Marketing Mix