Frooti is of Indian origin and is associated with beverage industry. It is a nutritional drink with mango flavours and has been projected as a flagship product of its parent company Parle Agro India Private Ltd. Frooti was launched in the year 1985 as a ready-to-serve drink and with time has occupied an important part of market share. Some of its main competitors are –
Slice
Real
Maaza
Mango Sip
Tropicana
About Frooti
Type: Mango-flavored drink
Industry: Beverage
Founded: 1985
Founders: Parle Agro
Headquarters: Mumbai, India
Area served: India and international markets
Current CEO: Vijay Shekhar Sharma
Number of employees: Over 10,000
Major products: Frooti, Appy Fizz, Limca, Gold Spot, Duke's, and Maaza
Product in the Marketing Mix Of Frooti :
Frooti is a soft drink and includes ingredients like mango pulp, sugar, water, citric acid, ascorbic acid, flavouring and approved colouring. It was launched in TetraPak packages and is available in size of 200ml, 1 litre and 250ml.
It is also available in pet bottles of several sizes like 2 litres, 1.2 litres, 600ml, 500ml, 250ml and 200ml. Frooti remains one of the most preferred drinks as it is described as a true thirst quencher. It is made from premium mangoes and has Vitamin A that is necessary for healthy skin, growth and eyesight. It is available in two variants-
Frooti Mango

Frooti Green Mango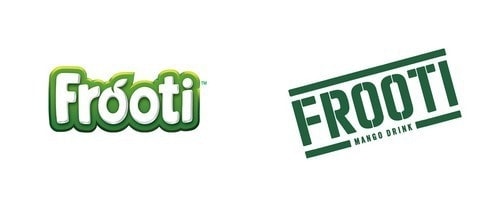 Place in the Marketing Mix Of Frooti :
Frooti has a strong international presence and is available in several countries like Ireland, Japan, Tanzania, Nigeria, Zambia, Malawi, Ghana, Mozambique, Nepal, Australia, New Zealand, Thailand, Singapore, Maldives, Malaysia, South Arabia, UAE, Unite Kingdom, Canada and the United States. It is an Indian product and is available in every nook and corner of India. Frooti believes in upgrading its distribution system at every possible opportunity to reach a potential customer.
Its distribution channel includes more than 1500 wholesalers and distributors to reach an estimated ten lakh retail outlets. It is readily available in every grocery shop, school canteens, movie theatres, office canteens, stores near playgrounds, convenient store, discount stores, malls, supermarkets, corner shops, bus stations, railway stations and hypermarket.
Price in the Marketing Mix Of Frooti :
Frooti has remained as a customer-centric company and has adopted pricing policies to suit this concept. It has allotted price ranges to its products keeping in mind income levels, preferences and actual requirement of every customer. Frooti has adopted an economic pricing policy for its product as it wants to create a greater reach in terms of volume. Its product is reasonable and affordable so that one does not have to think twice before making a purchase.
Its economic prices and excellent distribution system have helped the brand in penetrating in both urban and rural markets.  According to its contents and packaging, Frooti is available in diverse price ranges like Rs 60, 45, 25, 5 and 12. Low rates have also contributed in easy buying through customers.
Promotions in the Marketing Mix Of Frooti :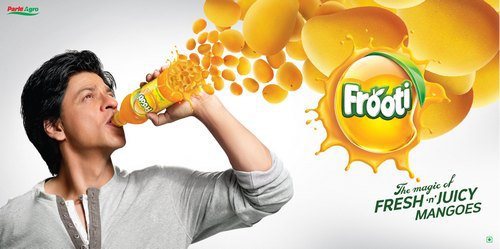 Frooti is a refreshing drink and has been rated as Most Trusted Fruit Beverage Brand in India. Naïve and playful nature of brand advertisements has helped it in earning acceptance and accolades from younger and older generation time and again. The company has taken several innovative initiatives to increase its brand visibility in the consumer market. Frooti has targeted kids section with its playful commercials that are shown via electronic, print and social media. It introduced two characters Froo and Ti on 200ml bottle and tried to woo the younger generation.  Most of the channels in television are telecasting its promotional ads. Radio, newspaper, hoardings and billboards are some main advertising tools to market this brand effectively.
Frooti has also marketed its products in schools, malls and various retail outlets by providing free packs to children. Frooti has roped in Indian Superstar Shahrukh Khan as its brand ambassador and has made commercials featuring him along with some children to maintain the loyalty of kids section. These ads have increased its visibility and created a positive image in the mindset of its consumers. Frooti has some of the best taglines like Juice up your Life and SRK Loves Frooti, which has become a favourite on Twitter. Mango Frooti, Fresh and Juicy slogan helped the brand in consolidating its position as a cool drink on the market.
Liked this post? Check out the complete series on Marketing Mix