Lysol is a home-care brand and is associated with FMCG sector. It was first introduced as an antiseptic disinfectant in the year 1889 by its founder Dr Gustav Raupenstrauch. Lysol is a subsidiary brand of its parent company Reckitt Benckiser. It is an all-purpose cleaner used for hand washing, air treatment and as a solution for soft and hard surface and is available in several fragrances like fruit & citrus, floral, crisp linen, fresh and gourmand.  It faces fierce competition from several brands like the following-
Sanifresh
Domex
Pristine
Harpic
Clorox
Dazzle
About Lysol
Type: Disinfectant
Industry: Consumer goods
Founded: 1889
Founder: Gustav Raupenstrauch
Headquarters: Dublin, Ireland
Area served: Worldwide
Key people: Laxman Narasimhan (Chairman) and James Quincey (CEO)
Number of employees: 41,000+
Product in the Marketing Mix Of Lysol :
Lysol was launched by its founder to act as antiseptic liquid against cholera epidemic. Later it was also used against Spanish Flu and in the 1920s was marketed as a hygiene product for feminine usage.
Lysol has a diversified product portfolio that helps in eliminating odours and destroys mildew, mould, bacteria and virus. It's cleaning package includes several items like-
Disinfectant Sprays
Lysol Disinfectant Spray To Go
Lysol Disinfectant Sprays For Baby's Room
Multi-Purpose Pours
Lysol Multi-surface All-Purpose Cleaner
Lysol Brand Concentrate Disinfectant
Disinfectant Wipes
Lysol Dual Action Bathroom Wipes
Lysol Wipes with Hydrogen Peroxide
Multi-Purpose Triggers
Lysol Antibacterial Kitchen Cleaner
Lysol Power White & Shine Multi-Purpose Cleaner with Bleach
Bathroom Aerosols
Lysol Power Foam bathroom aerosol: Mildew Remover & Foaming Bathroom cleaner
Lysol Max Foamer Bathroom Cleaner
Bathroom Triggers
Lysol Mold & Mildew Blaster
Lysol Power bathroom Cleaner
Hands
Lysol No-Touch automatic Hand Soap System
Lysol No-Touch automatic Hand Soap system Refills
Fabric and Air Treatment
Lysol Neutra Air Sanitizing Spray
Lysol Neutra air Fabric Mist Fabric Refresher
Toilet Bowl Cleaners
Lysol Power Toilet Bowl Cleaner
Lysol Toilet Bowl Cleaner with Lime & Rust Remover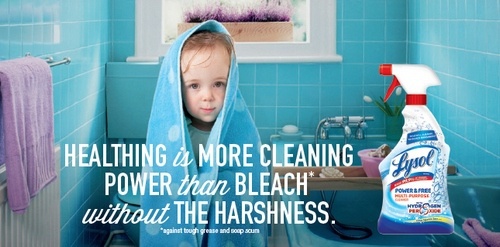 Place in the Marketing Mix Of Lysol :
Lysol was first introduced in Germany and with time became the market leader in nearly fifteen global countries. Its country of origin is the United States but currently, it caters to world market including India, United Kingdom, Australia and Spain. Lysol has set up R & D facilities for offering better products to its consumers.
Lysol products are widely used by business houses, schools, homes, hospitals, public places and highly-populated areas like airports and malls. It has a strong distribution channel that includes distributors, retailers, regional offices to reach consumers via discount stores, convenience stores, supermarkets, hypermarkets and corner shops.
Price in the Marketing Mix Of Lysol :
Lysol has appointed a team to gain the better understanding of the market, production costs and prices set up by rival brands. It has put the special onus on aspects like know, feel and compare before setting up its own pricing policies. The company came to know that customers tend to compare the same type of products in terms of prices.
Hence it has adopted a competitive pricing policy and kept its product prices at par with rival brands to gain a competitive edge in the consumer market. As it wants to increase its market share it has implemented a penetration strategy to make further inroads. Lysol has kept its product prices affordable and reasonable so that it can retain customer loyalty and increase existing consumer base.
Promotions in the Marketing Mix Of Lysol :
Lysol is an international brand and has always advertised its products with the tools available at that period of time. In the year 1918, Lysol placed ads in newspapers and offered tips for countermeasures against influenza virus. Lysol has adopted an intensive marketing strategy and its media team has launched several commercials shown via television, newspapers, magazines, Facebook and Blogs. It also advertises seasonally at specific times with related products.
For example advertisements in January will highlight cold and flu messages and during summer vacations ads will highlight product usage in kitchens and rooms as children are mostly at home during that period. Lysol is aware of its social responsibility and has partnered with health-conscious groups like NEA and CDC. It also offers support to global disaster areas.
Liked this post? Check out the complete series on Marketing Mix