Lipton is associated with beverage industry as it deals with marketing of tea. The company was founded in the year 1890 by its founder Thomas Lipton. Currently, it is jointly owned and marketed by its parent companies PepsiCo and Unilever with 50-50 ownership.  Lipton has been projected as a healthy and refreshing drink and some of its competitors are as follows-
About Lipton
Type: Tea brand
Industry: Food and beverage
Founded: 1890
Founder: Thomas Lipton
Headquarters: London, England
Area served: Worldwide
Key people: Pierre Laubies (Chairman) and Nathalie Roos (CEO)
Number of employees: 25,000
Product in the Marketing Mix Of Lipton :
Rich taste, unique aroma and distinctive flavour make Lipton one of the most in-demand tea brands in the world market. It has a diversified product portfolio that has evolved over time to include various variants like-
Lipton Iced Tea Mixes
Lipton Fresh Brew Iced Teas
Lipton Iced Tea
Sparkling Iced Tea Citrus Green Tea
Lipton Green Tea
Green Tea with Mint
Lemon Ginseng Green Tea
Lipton Green Tea
Pure Green Tea
Mandarin Orange Green Tea
Lipton Tea and Honey
Mango Pineapple iced Green Tea to go Packets
Lipton Iced Tea Liquids
Summer Peach liquid Iced Tea mix
Lipton K-Cup Pack
Lipton Tea Pyramids
Earl Grey
English Breakfast
Black Pearl
Lipton Black Teas
Decaf Black Tea
Loose Black Tea
Black Herbal Lipton Tea
Amazingly Grey
Irresistible Lady Lipton
Lemon Ginger
Place in the Marketing Mix Of Lipton :
Thomas Lipton in the year 1871 opened a small shop that expanded to include two hundred shops by the year 1880s. Later he sold this supermarket chain to Argyll Foods so that its company could concentrate on tea. In the year 1890, Thomas Lipton purchased a tea garden in Ceylon and started selling Lipton Tea in packages of the quarter, half and one pound.
It became a favourite beverage in United States market. Pepsi-Lipton partnership first started selling canned and bottled ready-to-drink teas in North America and later expanded to include several European markets. It gathers tea from different plantations in the world in places like China, Kenya, India and Sri Lanka.
Currently, Lipton owns a plantation in Tanzania and Kenya and caters to a world market as its products are easily available in nearly one hundred and ten countries like Australia, New Zealand, India, Russia, United Kingdom, United States and Japan. Its distribution network includes services of distributors, retailers and dealers to consumers via corner shops, super markets, convenience stores and hyper markets.
 Price in the Marketing Mix Of Lipton :
Lipton caters to a mass market that includes people from every section of society. It has tried to penetrate in every segment whether rural or urban so that it can acquire a greater market share through its penetration policy. Moreover, the brand faces stiff competition from several rival brands and hence has to maintain competitive prices so that it can retain its advantage over competitors. Intelligent packaging, great quality and comparatively low prices have made Lipton an accessible beverage in the consumer market.
Promotion Mix in the Marketing Mix Of Lipton :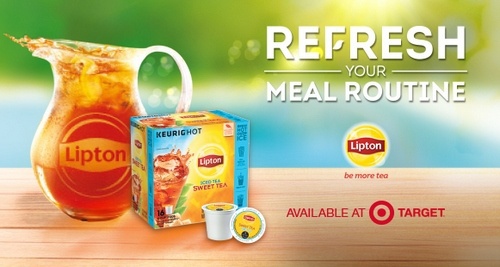 Lipton has adopted an aggressive marketing strategy and positioned its beverage as a healthy brand through several promotional activities that highlight its main features quality, affordability and user friendliness. Lipton started its marketing with an advertising slogan "Direct from the tea gardens to the teapot".
Some other important taglines are 100% Natural and 100% real Tea; and Lipton's gets into more hot water than anything. Its ad campaigns have been launched in television, radio, magazines, newspapers, billboards and social media platforms.
Brand realises the positive impact of celebrity endorsement on common masses and has roped in Indian actors Shraddha Kapoor and Anushka Sharma for Lipton Green Tea ads and internationally acclaimed American actor Hugh Jackman for Lipton Ice Tea commercial. Lipton brand has been the recipient of several awards and recognition. In May 2009, it was awarded Corporate Green Globe Award in recognition of its work with Rainforest Alliance. Lipton tea in the year 1914 sponsored Maurice Guillaux, French Aviator, in his first flight that ran from Melbourne to Sydney.
Liked this post? Check out the complete series on Marketing Mix