Tiffany & Company is a public limited company of American origins. The world-recognized company is associated with Lifestyle and retail sector as it deals in jewelry and diamonds. It was founded in the year 1837 by its co-founders John B Young and Charles Lewis Tiffany. The company was originally established as Tiffany, Young, and Ellis but it later changed its name to Tiffany & Company and now it is simply referred to as Tiffany. It faces competition from the following
About Tiffany & Company
Type: 1837
Industry: Financial services
Founded: 2000
Founder: Charles Lewis Tiffany
Headquarters: New York City, NY
Area served: Over 20 countries
Key people: Anthony Ledru (CEO) and Alexandre Arnault (President)
Number of employees: Over 13,000
Product in the Marketing mix of Tiffany & Company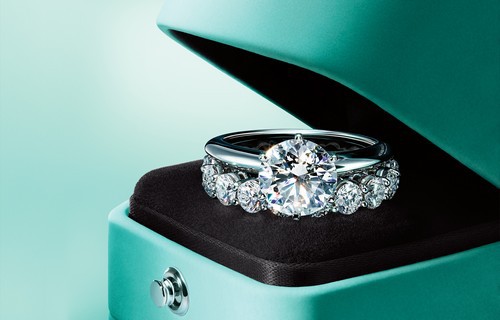 Tiffany & Company specializes in specialty and luxury items. Its name is synonymous with exquisite designs and flawless craftsmanship. Its product range is diversified and unique and includes personal accessories, customized items, and handcrafted products. Tiffany & Company is especially known for sterling jewelry and diamond products.
Jewelry section of Tiffany & Company includes-
Men's jewelry
Pearl Jewelry
Tiffany Jewelry
Wedding Bands
Earrings
Rings
Bracelets
Pendants and Necklaces
Jewelry Collection includes
Tiffany Now
Tiffany Metro
Tiffany Yellow Diamonds
Tiffany Soleste
Tiffany Keys
The Atlas Collection
Tiffany Celebration Rings
Tiffany Victoria
Tiffany Infinity
Tiffany T
Tiffany HardWear
Return to Tiffany
Tiffany Paper Flowers
Watches include
Diamond Watches
Men's Watches
Women's Watches
Watches Collection includes
Patek Philippe & Tiffany
Tiffany CT60 watches
Tiffany Cocktail Watches
Tiffany East West Watches
Atlas Watches
Tiffany Metro Watches
Love and Engagement
Tiffany Celebration Rings
Couple's Rings
Wedding Band Sets
Men's Wedding Bands
Women's Wedding Bands
Engagement Rings
Fragrance
Tiffany eau de parfum
Tiffany lotion
Tiffany shower gel
Home and Accessories
Novelties and Games
Frames
Decorative Accents
Decorative Boxes and Trays
Desk
Tea and Coffee
Barware
Tableware
Textiles
Cuff Links
Key Rings
Money Clips
Eyewear
Leather Goods
Place in the Marketing mix of Tiffany & Company
Tiffany & Company has an international presence and operates via its headquarters base at New York City in the United States. The company started its operations in Brooklyn and with time has expanded its operations to overseas markets to include places like Canada, Mexico, Brazil, United Kingdom, Italy, Ireland, France, Spain, India, Belgium, Austria, Netherlands and Australia. In the year 2004, Tiffany & Company opened a chain of outlets for only-pearl jewellery.
Tiffany & Company has a strong distribution network that includes both direct and indirect distribution. The products are sold via corporate merchandising and direct mail. The company has its own Tiffany stores that help in the easy and convenient selling of its products.
The Tiffany stores are located in places to suit the whims of rich and elite class. The window display, floorings, and interiors are to be seen to believe because of its magnificence. Its flagship store is located in Manhattan in New York City. Several of its outlets are located at airports and high-end shopping malls to gain maximum customers and brand awareness.
 It has well-developed manufacturing facilities that are responsible for 60% of its products. The rest are derived from overseas third-parties. In the United States, silver goods and jewelry are manufactured in Mount Vernon, Cumberland, and Lexington, and the silver hollow-ware is manufactured in Rhode Island. The brand has other facilities to polish and cut the diamonds.
Price in the Marketing mix of Tiffany & Company
At the end of third quarter of the fiscal year 2016-17, Tiffany & Company posted its revenues and net income at 4.00 billion US Dollars and 446.1 million US Dollars respectively. The company has positioned itself as an arbiter of style and taste and its products are associated with elite status.
It has targeted upper-class people from affluent families that look for exclusivity, sophistication, elegance, and style. The brand is all this and more as it caters not only to high-end products but its gift wrapping is also unique and appreciated by all.
Tiffany & Company offers premium products and hence has adopted a premium pricing policy for its products. As it caters to people who do not have to think before making a purchase it is assured of its sales and revenues. In order to compete with rival brands, Tiffany & Company has launched some reasonably priced products and has adopted an affordable pricing policy for them.  These products increase its sales volumes and help it to earn further revenues.
Promotions in the Marketing mix of Tiffany & Company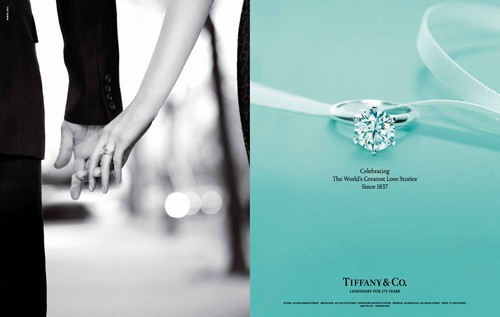 Tiffany & Company has a strong and aggressive marketing policy to create positive brand awareness. It has created some magnificent ad campaigns and has shown them via newspapers, and magazines like Texas Monthly, Black Enterprise, Conde Nast Traveler, Money, The New York Times Magazine and Vanity Fair. With the advent of digital and social media platforms, the company displays banner advertisements in mobile app of New York Times.
The app can be downloaded free of any charge. Tiffany & Company uses social media platform for direct connection with its customers. It has its official website to enable any relevant information. The company has a fan following of 10.0 million and 1.6 million in its Facebook page and Twitter account respectively.
Tiffany & Company has used its catalog as part of its advertisement policy. The catalog was free till the year 1972 but later a fee was levied. The company offers a corporate-gift catalog every year and several corporate buy its gift items for achievement recognition award. Tiffany's flagship store at Manhattan in New York City has been the favored location of several movies like Sweet Home Alabama, and Breakfast at Tiffany starring Reese Witherspoon and Audrey Hepburn respectively.
Tiffany & Company has been responsible for making several trophies including Vince Lombardi Trophy at the Super Bowl for the winning NFL Team, Larry O'Brien Trophy for winning team of NBA Finals, MLS Championship Trophy, Detroit Gold Cup and Rugby League World Cup Trophy, For San Francisco Giants the company has created 2010 and 2012 World Series Rings.
Liked this post? Check out the complete series on Marketing Mix